Hotels have been hit hard by the COVID-19 crisis. Even though it seems like the worst is over, booking levels still haven't returned to normal levels. Many hotels and resorts have started to make QR Codes for more guest bookings and better reviews.
Long story short, they improve the guest experience in many ways, especially during the pandemic. Check out the examples below on how the best hotels in the world are using a QR Code generator to boost their revenue.
How can hotels use QR Codes to increase bookings and boost brand awareness?
#1 Make your room service menu digital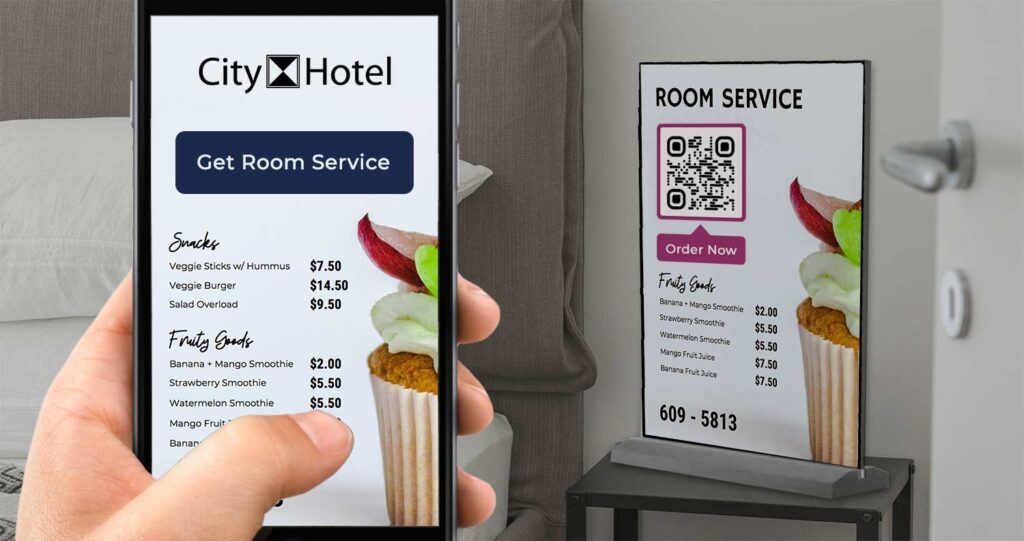 Instead of calling the front desk, people can now order room service from their phones by scanning a digital menu QR Code. This means less manual work on the phone for the reception. Secondly, you don't need to print your menus every time it changes. You can update your specials and seasonal menu digitally.
#2 Share your hotel guest Wi-Fi access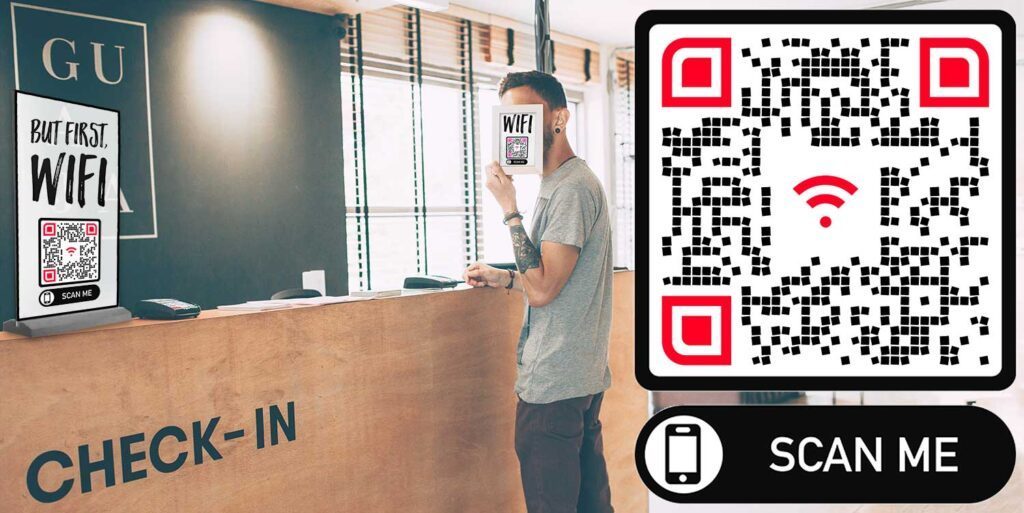 Whether your Wifi network has a password or is free to join for everyone – it always makes sense to use a Wi-Fi QR Code. This is much easier than looking up networks manually and typing in any passwords. Often times the first question for all hotels is: "Hey, how can I join your WiFi?"
#3 Get more feedback for your hotel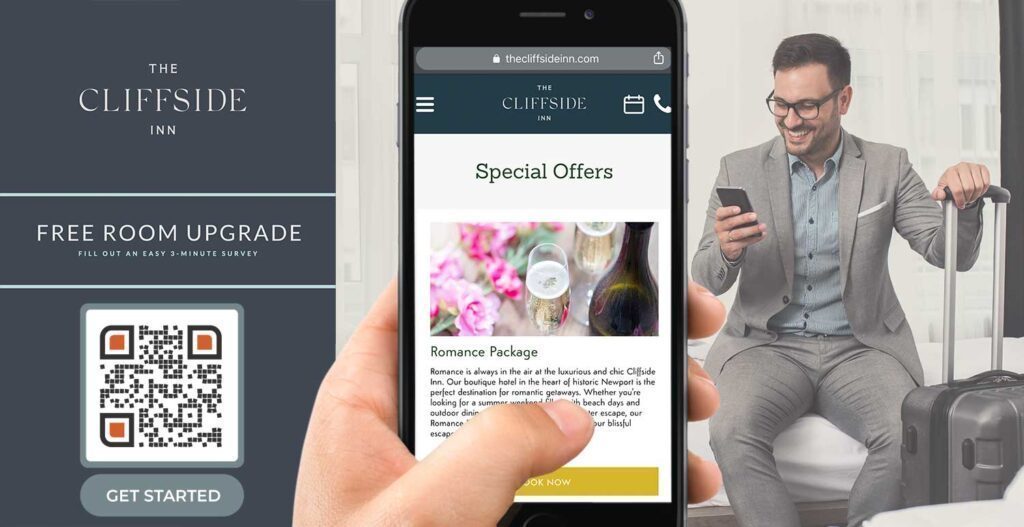 A Feedback QR Code can help you get more reviews on your services. You can use this to improve the quality of your hotel. Alternatively, if you are looking to get more bookings and exposure – the feedback can be placed publically on Google Places or a Facebook page.
Always give your guests an incentive to write feedback and reviews. For example a free room upgrade or a gift voucher for future purchases. The best part is that it's already all digital and no need for any paperwork.
COVID-19 tip: touch-free feedback forms are the best customer friendly way to get feedback and interact with your guests while staying safe!
#4 Promote your hotel events easily
People at your hotel can easily scan a QR Code to get the latest info on your hotel events and activities. Try using an Event QR Code for your hotel posters, flyers, or brochures. It is easy to edit the event to include a description, location, and contact info. Guests who wish to sign up will get the event right in their smartphone calendar.
#5 Give your guests a virtual tour
Instead of manually showing guests around, why not give them a 360° Virtual Tour QR Code for your hotel. They can explore everything on their own. Not only is this more engaging and fun for your visitors, but also a lot more preferred and safe in the post-pandemic era.
Alternatively, you can link a QR Code to an image gallery to give your guests a taste of what they can expect during their visit.
#6 Share your front desk contacts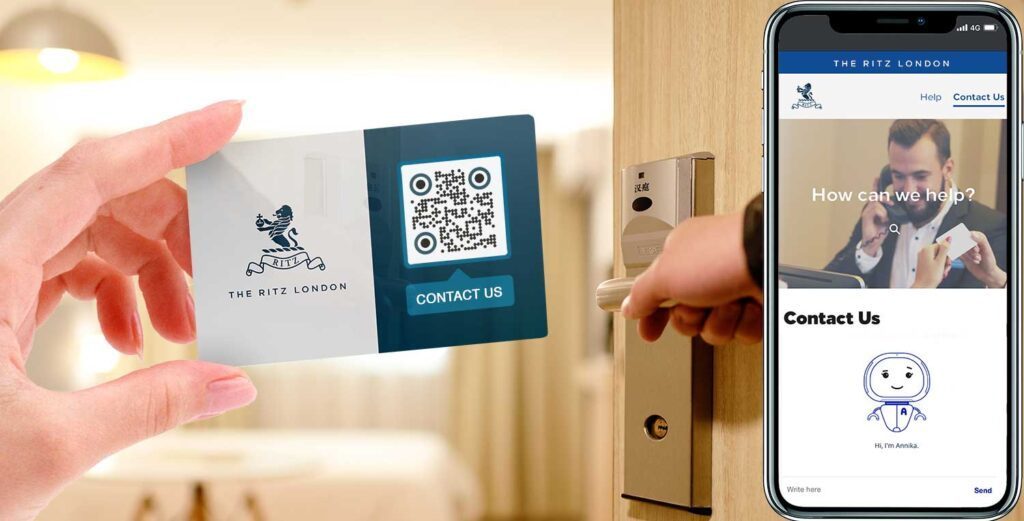 Consider using a vCard QR Code to instantly give your guests the necessary contacts for the front desk administrators. You can print these on hotel door key cards, so your guests always have it on hand.
#7 One QR Code for everything – use a landing page
If you don't like the idea of using 10 different QR Codes for every specific situation, then there is the ultimate solution for this. We can link only one single QR Code to a specific landing page.
How do we do this? Firstly, by combining a QR Code with a page builder tool. This landing page will have all your different links and functions in one place for guests to conveniently reach on their smartphone.
Secondly, The landing page QR Code can be linked to your existing website or a special page if you already have one. Alternatively, you can use a simple page builder to link the QR Code to.
How has coronavirus affected the hotel industry?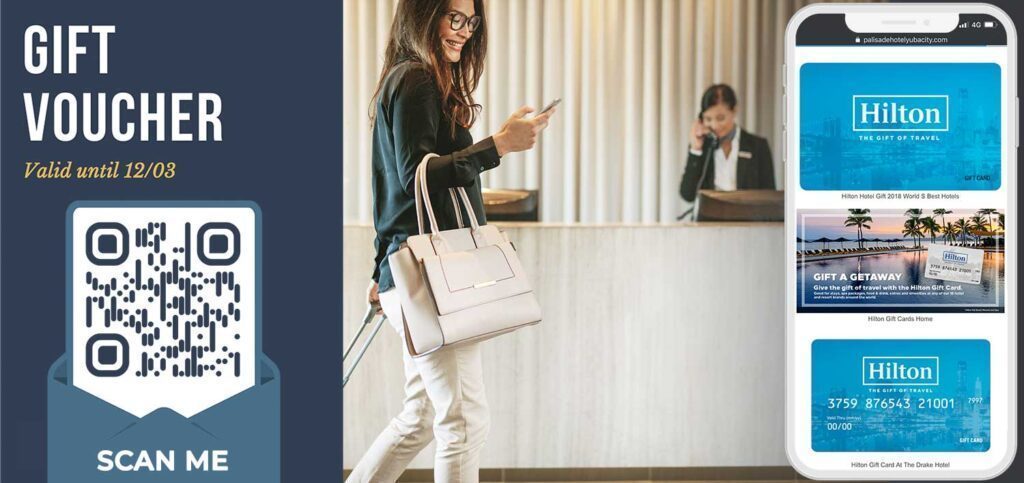 Things are bad – many hotels have closed down and others are struggling not to go bankrupt. Many hotels have occupancy rates as low as 20%. Average revenue losses are estimated around 50%. The impact is estimated to be 9 times as bad as 9/11. On average, 8 out of 10 hotel rooms are empty.
More than two-thirds of hotels are expected to go bankrupt if things don't change. Luckily, QR Codes are helping some hotels survive. While the results may vary, many hotels have reported over 20% increased customer retention and engagement thanks to this technology.
Here's why hotels are using QR Codes to increase bookings and revenue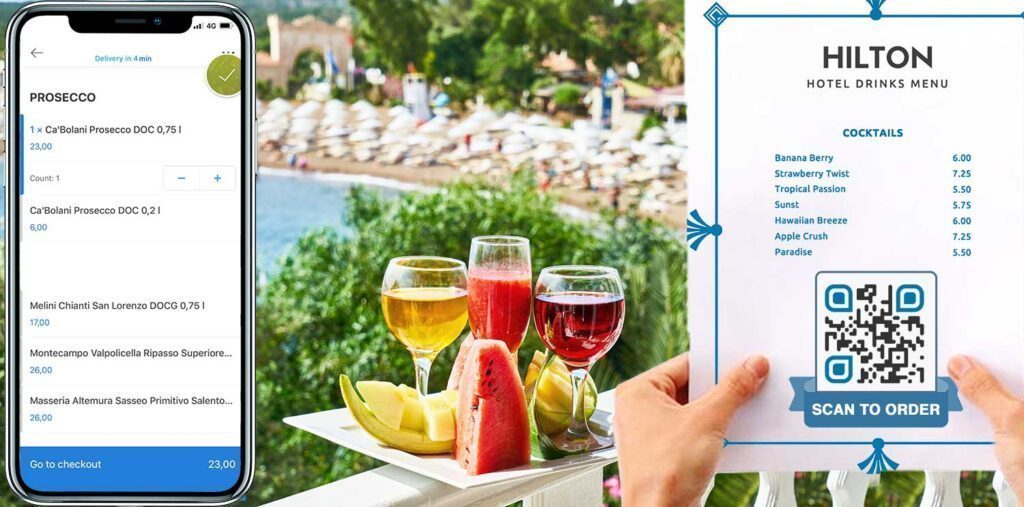 Let's be honest, lockdown and isolation are tough, especially for the tourism industry and everything related to it. How can hotels possibly survive or operate while maintaining social distancing? It's tricky for sure, but QR Codes give us a helping hand here.
PRO tip: Did you know that hotels who focused on extended stays of 7 nights or more were able to increase revenue by 40%? They also had way less financial losses during the COVID-19 pandemic.
#1 Great for social distancing and safety
QR Codes can be scanned at a reasonable distance that works with the social distancing requirements. The minimum and maximum distance depend on the QR Code size.
#2 Connect all your print to the digital world
Hotels have a lot of real estate and space that they can take advantage of. You can place QR Codes on flyers, table tents, posters, physical space to generate more online bookings and revenue.
#3 Many different use cases
QR Codes can do a lot of things – from generating more bookings to growing your social media followers. Other use cases can include review and feedback forms, virtual tours and much more. The best part is that all of this can be tracked, analysed and changed later, even after your QR Codes have been printed.
What is the future for the hotel industry?
Studies show that people will start travelling again. The thing is, people love to travel and explore. The hotel industry will definitely continue to exist in the future. Although some things will be different, guests will definitely prefer solutions like QR Codes that offer them the safety to do things from a distance. The hotels who invest in such digital technologies now will be rewarded with increased customers in the future.