Have you noticed QR Codes for payments lately? Around 10 years ago, nobody thought that QR Codes would ever be popular, let alone for payments. Lately, many companies like Alipay and WeChat have started the revolution to make it easy for people to pay with their smartphones. Now, you may be wondering how you could start accepting QR Code payments for your business – The answer is to create a payment QR Code, using a suitable QR Code Generator tool.
Lately, QR Codes have become the most popular choice for payments in many countries, including China. Did you know that over 80% of all payments in China were through QR Codes? Nowadays we can see a lot of shops and businesses accepting QR Code payments.
Why do I need to use payments for QR Codes?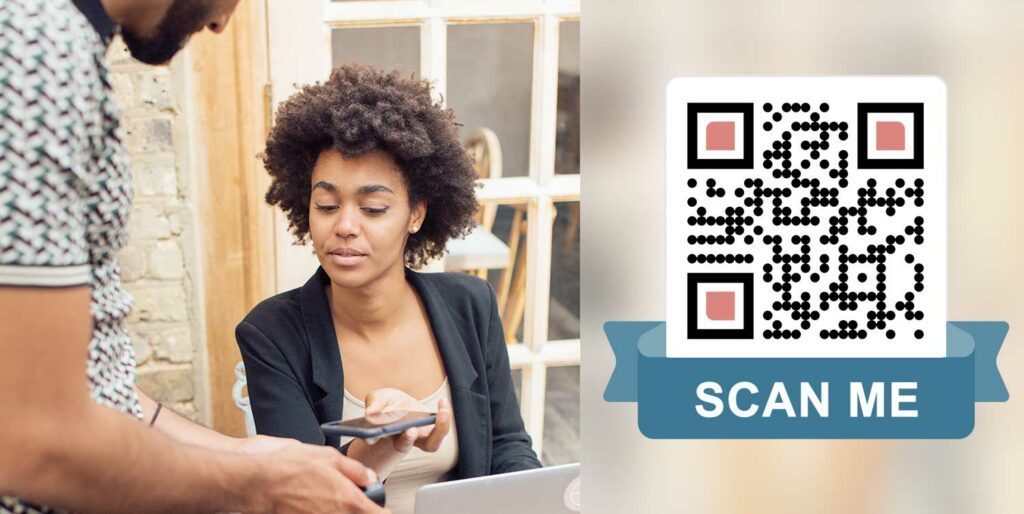 You don't need a credit card terminal
No app downloads needed
Easy Stripe and PayPal support
Therefore, QR Codes have exploded – specifically payment QR Codes. When the first payment QR Code came out for Bitcoin, it really wasn't a big deal. But now that we have PayPal and Stripe support, a lot of people are looking to create a QR Code for their own business or service.
PRO Tip: If you are looking to start accepting cashless transactions, then you should seriously try to make a payment QR Code.
How to create a payment QR Code?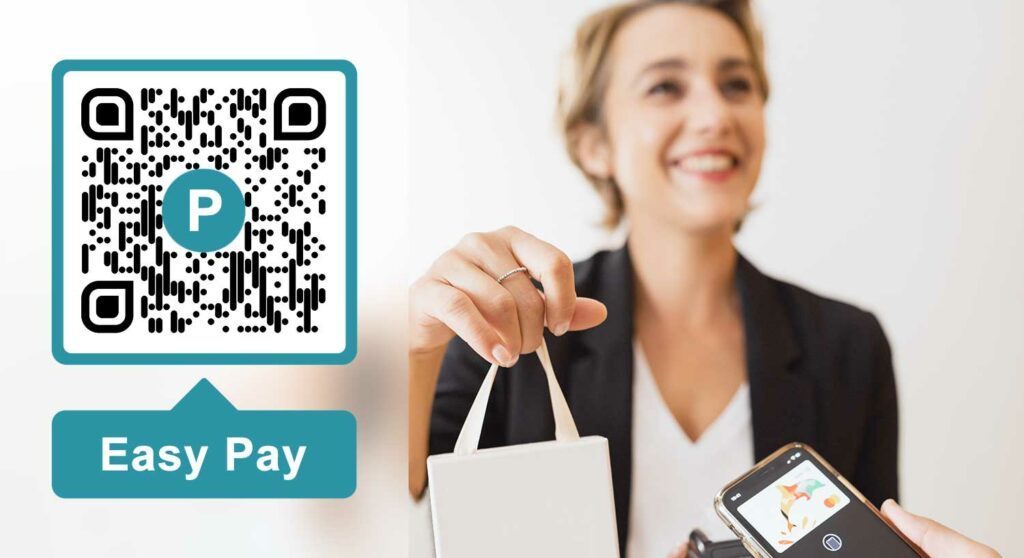 #1 Make a QR Code
QR Code Generators make it easy to create a QR Code nowadays, even for payments. There are many different services that let you do it for free.
Open the QR Code Generator tool
Copy your checkout page link
Paste it into the QR Code Generator
Print out your payment QR Code
#2 Scan
Most phones nowadays have a QR Code Scanner tool built into the native camera app. This means you can instantly scan your payment QR Code. That will direct you to the payment page. Alternatively, customers can use our QR Code Scanner tool to scan payment QR Codes.
#3 Get Paid
After that, all that is left is for your company to get paid. Payment QR Codes make it easy to manage transactions. The rest will be taken care of by your payment provider, for example, PayPal or Stripe.
How can I accept payments with QR Codes?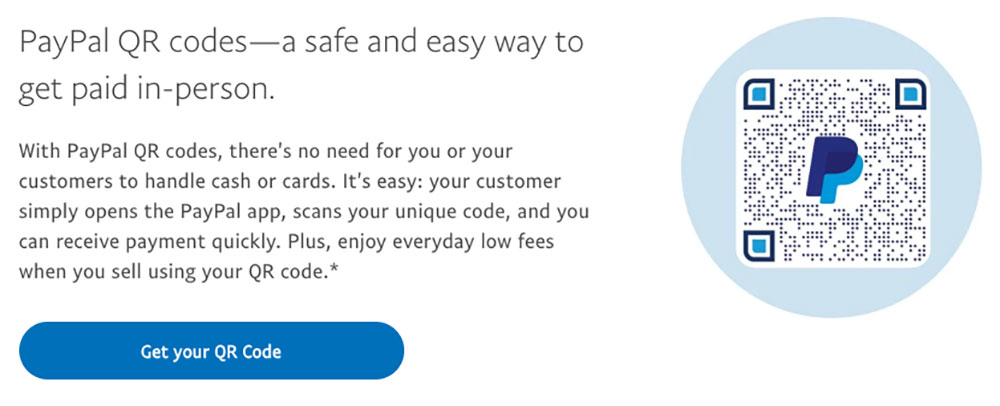 You don't need technical skills to set up payments with QR Codes. Actually, anyone can do it in about 5 minutes. The mobile technology market is expected to grow 20x during the next 5 years. This gives companies a great opportunity to take advantage of new trends to get more customers and sales.
If you are looking to make a QR Code and start accepting payments, we recommend looking at these top 3 contenders:
How to use QR Codes for Payment?
Usually there are two different options when it comes to payments.
Seller side
Customers scan this code with their smartphone. This helps them to send a payment to the seller. Firstly, This option is great because of the low cost to get started. Secondly, Everyone can start accepting digital payments thanks to QR Codes.
Customer side
These are usually QR codes generated by apps. Customers can pick up goods in a physical location or store with this. People can already pay in advance online and then come to your store only for the pickup. In addition, this is also COVID-19 friendly and helps maintain social distancing.
Other customer side use cases include loyalty points, check-ins, and much more.
How does a QR Code payment work?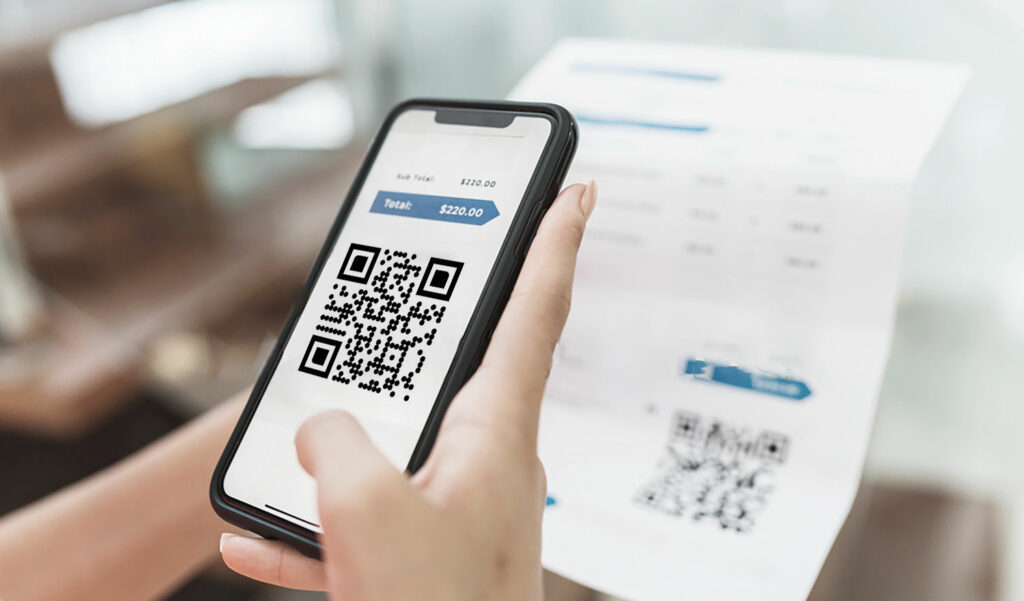 In conclusion, you can easily scan QR Codes from all kinds of surfaces. They can be on digital screens and also on physical surfaces like papers, windows, and banners.
This is how a usual QR Code payment process looks like:
The user scans the code.
The code directs users to the checkout page.
The user enters the payment details.
The transaction is now done!
The code can also direct users into an app if they have one installed. The great thing about it is that users don't need to have your app installed. They don't even need to have a specific QR Code scanner app, since nowadays almost all smartphones can instantly scan codes with their native camera app.
Frequently asked questions
What is a payment QR code?
A payment QR code is a scannable code that helps simplify financial transactions. It allows users to make payments conveniently with their smartphones.
How to use payment QR codes?
Payment QR codes enable seamless transactions. Users scan the code with a mobile app, enter the payment amount, and complete the transaction.
How much does it cost to create a payment QR code?
The cost of creating a payment QR code varies. You can create free basic QR codes for payments. Extra features and custom solutions might need a subscription plan.
How to make a payment QR code for free?
You can create a payment QR code for free using an online QR code generator. Add your transaction details, generate the code, and initiate payments instantly.
How to scan a payment QR code?
Scan the payment QR code using your smartphone camera. Open the camera app, scan the code, verify the transaction details, and confirm the payment.
Why should I generate QR Codes for payments?
QR codes make payments a lot faster and easier. This offers a quick and secure way to send and receive money, enhancing financial convenience.
What are the benefits of using QR codes for payments?
The benefits of QR codes for payments include speed, security, and accessibility. They reduce errors, save time, and provide a contactless payment option.
What payment methods can I use for QR code payments?
QR code payments support various methods: mobile wallets, bank apps, QR-based apps, cryptocurrencies, retailer apps, and contactless cards.