Labels and tags have a very tiny space to use. However, as a retail company, you can use the small space on labels to share valuable information with your customers. This way you improve the retail experience, get more engaged, loyal buyers, and ultimately increase your sales. For all that, use a QR Code maker. It's that easy. Here are the 6 simple steps on how to print QR Codes on labels? What are the benefits of it, and what to keep in mind? Let's dive in.
How to add QR Codes on Labels?
Honestly, it's actually really easy. Here's a quick guide with just 6 simple steps to get it done and ready to run.
Go to a free QR Code generator and enter a website link you want scanners to be directed to. This can be your social media page, your company's webpage, or any other link that makes sense for you.
Select a dynamic QR Code so you can track and analyze the scans later.
Customize QR Code with logo, suitable colors, and shapes.
Download the created QR Code.
Use a QR Code scanner to check if everything runs smoothly.
Print the QR Code and add it to labels.
Pro tip! Make a landing page with different links to your social media, online store, webpage, event link, etc. Add the landing page link to your QR Code. This way you can use just one dynamic QR Code.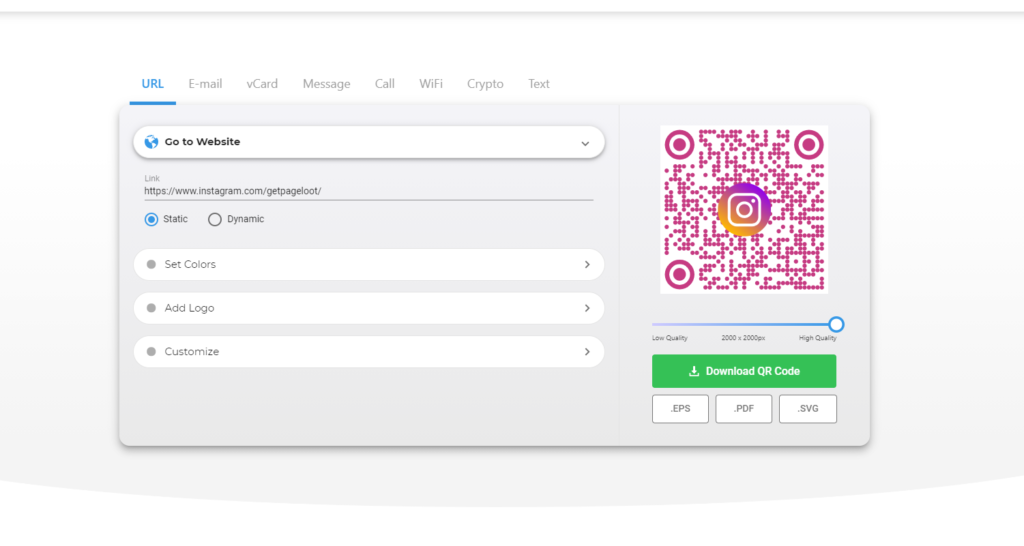 That's it! You're done. Easy, right? If you want to dive deeper, here's a thorough guide on how to use QR Codes on labels and stickers.
To add, there are a few specifics you should keep in mind with QR Codes on labels.
QR Codes on labels: things to consider
Use a QR Code with the logo of your brand
Make your brand remembered with consistency. Place your brand logo on QR Code. You can even customize the QR Code colors that would match your brand colors.
Make sure the QR Code is not too small and that it's scannable
Labels are small and the smartphone may be unable to scan a tiny code. We don't recommend the QR Code be smaller than 2 cm x 2 cm. Also, make sure that the material you print on, doesn't distort the QR Code.
Pick the right QR Code format for labels and tags.
You want to avoid compromising image format. For that use PNG, since this is the best for small-size print. Pageloot QR Code Generator automatically downloads QR Code in PGN format. However, if needed you can choose other formats as well.
Add call-to-action text to your QR Code
Ensure the text is urgent and actionable. Verbs like "scan, buy, read, check out, view, get" are perfect to use. This increases the number of scans and eventually customer engagement.
Pick a suitable color for your QR Code
Make sure that your QR Code is in contrast with the color of your label or clothing fabric. Otherwise, it can compromise the scannability.
Why use QR Codes on labels?
Ensure supply chain transparency
Consumers are getting more and more aware of the dark side of manufacturing (child labor, environmental exploitation, unfair treatment of employees, etc.) With QR Codes on labels, you can make your brand transparent and share your product journey. Where was the product made, by whom, which resources were used, etc? Supply chain transparency will earn your customers' trust and reduce reputational risk.
Tell the story of your brand
Most purchases are based on emotion. Therefore, tell your brand story that consumers can emotionally connect to. Make a QR Code, add it to a label or tag that directs scanners to read about your story. As this builds trust, brand loyalty, and image, it plays an essential role in acquiring more sales.
Offer irresistible deals with QR Codes on labels
People love discounts and good deals. You can offer a discount coupon by scanning a QR Code on a label or tag. Add a catchy call-to-action text like "Scan to get 30% off". It's easy and fast for the client to get a discount with a QR Code. The customer will be more likely to purchase a product that is discounted with an easy access coupon.
Promote your social media
Consumers turn to social media for inspiration and advice as well as for their new purchases. Use a free QR Code generator and add a QR Code on a label that directs the shoppers to your social media page. They can get information about upcoming sales, new releases, and inspiring advice regularly. Thus, the consumers engage more with your brand online and you get more visibility.
Understand your client better
Most brands depend on third-party retailers and sellers. Unfortunately, it also means you don't get access to valuable consumer behavior statistics and data. It's also challenging to market directly to the consumer.
But with QR Codes on labels, you can build a channel directly with consumers. Use a QR Code maker and you'll get access to first-party data, understand the consumer preferences better, and can make smarter marketing decisions. Link the QR Code to your online store, so the consumer has the freedom to check out your other products any time. This also increases traffic to your online store.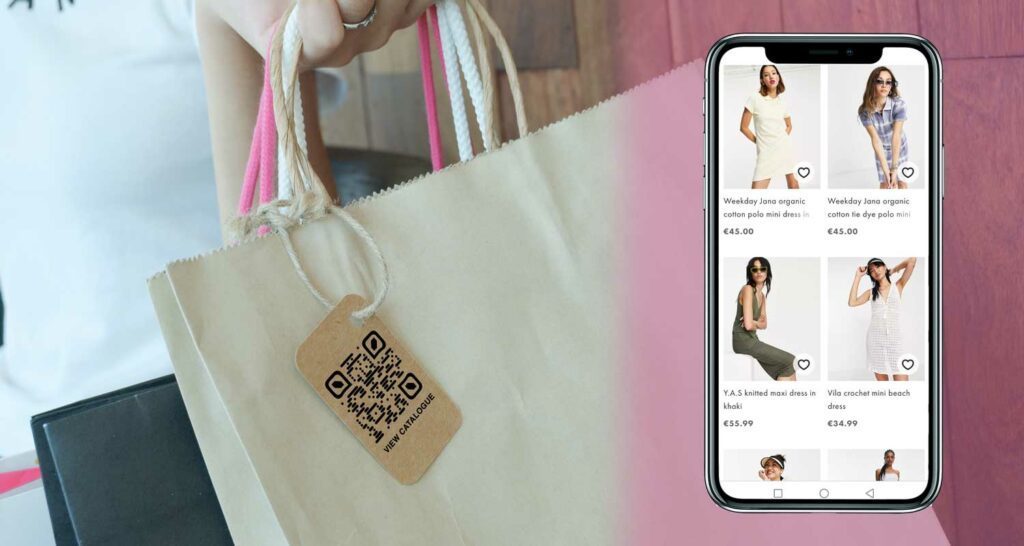 Share information and usage instructions of your product
Share washing instructions, recycling tips for clothing or packaging, size measurements, available product colors, etc. All this leads shoppers toward a quicker decision about the purchase as well as builds trust and delight about your brand.
Engage consumers even more
Engaging is crucial to keep consumers happy and get those repeat purchases. Link the QR Code on a label to an upcoming event, exclusive content, helpful videos, virtual fashion show, or a try-on. It gets consumers to notice your brand, increases engagement, and uplifts their mood for shopping.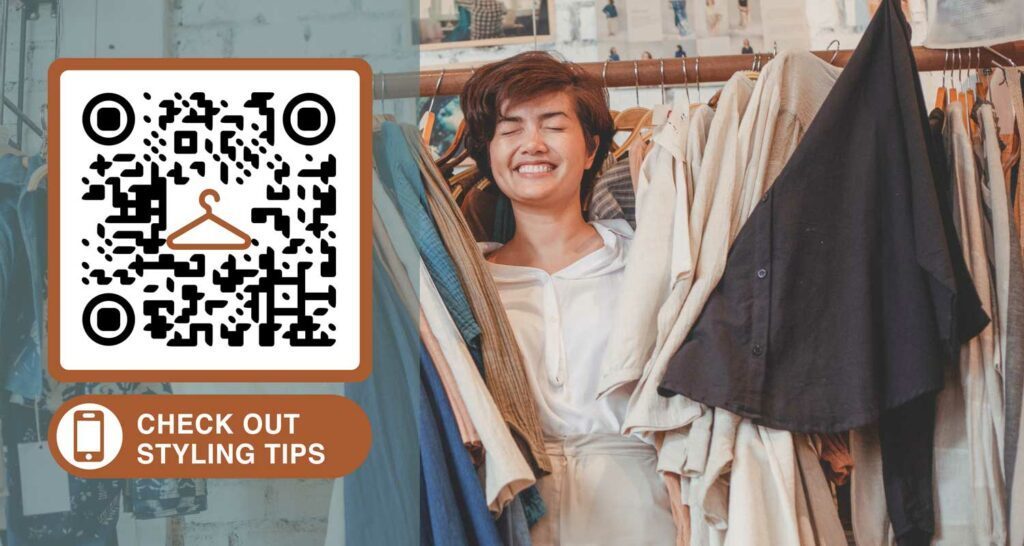 Try out QR Codes on labels
Follow the instructions on how to print QR Codes on labels and keep in mind a few specific things about it. Once you've done that, enjoy increased brand awareness, engaged consumers, and more sales. Let us know how QR Codes on labels have helped your brand?