Selling a product in an appealing and protective package or offering a service by quoting a tempting price is a traditional way of acquiring more customers.
However, businesses actually also seek customer loyalty too for long-term bonding and lasting satisfaction, the two strong pillars giving you a competitive edge. For loyalty, it is essential to engage your buying customers and initiate interaction in the most interesting manner.
This is the mobile and Internet era. So, rather than discussing the product to be brought in detail, why not allow them to scan a QR code on a label or sticker attached on the product package and know more instantly?
This is engaging, efficient, and feasible, especially if there are smartphone-savvy or more consumers. Having QR code on sticker and labels is effective in triggering excitement about your product or service even through a giveaway or sweepstakes.
They are capable of guiding your consumers towards an ad campaign or a website in a way that is totally voluntary. Thus, you escape the counter-productive displeasure and aggravation that unwanted ads are likely to trigger.
The good news for you is that you can easily make and add custom QR code on sticker and label with least efforts, time, and money using free online tools. In this post, you will come to know about how to create and use these codes such that your marketing reach is maximized through them.
QR Code versus Barcode Labels
Before you go ahead in making QR codes for labels and stickers, it is essential to know how QR codes differ from barcodes. They both are quite similar, as they have encoded data that a scanner decodes.
Nevertheless, encoding in barcodes occurs only in the label's horizontal surface. On the other hand, encoding in QR codes happens across the vertical and horizontal space via those typical small squares. Therefore, QR codes tend to store more information than barcodes in the same area.
Barcodes are preferable for sharing minimal details such as pricing or basic product introduction. A barcode scanner scans the label and matches the code with the record of another computer-managed database.
On the other hand, QR codes for labels are ideal for sharing information of all sizes. A smartphone, these days, acts as a scanner to read it and initiate actions such as playing a YouTube video, launching a webpage, and revealing a discount coupon.
Unlike barcodes on labels, QR code labels are readable from any angle. The former must be well aligned for proper scanning.
Different Ways of Using QR Codes on Labels and Stickers
Thinking of labels? Well, you may easily come up with effective ideas for creating and using QR codes. However, when it comes to stickers for business use, it may not be so spontaneous. This is because we think that stickers are something more effective for kids.
While this is not a wrong opinion, it does not overcome the fact that stickers can also be a robust tool for business goals if used correctly. When it is the matter of stickers, you may think of using them as contact address labels or customized food labels.
Well, you can easily customize both stickers and labels easily these days. Each sticker or label option can help in building your brand. Here are some most effective ways of using them:
On Packaging: It is first through your packaging that the customers will judge your business. Just having a vibrant and strong packaging is only 50% job done. The rest 50% for an extraordinary business impression comes from QR code labels and stickers. Give such codes so that the customers can know more about the product through a video or a simple PDF, give feedback by filling a form that opens upon scanning, or can get a surprise offer by buying this product. Just buy bulk stickers or labels once the design is finalized so that you save both time and money.
As Giveaways: ow about printing a series of customized stickers or labels each with a QR code and a logo in the middle and distributing to onlookers as a gift at trade shows and other such events? It truly works because each one of us loves to have something for free. Such labels or stickers create instant brand awareness. In case the recipients like it, they themselves will stick them on boards and bags, which in turn, initiates further free advertising.
On Windows or Displays: Do you have a street-side shop or a store in a mall? Well, it is the most effective place to use customized labels or stickers, especially on the windows, doors, and entry/exit areas. This helps in promoting what you want even if the shop is closed, as onlookers will still get to see the stickers or labels and scan the QR code on them to know the opening hours and ongoing sale.
On Equipment: Do you work as a freelancer or manage business virtually? Obviously, you will not have a shop. In that case, stickers and labels with QR codes are still beneficial for you. Just use them on your smartphone, laptop, and other equipment that you use. That's it! Such labels or stickers act as portable ads to be with you wherever you go and tell what you wish to promote to others around you.
While the primary use of QR code on sticker and label is to direct the probable customers to a webpage for more details, there are many other interesting possibilities as mentioned above.
For examples, food outlets can use them on their windows and parcels to give a link to their full menu or discount vouchers for the next order. Similarly, real estate agents can use them as weatherproof labels on their signages so that the buyers in cars or on bikes can get any time access to more information.
You can even use on product brochures, flyers, and marketing postcards. Some brands have started using QR codes as the whole business card stickers. This truly opens the door of quick expansion and maximized reach-out.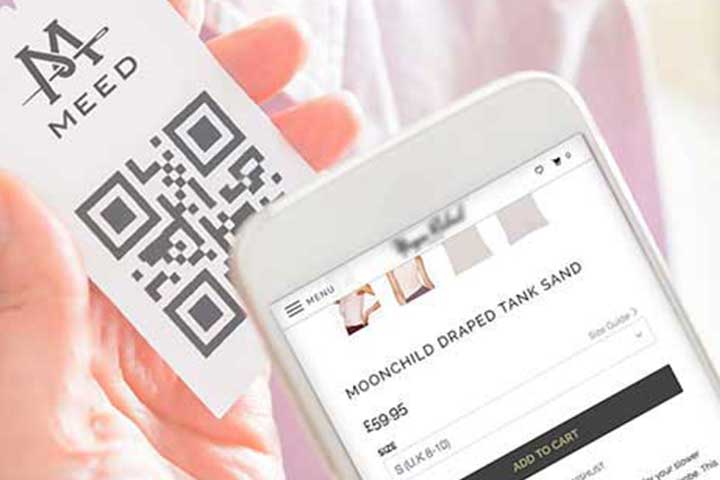 Creating Your Own QR Codes for Labels and Stickers
Creating a custom QR code that can be a part of your marketing labels and stickers is both enticing and challenging, especially for first-time users. This can tempt them to go for a standard sticker or a label.
However, for those who are keen to have a lasting customer relationship, customized QR code on sticker and label is ideal. They are simply effortless to make, hardly need any monetary investment, and are easy to print.
Thus, even small-sized businesses can use them for fulfilling their business goals without breaking the bank. Following are the key points to take care of while designing the QR code labels and stickers.
Size: The objective here is to grab the attention of all onlookers. Thus, it is wise to have a big QR code label or sticker. However, it is equally true that a bigger size is not always a better option. Thus, to determine the right size, consider the space where you wish to use the label or sticker.
Shape: The shape of a label or sticker along with that of the QR code can make a significant difference in attracting the target audience. Instead of sticking to the traditional shapes, consider having shapes such as rectangular, round, or rounded square.
Material: The material that you choose for QR code labels and stickers should be resistant to UV, durable, and adhesive. It should also not result in light distortion or else the QR code will not get scanned properly.
Color: For a quick appeal, labels and stickers should be in bright, calming colors. Similarly, you can change the typical black and white color of your QR code to a pair that is in contrast with each other. The font should be big and legible too.
Print Quality: The printing material should be of good quality or finishing. This is because it is directly responsible for a well-printed label. Only such labels tend to reflect the perceived quality of your brand.
For custom qr code, consider adding your business logo in its middle, changing their background and foreground color, and adding a small piece of action indicating what the readers will get upon scanning.
Many QR code generator & QR code scanner tools are available for free online using which you can create and customize QR codes. Just do a Google search and you will get to know all popular online QR code generators.
Most of them usually first ask you about the type of QR code to be created and then share customization options to edit. The type you choose will depend on what you will be sharing, such as a website link, a video link, a PDF file, or a business contact card.
Conclusion
QR codes on labels and stickers can do wonders for your business as well as customers. You only need to use it in the right way to maximize customer engagement as well as interaction.