Since the first barcode was introduced in the early 70s, the technology has taken off and has become the industry standard. It's hard to believe that at first barcodes were not successful at all. After some time, however, barcode technology had a breakthrough and drastically changed the retail industry.
Barcodes are also very important in the shipping industry, as they help to sort out packages and determine where they should be sent. Barcodes hold critical data about packages that carriers use to complete shipping. When you scan barcode on a shipping label, you can quickly see information about the sender, receiver, type of the shipped item, etc.
In this guide you will learn everything you need to know to make a shipping label with the needed barcode.
The Importance of Barcodes and Labels
It takes milliseconds to scan a barcode. Barcodes are fast, reliable, and most importantly, they reduce human error. Creating a barcode is very affordable, however, it brings a long-term benefit for the company, its equipment, and employees. Barcodes are easy to use, they can be printed using different materials in multiple variations. It's important to make sure that the barcode is printed correctly to get the most value out of it.
There are still labeling errors that reduce the efficiency of barcodes. It's essential to have the right label for different applications. This is especially important for the shipping labels, as there is a high risk of barcodes getting damaged.
There are many various aspects, which you have to consider when choosing which label will suit your business needs best. When making a shipping label, it's worth spending time learning about different materials, machines, printers that go into creating the labels, so you can have a better idea of which options would suit your business best.
It's also worth identifying your goals before starting to make shipping labels. You need to know what you need to track, which materials to use for barcodes, how many of them you need, etc. There are situations where classic white paper labels are not the best option, even though they are easy to make and cheap.
The most popular media types for barcodes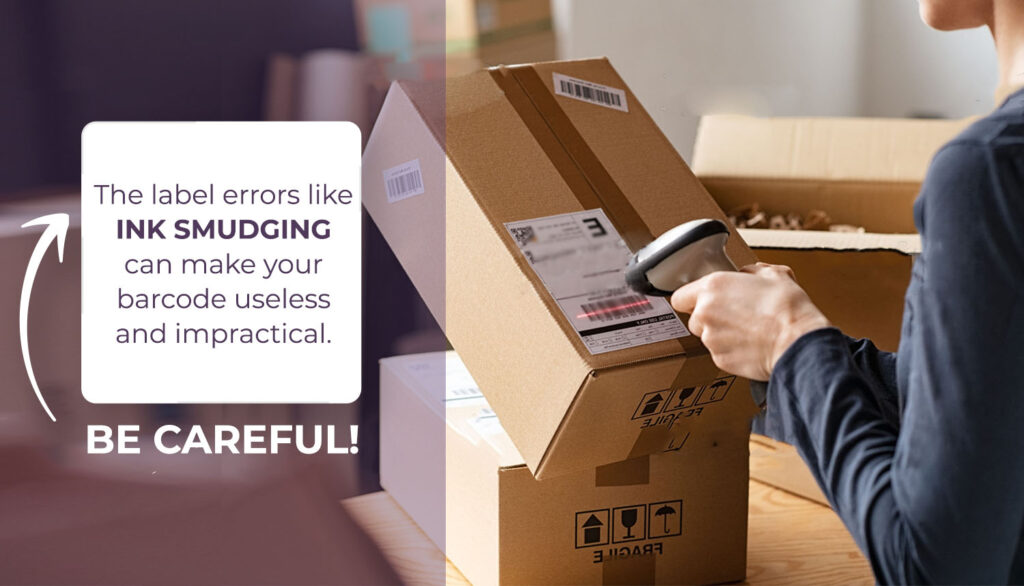 There are several options, where you can put your barcodes on. These include labels, tags, and wristbands.
Label
Labels are considered to be the most popular and cost-effective media for barcodes. Labels are easy to design, print, and then attach. Labels are made of face stock, adhesive, and a liner. The face stock is basically the foundation for the barcode. It's the paper you print your barcode on.
Then label adhesive is the sticky part that connects the label to the place where it's applied. It's a very important part of the barcode as it helps to attach the code, so it can be then used. The material used for adhesive is usually polyester or wax. Labels are usually packaged in rolls, sheets, or fanfold so that they can be used to track inventory, shipping, warehouse management systems, and more.
Tags
The main difference between tags and labels is that tags don't have any sticky side, any adhesive. Tags are thicker and usually applied with a plastic string or staple. A tag is a good choice for application to something that you can't easily put a label on. Usually, this item doesn't have a smooth surface.
Tags are commonly used in the apparel industry, as it's not good to stick labels directly on clothes. The adhesive would leave residue and stains on the garments, so tags are the best solution in this case.
Wristbands
These are not as common as tags or labels. However, they are also important for the niche market. Wristbands are commonly used to track people or animals. They are used in cases when there are high chances of the tag or label falling off.
What is a barcode?
A barcode is a visual representation of characters and numbers that can be read by machine — barcode scanner. It consists of bars and spaces that have different widths. The most common industry to use barcodes is the retail industry. Today, it's almost impossible to imagine items in stores or supermarkets without barcodes.
They make inventory management much easier and more efficient. There are many ways businesses can use barcodes to improve certain business operations or enhance communication with customers.
There are different types of barcodes that are used for various industries. Barcodes can be used for inventory tracking, shipping and transportation, lot numbers, product identification, and more. Other ways you can use barcodes for your business include:
Job costing and tracking. Barcodes allow you to track the time when each work order starts and ends. Employees can simply scan their unique barcodes and the information will be automatically added about their work hours. This helps to improve the payroll cost allocation and make it more efficient.
Asset inventory management. Many businesses have fixed assets that should be tracked so that the costs can be appropriately allocated to these assets. To do that, businesses can place barcodes on all items and then link them to a barcode in a certain work area.
Payment processing. Barcodes can also be printed on an invoice. This allows accountants to quickly get the needed data and complete payment processing faster.
Service tracking. It's referred to when you receive a new unit, you can quickly scan a barcode and bring up the needed information about the unit.
Value-added services for customers. If a company has the opportunity to print barcodes and has the needed inventory for that, then it can qualify as a supplier to those customers that require barcodes on items shipped to them.
Barcodes can offer many benefits to businesses if they are created and printed correctly. The main advantages include cost- and time-efficiency as well as improvement of asset management and making business operations more effective.
The types of barcodes
Generally, there are two types of barcodes: 1D and 2D barcodes. They are used in various applications. Moreover, they can be scanned by different types of technology. Both of these barcode types are widely used in a variety of identification applications. People also point out additional types of barcodes that are numeric-only barcodes and alpha-numeric barcodes.
One-Dimensional (1D) Barcode Types
One-dimensional barcodes are also called linear barcodes that have a series of lines and spaces of different widths. These can be commonly found on consumer goods. They don't hold a lot of data, only a few dozen characters. Linear barcodes get longer as more data is entered. That's why this type of barcode is usually limited to 8-15 characters. Here are the types of one-dimensional barcodes:
EAN Code
Code 39
Code 128
ITF
Codabar
GS1 Databar
MSI Plessey
Two-Dimensional (2D) Barcode Types
Unlike one-dimensional barcodes, 2D barcodes use squares, dots, and hexagons instead of lines. Two-dimensional barcodes can hold much more information because of their unique structure. They also appear to be physically smaller but hold up to 2000 characters, which doesn't impact their size at all. The types of 2D barcodes include:
QR Code. These barcodes are usually used for marketing and advertising purposes. They also serve as great tools for tracking and analytics to see whether marketing efforts were successful or not. The QR code generator is an easy-to-use tool to create needed QR codes in just a few seconds. There are also free QR code generator options, which make them accessible. QR codes are flexible in size and can be scanned even when they are damaged. QR codes can't be read using a laser scanner. Mostly, people use cameras in their smartphones to read this type of code. QR codes support four data modes, including alphanumeric, numeric, binary, and Kanji.
Datamatrix Code. This type of code is used to label smaller items and documents. Datamatrix codes are also perfect for labeling electronic components that are usually very small in size.
PDF 417. This two-dimensional barcode is better for large files with big amounts of data, like photos, fingerprints, graphics, signatures, etc.
Aztek. This barcode is widely used in the transportation industry, especially for boarding passes and other types of tickets. Their quality is extremely high, so they can be quickly read even if they were poorly printed or shown on the phone screen.
What is a shipping barcode?
It's a machine-readable pattern with various lines that is printed on a shipping label. The shipping barcode helps to identify a shipment. The shipping barcode is used throughout all delivery phases until the package reaches its destination.
Two main types of barcodes third-party logistics (3PL) providers use
You will find two main types of barcodes that are used by carriers and third-party logistics providers.
1. Shipping barcodes on shipping labels
Shipping barcodes are scanned by 3PL providers when receiving inbound inventory and shipping outbound packages. This includes packages for both direct-to-consumer and wholesale orders. Shipping barcodes help to deal with inventory and track the shipping process.
2. Product barcodes on shipped products
Using product barcodes is a great secure way to store and manage items. With barcodes on your new stock-keeping units (SKUs), that then will be sent to fulfillment centers, you can ensure accuracy. These barcodes allow providers to ensure the right products are shipped to their destination from the right sender.
The most used barcode formats in shipping
There are many types of barcodes, each with its advantages and disadvantages. Here are the most common barcodes that are used for shipping purposes:
Numeric barcodes
Numeric-only barcodes include the Universal Product Codes (UPC). They are usually used in retail as well as in libraries and blood banks. These barcodes offer self-checking and error correction features that can be quite useful in some cases. You can find numeric-only barcodes only in the United States and Canada. Numeric barcodes are simple barcodes that are used for basic inventory management.
Alpha-Numeric barcodes
Unlike numeric-only barcodes, alpha-numeric barcodes are worldwide barcode labels. They can be used for any purpose, however, mostly this type of barcodes is used for tracking and data collection in the shipping industry.
Also, alpha-numeric barcodes can be used in the healthcare industry, as they can hold large amounts of data. These barcodes are mostly used for tracking and collecting data. Moreover, alpha-numeric barcodes consist of UPC, EAN, MSI, and Codabar barcodes.
Datamatrix codes
This type of barcode is commonly used for labeling small items and goods. The size of the Datamatrix code makes it perfect for marking small products in logistics and operations. The main advantages of these codes include the high speed of scanning and reading the code and its high fault tolerance.
What is a Shipping Label?
A shipping label, or a package label, provides all of the needed information about the package, so senders/receivers of the package have a better understanding of what is the destination of this package, where it needs to go, what type of item is inside, etc. The information about the package may include its point of origin, its weight, size, its destination, the carrier's name.
Using a shipping label is very important. Without it, packages will not be delivered to the right address, they will get lost, leading to missed items and financial damages. Shipping labels are a must in the shipping industry, as customers rely on carriers to ship the package to the right destination. If they don't, customers lose trust in the service. Creating correct shipping labels will prevent financial losses and unsatisfied customers.
How to Create a Shipping Label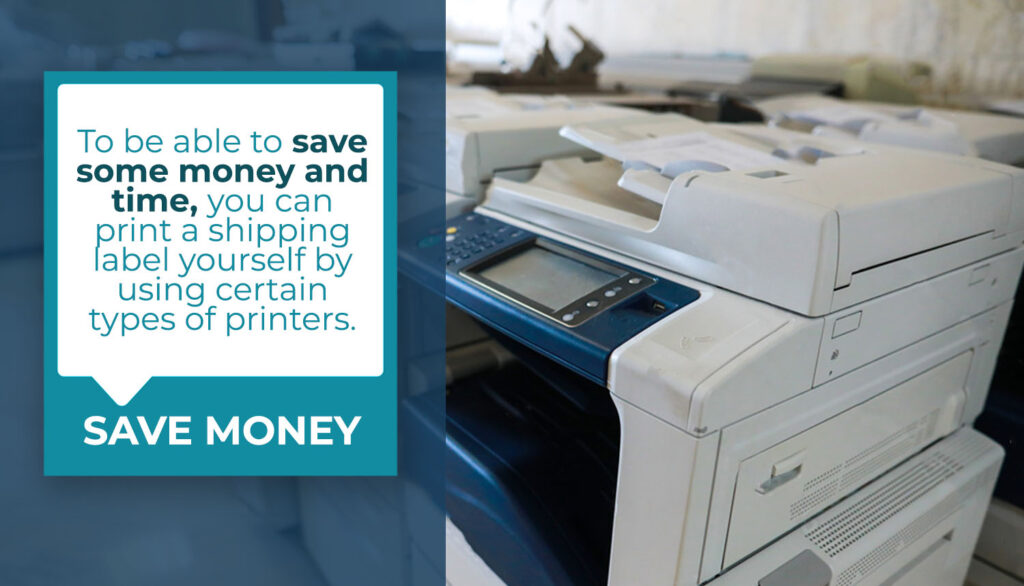 If you're running a small business, it's better to create shipping labels yourself instead of purchasing them at the carrier's office. It's because with shipping labels from the carrier you're paying for postage at the highest rates.
With your own shipping labels, you can also take advantage of postage discounts and even make pickup arrangements with the carrier. This can be quickly done through the carrier's website or using shipping software solutions.
Creating a shipping label to fit your business needs
Before jumping into the making of shipping labels, it's necessary to identify your business goals and which labels are needed to fulfill them. By doing so, you will narrow down the options. You will find the right label type and required equipment for these labeling needs much faster.
Depending on the way labels were printed they can last for a certain period of time. Direct thermal(DT) labels are very heat sensitive, meaning they will last less than six months. Another option is thermal transfer(TT) labels, which can last much longer compared to DT labels.
Another important aspect is the environment in which the label will be exposed. How long it's going to last depends on it as well. If the label is going to be for a long time indoors, the better option would be DT labels. These are also able to be exposed to the light for around 1 month before they start to fade. TT labels are better for outdoors and they last longer.
What types of printers are used for printing shipping labels
There are different types of printers to be used when printing shipping labels. The best option is, of course, a thermal label printer. The basic inkjet or laser printers are not enough. They are not efficient or cost-effective when it comes to printing barcodes and shipping labels. Here are three main types of thermal label printers:
Industrial
Industrial label printers are able to print from 3,000-10,000 labels per day because they are designed for completing large batches of labels. They withstand high-volume printing, and that's why they are mostly used in warehouses, big factories, or large storages, where it's extremely important to have high-quality printing in large quantities.
Desktop
Desktop printers are not as powerful as industrial printers. They only print around 500-1000 labels per day. Desktop printers are commonly used for small-scale labeling operations that don't require high-quantity printing. These printers are used for retail applications and asset tracking as well. Desktop printers are also considered to print high-quality labels fast, even though they are much smaller in size compared to industrial scanners.
Mobile
Mobile printers are for those who need to quickly print several shipping labels. They are compact, which makes them perfect for low-quantity but still high-quality printing.
Typical materials to use when making shipping labels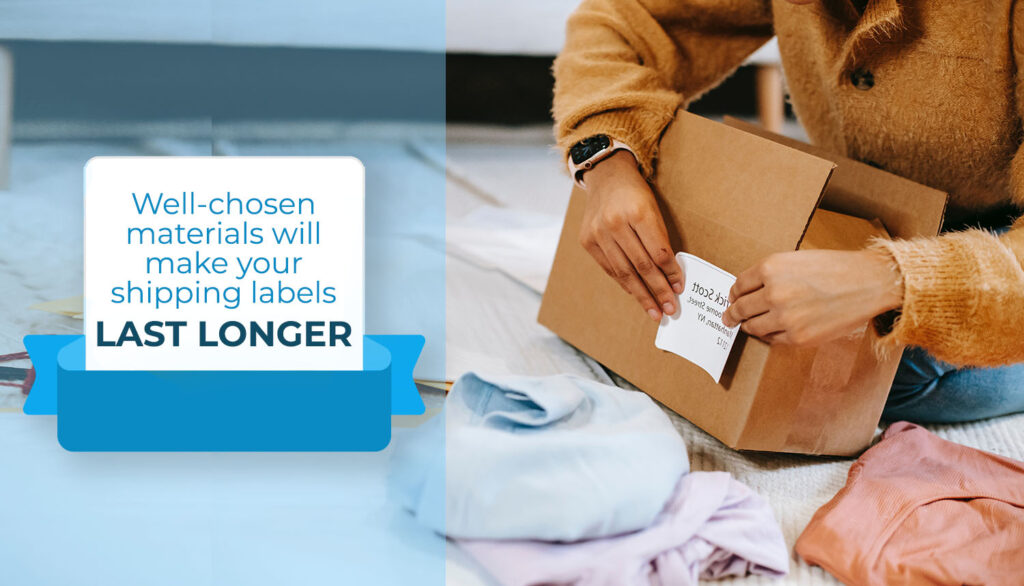 There are three main materials commonly used for printing labels. These include paper, polypropylene, and polyester. Paper is considered to be the most popular material to use, however it may not always be the right solution for a shipping label. They require more durability and weather resistance.
Paper
The main reason why most of the barcodes are printed on paper is the price of the material. It's very cheap, especially compared to other materials like polypropylene. Paper offers many advantages, including:
Affordable
Easy to use
Works great for simple everyday applications
However, there are also some disadvantages to using paper for shipping labels. They are easily tearable and can be damaged by water quickly. When it comes to shipping, the package is going to be outdoors a lot and exposed to sun, rain, humidity. Using paper material for barcodes in this situation is not good, as there is a high chance of the label getting damaged on its way to the destination.
Polypropylene
Almost all long-lasting labels are made of polypropylene. You can make the thermal transfer and direct thermal polypropylene labels as well. It's worth noting that labels made from polypropylene have grayish color due to leuco dye. Here are the most important advantages that polypropylene offers:
Durability
Hard to tear
Smudge-proof
Long print life
Water and moist resistant
There are also some disadvantages to know about, including the higher prices compared to other materials and the need to use wax/ribbon.
Also, it's good to know that instead of plain black and white shipping labels, you can print colorful ones. Colored labels usually are used for better inventory organization and the ability to sort certain items by type. The typical colors used for labels include yellow, light green, light blue, and orange. For better readability, it's recommended to choose lighter colors, especially if you're going to add barcodes to these labels.
Adhesives
Another important part of making a shipping label is choosing an adhesive. The performance and print life of your shipping label highly depend on adhesive, so make sure you choose the right one.
Here are three main tips to help you choose the most suitable adhesive for your shipping labels:
Identify for how long you need your label to remain adhered to the surface. There are permanent adhesives that provide the strongest stickiness, so once your label is applied, it will be difficult to get off. Permanent adhesives are perfect for shipping labels, as there is less chance that the label is going to fall off. There is also a removable adhesive, which allows you to remove labels and stick them to other surfaces. With this adhesive labels can be easily removed without any damage or residue. This option is great in cases when you need to update information on your labels.
Choose adhesive based on the surface it will be applied to. Depending on the texture of the surface it will be applied to, the adhesive will stick differently. It's better to put your label on smooth and clean surfaces, so it will stick more. Uneven surfaces require stronger adhesives. It's also worth considering strong adhesive when you know that you need to put your label on a wet or cold surface. For this type of surface people mostly use polypropylene or polyester face stock, because paper labels are not suitable for that.
Determine at what temperature your label will be applied and stored. It's important, as many adhesives perform differently in various temperatures. Some adhesives perform well in cold environments, some in warm. You need to determine where your package will be stored so that you can choose adhesive according to that.
There are also two different types of adhesives: rubber and acrylic.
Rubber Adhesives. These are affordable synthetic polymers. Rubber adhesives stick to surfaces better, compared to acrylic ones, however, they tend to be more susceptible to moisture and temperatures. They also wear out over time. The rubber adhesive is also prone to break down if exposed to chemicals or solvents. If you store your shipping labels indoors at room temperature, then this option is perfect for you.
Acrylic Adhesives. This type of adhesive is stronger and works well on different surfaces, including wood, metal, glass, or any other outdoor items. Acrylic Adhesives are moisture and temperature resilient, meaning they hold up in different weather conditions and can be exposed to the light without getting damaged. This adhesive is considered more expansive, however, it provides higher quality and can stay on the surface for many years.
Additional aspects to consider when making a shipping label
Besides materials and printers you also need to make sure you've decided on the size of your labels, how they will be applied on the surfaces, their format, etc.
Core Size
There are two most common sizes: 1" diameter and 3" diameter. You can also find a ¾" diameter core, however, they are not as popular as the previous two. The core size of your labels depends on the printer you're using to make them. Bigger labels are printed on industrial printers, as they fit larger rolls. Labels on a 1" core diameter can be printed on desktop printers, as they are smaller in size, so labels on a 3" core would not fit into this type of printer.
You can only print the ¾" core labels on mobile printers. That's why they are not commonly used. Mobile printers are convenient, as they can be carried around anywhere, however, they don't provide high-quantity printing.
Dimensions
Before buying labels, you need to know the amount of surface where you will apply your label. If you buy a label that is bigger than the surface, it will not work. You need to measure your label before applying it. If you have a 4×6 label, then it means that the label is four inches wide and six inches long.
Perforation and Application
The labels can be perforated or non-perforated. The main difference between them is that perforated labels have small holes punched in the liner between each label. This makes the labels easy to tear off. Non-perforated labels are usually used when they are going to be auto-applied. Perforated can be applied manually.
If you have an auto-apply machine, you have to use non-perforated labels. If you use perforated labels for auto-application, it can cause chaos and the machine will not be applying the labels normally. Non-perforated labels also have a larger diameter, as they are not confined to the printer shell. When you apply labels by hand, then it's more convenient to use perforated labels, as they allow you to easily get rid of the excess liner. The application process of perforated labels is much cleaner as well.
Label Format
All types of labels are used across many industries. It's important to distinguish different formats to find which will suit your business needs best. Labels usually come in rolls, fanfold, and sheets, which have different formats and uses:
Roll labels can be printed on thermal label printers on inkjet roll printers (though it's not recommended to use this type of printer). Depending on the type of printer you're using, roll labels come on 1", 3", and ¾" cores. When printing, you put the blank label through one end, and then it comes out with the printed label on the other end.
This is considered to be the fastest and easiest way to print shipping labels, barcodes, and other labels when you need to get each one printed separately. When the label rolls are printed with thermal transfer technology, they last longer compared to sheet labels. If you need to print a large volume of labels, it's good to use roll labels, as you can print up to 500 labels a day. The only disadvantage roll labels have is that everything can get very messy if not collected and sorted out correctly.
Fanfold labels can be folded into a stack, which saves a lot of time and makes labels easier to store and handle. With fanfold labels, you are not only saving a lot of time, but also labor. One of the biggest disadvantages of fanfold labels is that they need to be fed into the printer from outside of the printer. If you have the needed space near your printer, it's not a big deal for you then.
Sheet labels can be printed from laser or inkjet printers, because of the simple paper size of the sheet. You can also print smaller-sized labels, like for example return address labels using sheet labels.
How to create a shipping label
There are many websites available that you can use to create shipping labels. You can use services from shipping companies, such as UPS or FedEx as well as ShipStation, an advanced shipping automation platform.
Many e-commerce platforms offer shipping label generation. Many websites also offer free shipping label templates, which you can use when making your labels to make sure you haven't missed any important information. By using online resources, shipping label software, or services from your local carrier you can also make labels for international shipping.
How Do Shipping Labels Work?
A shipping label has to display all necessary information about the package to direct it to the right destinations and track it on its way to the destination. Each carrier has a specific shipping label template, uniquely designed to be read by machines and humans. Your shipping label must be easy to read and clear.
Different carriers have special templates, designed for their processes of sorting and delivery. If you're using a certain carrier, it's worth using their shipping label templates. Shipping labels usually have many important elements, including letters, numbers, and barcodes.
Every section of the shipping label provides important information that will be used during a specific section of the chain. The basic information that every shipping label should have includes the following:
Sender name and address (may also include the return address, where the package should be sent in case it's not delivered to its destination)
The information about the destination: recipient name and address
Weight of the package, the type of item being shipped, and the packaging
A MaxiCode, unidirectional Code that can be scanned and read in any direction
The routing code that identifies how to route the package during sorting
A postal code with the recipient's zip code
Type of service that includes the shipping method (Priority, Express, etc)
The tracking number that helps to track the package online
Some of the information can be generated by the carrier you will be using. The most important information includes sender/recipient name and address and the type of service. Standard shipping labels are 4×6 inches (10x15cm). If it's too small for your package, another size option is 6×3 inches (15x7cm). Generally, all shipping labels contain the same information, but different carriers may have some variations.
Almost all of the needed information for shipping labels is generated by a special shipping software or the carrier, so you don't have to worry about that. You just need to make sure you include all correct information about the destination and service type.
Creating Shipping Labels Through a Carrier
Many popular carriers like UPS, FedEx, USPS offer online services, which you can use to create your shipping labels. This option is great for those who don't have a large volume of packages, as it usually takes a bit longer.
You can create a shipping label on your own through online services that your carrier provides. It's not the fastest method, but it's good for those who have a low volume of packages. You can do that by visiting a carrier's website, then you need to fill out the shipping label template. After that, you can download the file with your shipping labels and print them out. Here are the major carrier websites you can use to make your shipping labels:
USPS
FedEx
Amazon FBA
eBay Shipping
UPS
DHL
Creating Shipping Labels Through Software Solutions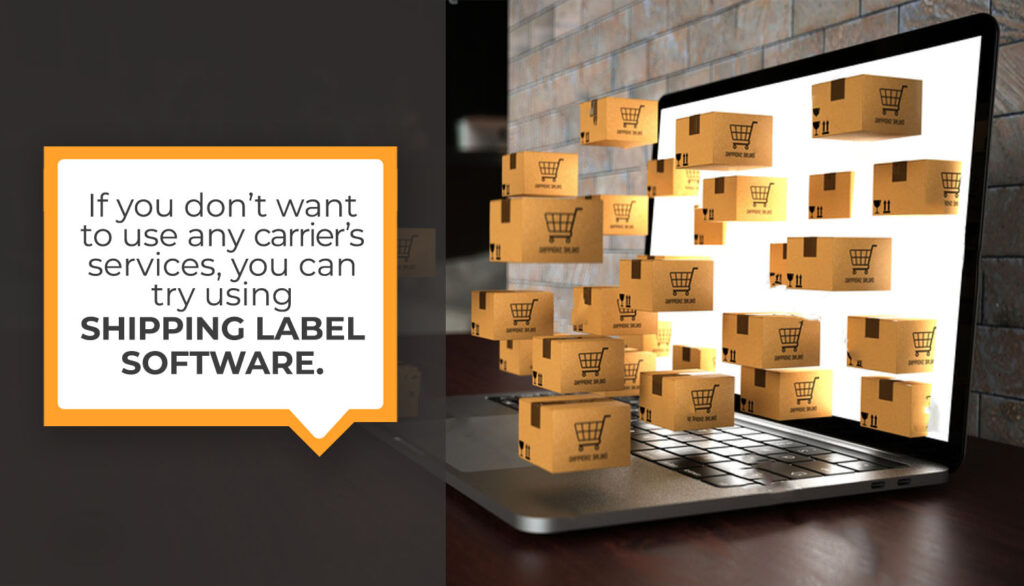 There are many shipping label software options available online, which you can quickly integrate with your ecommerce platform. Using shipping label software is great for small or medium businesses and sellers, as they offer different payment plans to choose from. You can pay-as-you-go or choose monthly plans if you have high-volume shipping orders.
Shipping label software is a great solution, as it's not only providing labels, there are actually more features you can use for your business. You can get access to a dashboard with reporting and analytics tools as well as additional carrier discounts.
3 Shipping Label Best Practices
Here are some shipping label best practices, so you can make your labels faster and more efficiently.
1. Include special instructions on your labels
This is a very important point, especially if the package includes something that requires special care. You need to include additional notes about that on your label or package. You can label your package "Fragile," "Perishable," or "Flammable". This will help to ensure your package gets to its destination in the best condition.
2. Make sure your labels are placed correctly
Placement of your labels is also critical. Shipping labels include all needed information to complete shipping, that's why it has to be visible and not folded, so it's easily scanned. All bumps that appear after sticking labels to the package should be flattened as well.
It's because it may influence the readability of barcodes on the label. Also, if you decide to cover your label with transparent tape or put it in a plastic wallet, make sure you check your label and whether it's still legible.
3. Include packing slips
A packing slip is a document with a list of items in a package, together with their weight, dimensions, etc. The packaging slip helps the receiver to check if they got all items they have ordered.
You can include packing slips inside or outside in a special plastic wallet. Packing slips usually serve as receipts. You need to include your company contact information, your customer's address, date of the order and number, the quantity of the items in the package, a customer service number, and any additional information about the return policy or refunds.
Conclusion
With this detailed guide, you have learned everything you need to better understand how shipping labels work, which barcodes are used for shipping labels, which materials and inventory you need to create your own shipping labels, and which services to use.
This is very helpful for those, especially for those who are just starting as e-commerce sellers and don't know much about shipping. With a good shipping label that has all the needed barcodes, you will be sure that your package got to its final destination in perfect condition.