Introduction
Amazon is one of the top world-famous online marketplaces that continues to satisfy customers around the world since 1994. It constantly evolves and changes to provide better opportunities for third-party sellers too. One of those brilliant opportunities in the FBA program.
You send your products to the Amazon fulfillment centers and it handles all of the fulfillment, packaging, and shipping while you take credit for the sales.
Sounds like a fair deal, doesn't it?
It is easy to apply for the FBA program, but it might not be that easy to fulfill all of the Amazon requirements for the FBA barcode labels so the barcode reader can easily scan them. While some find it complicated, others are completely lost since one slightest mistake can lead to Amazon misinterpreting your products.
That is why, we've compiled this comprehensive guide where you will learn everything about FBA, its benefits, packaging and labeling requirements, and much more. It will help you to make your products easily identified by the barcode scanner at Amazon fulfillment centers.
So, before we get to the FBA barcode labels part, let's define what Amazon FBA is.
What is Amazon FBA?
FBA or Fulfillment by Amazon is the Amazon selling program that allows merchants to expose their brands to a wider audience, qualify as Amazon sellers, and leverage premium shipping of their products by Amazon.
This program has been in place since 2006 and has created a sustainable selling model at the expense of streamlined order fulfillment and delivery processes.
However, these are not the only benefits that attract third-party sellers to the FBA program.
Benefits of Amazon FBA for Sellers
Amazon Branding. You're selling on Amazon so that your brand is associated with the biggest online marketplace 197 million people visit monthly. It is much easier for your customer to find you and your products are exposed to a much wider audience if you were starting alone.
Free Shipping. More than customers love a product they are purchasing they love a free shipping offer. You can offer premium expedited free shipping to your customer under Amazon FBA. It makes you stand out from the other sellers.
Amazon Policies. Amazon didn't get so famous for nothing. Their streamlined and structured order fulfillment process is what makes it the best. Your product will be handled by Amazon as their own leaving your customers with nothing less but "extra" service. Moreover, your products will be protected by Amazon policies.
Shipping Rates. Being on the market for so long, Amazon negotiated the best shipping rates with all major carriers. So you will benefit from competitive shipping prices and save up more.
If you weren't considering the Amazon FBA program before, the benefits above might have made a difference.
Types of FBA Barcodes You Need
If you're already an Amazon seller or just want to become one, the Amazon FBA program is your best option.
And here's when we get to the best part.
Once you decide to sell with the Amazon FBA program, the first thing you should pay attention to is Amazon FBA shipping barcode labels. Since it all starts from barcodes.
You must keep in mind that you're not the only one selling on Amazon. Therefore with such a huge number of products sold there, barcodes are what keeps the process organized.
So here are the barcode types accepted by Amazon:
Manufacturer/UPC Code
If your product is already marked with the manufacturer's code, your product might not need any further labeling before shipping to Amazon. However, once you create a product listing on Amazon, you may need to use a UPC code to identify a product as yours.
UPC barcode is one of the most recognized barcode types. Correspondingly, other merchants may be using it too. In this case, using it to mark your products may not work on your behalf. Learn why further on.
Amazon FNSKU Barcode
FNSKU stands for Fulfillment Network Stock Keeping Unit. It is the Amazon-specific alphanumeric barcode used exclusively within Amazon warehouses to track products easily and make them ready for sale faster.
FNSKU is generated automatically from your product UPC. Once you upload a product to the Amazon catalog. It is unique for every product and seller so it is required for FBA.
You can use your UPC code. However, as mentioned previously, there might be merchants selling the same products. When Amazon Fulfillment Center employees receive your shipment they will scan the UPS code with the barcode reader and put it next to the products with the same UPC code.
It would be nothing, but if someone else's products are not of the same quality as yours you wouldn't want your brand to be compromised because your customer receives not exactly what they expected.
That's why it is best to use FNSKU barcodes and relieve yourself of unnecessary worries.
Amazon ASIN
ASIN is also a unique Amazon alphanumeric barcode that stands for Amazon Standard Identification Number. It is always confused with FNSKU only because they both are used to manage products within Amazon.
However, ASIN is assigned to every single product that is created on Amazon. You can find it in the product URL. While you need an FNSKU when you decide to ship products to FBA.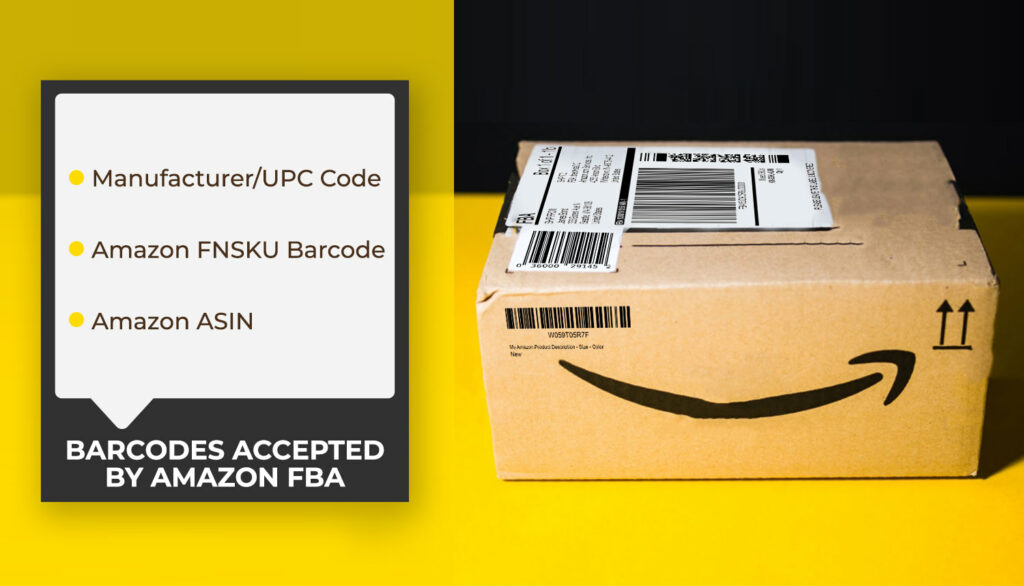 How to Print FBA Barcodes?
When you decide to join FBA, you have to pack and ship products to Amazon fulfillment centers and let Amazon employees manage them from there.
However, shipping products is an important part that consists of several processes: printing the barcodes, packaging the products, labeling them, and finally shipping.
First, you need to print FBA barcodes, and here are a few options to consider:
Amazon FNSKU Labeling Service
FBA labels should be of good quality so barcode scanners can verify your codes without any difficulties. Therefore, you need a good printer to get the best quality barcodes. If you don't have an opportunity to acquire one, Amazon can do it for you.
You'll just mark Amazon during the "Who Labels" step and fulfillment center employees will take care of the rest. They do charge $0.20 per a labeled item. Consider this before applying for this service.
Print it Yourself
Another option is quite obvious – you can print the FBA labels yourself with a thermal or laser printer.
It is also important to note that FBA barcode labels shouldn't be photocopied, modified, or reused. Each barcode is unique and can only be applied to one product.
Keep this in mind not to violate the Amazon policies and avoid additional costs on shipping products to Amazon.
To print the barcodes in your Seller's account, just go to Manage FBA Inventory, select the product your want to print labels for, and choose the Print item labels, clicking on Edit near the selected product.
Size of the FBA Barcode
You don't have to worry about the specifics much since Amazon generates FBA labels for you. The only thing you need to keep attention to is the size of the barcode.
Amazon requires it to be between 1×2 inches tall and 2×3 inches wide. Along with that, you have to make sure that any original or existing barcodes are covered. It is necessary to avoid confusing barcode readers. It can scan the wrong code and correspondingly cause a delay in the process or additional prep fees.
Regarding this, you have to ensure the FBA barcodes you print fully cover the previous ones. For this, Amazon provides you the following label sizes to fit into one print-ready sheet on A4:
21 labels/page (63.5 mm x 38.1 mm)
24 labels/page (63.5 mm x 33.9 mm, 63.5 mm x 38.1 mm, 64.6 mm x 33.8 mm, 66.0 mm x 33.9 mm, 70.0 mm x 36.0 mm, 70.0 mm x 37.0 mm)
27 labels/page (63.5 mm x 29.6 mm)
30 labels/page (1-inch x 2 5/8 inches on US Letter)
40 labels/page (52.5 mm x 29.7 mm)
44 labels/page (48.5 mm x 25.4 mm)
FBA Printer and Paper Requirements
You're almost there. After you prepared your FBA labels, the last thing is to print them. However, here Amazon also puts on some requirements for you to keep in mind.
As mentioned before you should use thermal or laser printers since they have the 300 dpi resolution best for the FBA barcode labels. That is why inkjet printers are not recommended since they smudge the barcode making it useless for the barcode scanner.
Regarding the paper, barcodes should be printed in blank ink on white and non-reflective paper since it determines readability and ensured the barcode readers have no issues scanning the code. It is also good if the labels are self-adhesive so customers can easily remove them.
What to include on your FBA barcode labels?
Once you decide that you want to print the barcode labels yourself, you have to make sure they correspond to the Amazon requirements. If some details don't add up, Amazon might reject your products or process the fulfillment longer, causing a delay.
Keep in mind that your FBA barcode should contain:
FNSKU
Product Name
Product Condition
Quiet zone around a barcode and a text (3.1mm on top and bottom and 6.25mm on sides)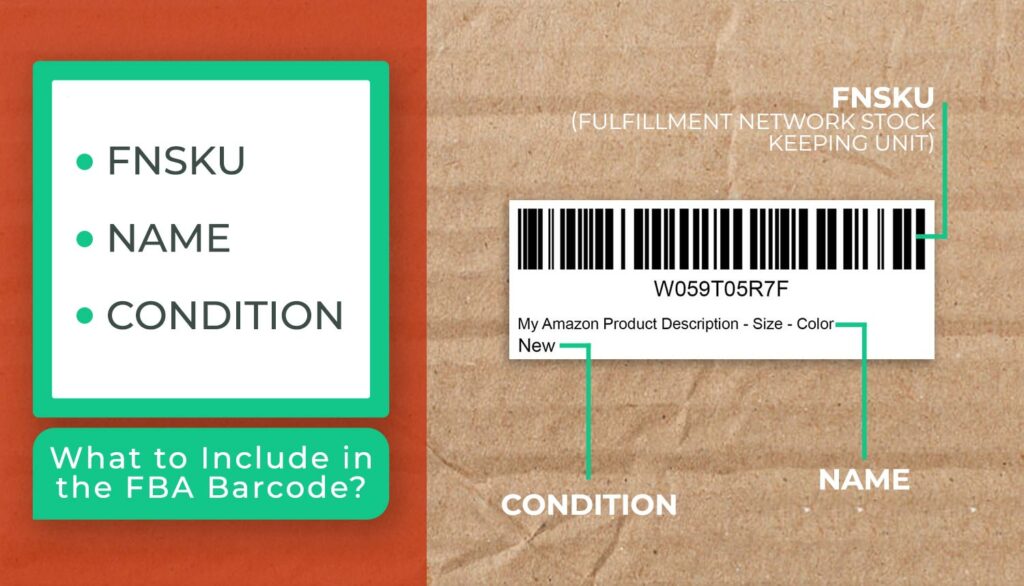 Each item should contain a barcode and be easily scannable by the barcode reader.
How to Place Amazon FBA Labels?
Placing FBA barcodes on packages is as important as printing them since any failure to follow the requirements provided by Amazon can result in an unexpected delay and fees.
So, when you're ready to affix your FBA labels to products you should look up to the following:
Label all items with the FBA barcode
Don't forget to cover all other visible barcodes
Don't place FBA labels on corners, packages, or curves
Put barcodes on the outside of the prep materials.
Leave 0.25 inches between the edges of the packaging and the edges of the barcode label.
Product Packaging
As we've already mentioned a few times, Amazon is famous for fast and seamless order fulfillment and delivery. That is why they have some additional requirements for the packaging of FBA products too to make them available for sale a soon as possible. You can't just throw all products in the box and expects Amazon to accept them like is.
Amazon offers some prep services to FBA sellers initially. However, if your products are not properly packaged they will charge an additional fee for packaging.
So, let's better make sure you package products for FBA properly.
Packing Materials
The most common materials used in packaging are bubble wrapping, poly bagging, and tape.
They protect your product from dirt, dust, and damage. However, it is important to note that poly bagging needs to be at least 1 millimeter thick and transparent.
Both bubble wrapping and poly bagging need to completely seal the products and be taped well enough to secure the products.
And don't forget to put the barcode label on the outer layer. A barcode scanner won't be able to read and identify the barcode if it is covered by the packaging material.
Surprisingly, most of the FBA mistakes are connected to the packaging materials and applying barcode labels on them.
Loose Products
"Loose products" are product is a single package, such as an extension cord or shoes, in original packaging. Amazon will not accept products they will need to assemble. Make sure you send securely sealed products even if they originally are packaged in pouches or loose sleeves.
Barcodes reader should be able to read the FBA barcode in this case as well. Remember this before sealing the box.
Expiration Dates
To avoid delay in the receiving process or even rejection of your product in the FBA fulfillment centers, you have to apply an expiration date to each unit you send. Amazon only accepts products that have a remaining shelf-life of more than 90 days from the day they arrive at the fulfillment center.
The expiration date should be in either MM/DD/YYYY or MM/YYYY format and printed in 36pt font or larger. Remember to apply the expiration date on any product that doesn't have it, or has it in the wrong format. It is also important to put it on the outermost packaging.
Individual Items vs. Case-Packed Products
When you ship multiple products to Amazon FBA in a box, they can be individual or case-packed.
Individual boxes can contain a different number of products in different conditions. In this case, each item requires a barcode to be scanned.
In case-packed boxed, you place not more than 150 identical items with the same condition and matching SKUs. The outermost packaging or master carton doesn't need any barcodes while every item in the box does. Amazon workers will just take one item, scan barcode, and put it into the inventory.
Amazon FBA Packages Labeling
Once you package and apply FBA barcodes to your product properly, you're almost set.
You've made sure the barcode scanner can easily scan your barcodes. But you also need to ensure your packages are easy to "scan" for the Amazon employees.
How is that?
There might be some additional labels to apply on the packages you ship to Amazon FBA. You need to ensure products are secure, safe, and handled with extra care when they arrive.
Suffocation Warning
While poly bags protect your products from dirt and dust they can also be dangerous and cause suffocation. So, if the bag has an opening of more than 5 inches when placed flat it is recommended to place this warning in legible size.
| | |
| --- | --- |
| Total bag L x W | Minimum label font size |
| 60 inches or more | 24 point |
| 40 to 59 inches | 18 point |
| 30 to 39 inches | 14 point |
| less than 29 inches | 10 point |
Heavy Object Warning
If a product exceeds the specific weight, then you need to notify Amazon personnel and customers about its contents. Place the heavy object warning on each side of the package and the top.
Handle with Care
This warning is recommended to be placed on fragile and delicate products that are easy to break. This will prevent unwanted damage since the warehouse workers will handle it with extra care.
Sell as Set
To avoid separating single items that are sold as a single unit, apply the "Sell as Set" label to the package. But don't forget to properly seal all of the items together so it is clearly implied they are sold together.
Ready to Ship
The last recommended label to apply to your products is the "Ready to Ship" label. Use it if you don't want your products altered or opened after you ship them to the Amazon fulfillment center.
As you already know, there is some prep process around your product after it arrives in the fulfillment center. But if you're product is ready to be shipped to customers as is, apply the "Ready to Ship" label to it and put it in a box with the FBA barcode.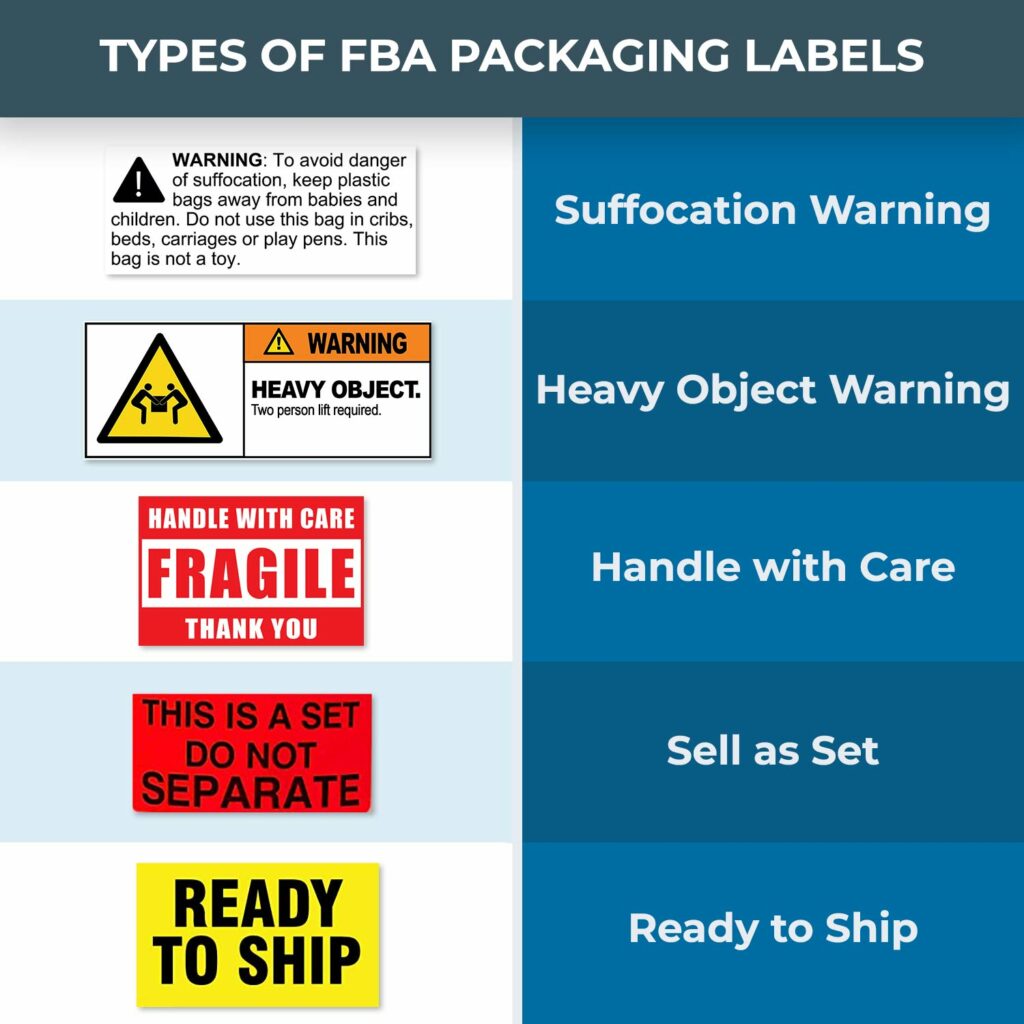 Conclusion
FBA program is a great opportunity for every merchant that starts to establish their brand. Amazon is a perfect platform for that since it has a stellar reputation, an established number of monthly visitors, and reasonable policies.
However, sending products to Amazon is not a piece of the pie. It may require you a great deal of effort which pays off greatly. Remember to print and apply your FBA barcodes and labels correctly to ensure easier product management at the fulfillment center and fast order processing.
Play your part perfectly, and the Amazon will take care of the rest.