Welcome to the holy Bible of making QR Codes. We will be going over everything regarding creating QR Codes from A to Z. All your how-to questions will be addressed here. Did we miss anything? Let us know in the comments below.
QR Codes are being used more and more every single day. Research shows that already over 11 million households are scanning QR Codes nowadays only in the USA. Trends are projecting QR Code usage to skyrocket by 2025 as more and more applications and use cases become available for this re-emerging technology.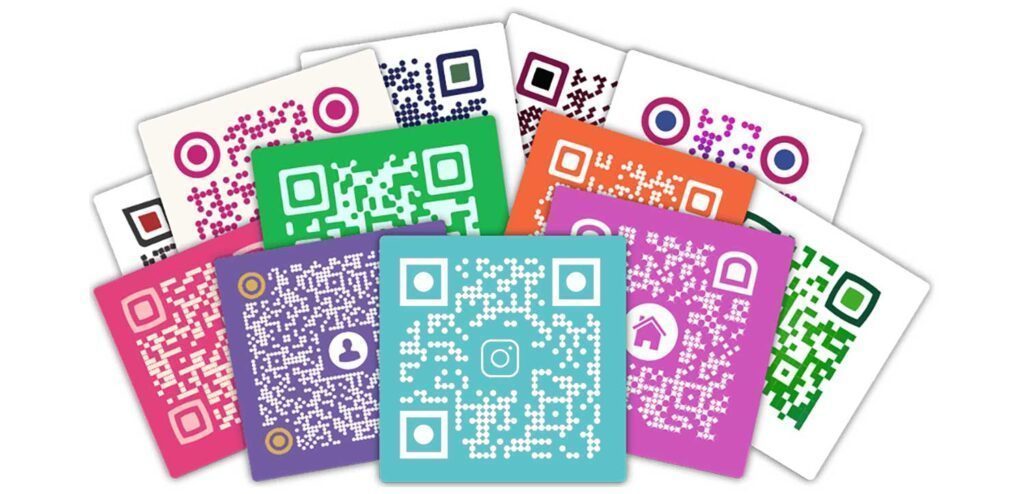 #1 What does "QR" mean?
The QR in QR Codes means Quick Response. This is due to the fact that they can be scanned really quickly and give a response containing information – mostly a website URL, but QR Codes can be used for a lot of things.
QR Codes are these rectangular shaped, usually black and white colors pixelated squares. They can be scanned with smartphones. They hold information that can be used for various purposes. You can send an email, create a QR Code business card, display a message, share your Wi-Fi network and many more.
Use a QR Code Maker tool
#3 How can I make a QR Code?
QR Codes can be created online for free. One thing we recommend is using a QR Code Generator with logo options, such as Pageloot. This adds to your brand image and increases conversion rates. Another thing we always recommend is using a dynamic QR Code, so you can edit the contents later when needed.
Follow our super simple 9 steps to create QR Codes online:
Step 1: Choose QR Code Generator that works for you
Step 2: Choose the type of QR Code do you need
Step 3: Select the dynamic QR Code type (better safe than sorry)
Step 4: Enter your details for the code
Step 5: Make the QR Code look nice with a logo and colors
Step 6: Download the QR Code
Step 7: Scan the QR Code to make sure it works properly
Step 8: Did you download it in high quality vector format?
Step 9: All done, enjoy!
#4 Are QR Code Generators safe to use?
Absolutely. While some sites can be deceptive and dangerous, always use a trustworthy online QR Code Generator on like Pageloot to prevent this from happening.
Never download any software to make QR Codes. Everything can be done online nowadays and there is just no reason to risk with potential malware.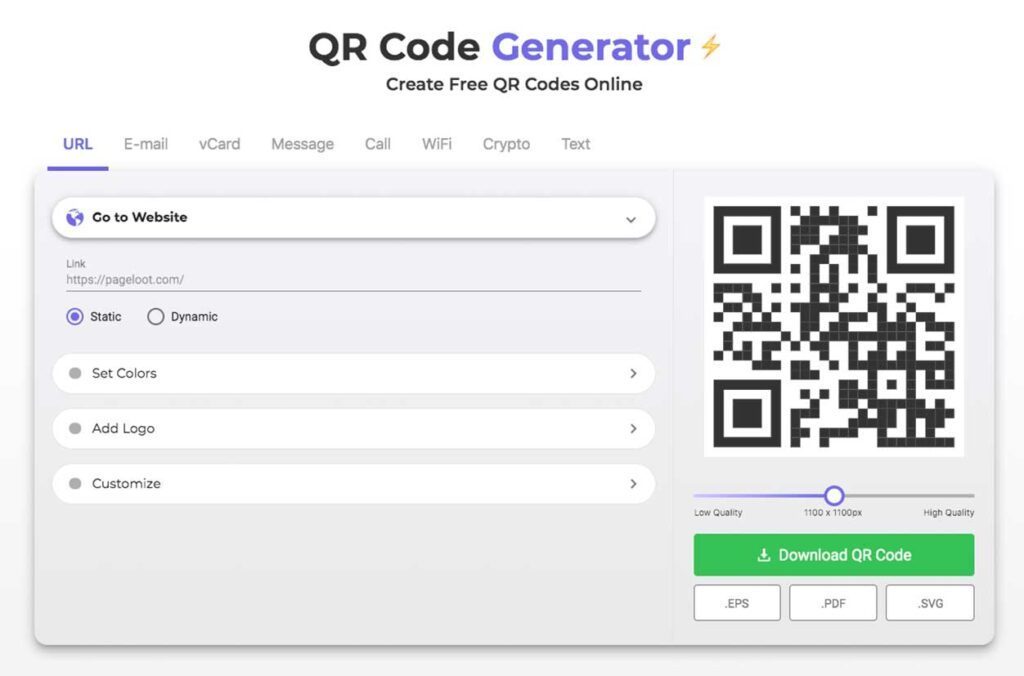 #6 what is the best free QR Code Generator?
There are some different options, but when it comes to best and free, none stand out quite like Pageloot that offers dynamic QR codes for free. This means you can create your QR Codes, save them for later, and edit the contents after printing if you may need it.
#5 How do QR Codes work?
QR Codes work quite similarly to barcodes. They can be scanned with smartphones via third party apps or also the native camera app. Each QR Code stores some specific information decoded inside it's pixels.
When you point your smartphone camera towards a QR Code, you will instantly see the information that it contains.
#6 How small can a QR Code be?
While there really is no limit to how big they can be, as a rule of thumb, a QR Code should be at least 2 x 2 cm in size.
We also recommend taking reading distance into account. The QR Code formula for sizing is distance / 10. That means, if a QR Code is for example 5 inches in height or width, then it can be scanner from 50 inches away.
Check out our QR Code size guide for more details
#7 Can I make a QR Code with logo and colors?

You sure can. In fact, nowadays you can make them look really nice with all kinds of bells and whistles to fit your brand's image. See how some other companies have done theirs. The best QR Code Generator will always help you for free.
QR Codes can be created with these custom features:
1. Change the Logo
2. Choose a color or gradient
3. Add a background color or image
4. Add a CTA frame around the QR Code (Call to action)
5. Change the shape of the QR dots
Check out our top tips for making QR Codes look nice
#8 Dynamic vs Static QR Code
Static QR Codes can't be changed after printing them. The benefit to dynamic QR Codes is that you can always change the contents later. Also, you can track and analyze your traffic, set landing pages based on language, location and much more.
| | |
| --- | --- |
| Dynamic QR Codes | Static QR Codes |
| + The link to QR Code can always be changed | – After making QR Code, the contents can't be edited |
| + Looks clean and minimal | – Can look really messy if a lot of information is stored |
| + Easy tracking for traffic performance | – Can't be tracked with Google Analytics or Facebook Pixel |
#9 Can QR Codes be edited?
While you can edit the colors and appearance for all QR Codes, keep in mind that you can't change the contents for static QR Codes after printing. Only dynamic QR Codes can help with this.
#10 How can I track QR Codes and analyze them?
We have 3 great options when it comes to tracking QR Codes scan statistics.

Option 1: Use the built-in dashboard for tracking all your QR Codes conveniently in one place. This is a really easy and simple option, all you need to do is make sure you are creating dynamic QR Codes.
Option 2: Use Google Analytics. You still need to create a dynamic QR Code for this. In the QR Code settings, you will see an input field to add your ID.
Option 3: Use a Facebook Pixel. This is great for retargeting. It is also possible to use all 3 options at the same time if you are a power user and want maximum results.
#11 What type of QR Codes can I make?
There is a wide selection of QR Code types available and being added constantly. The main use case is a URL, that can direct your customers to a landing page, your e-commerce store, or ask for their e-mail.
QR Codes definitely aren't limited to only webistes and links. You can create a variety of types, including: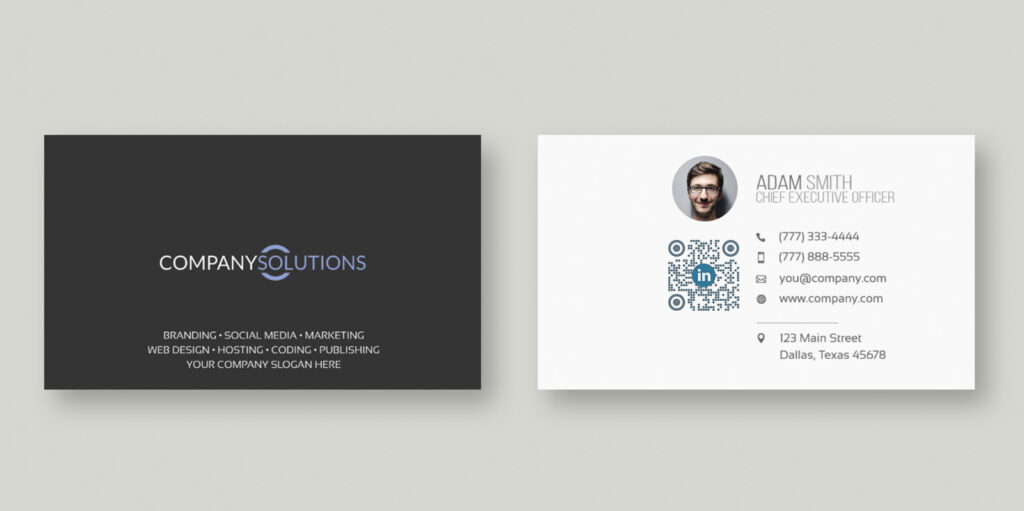 #12 How can I create a QR Code with logo?
Head over to the QR Code Maker and open up the Logo tab. There you can easily choose from an existing logo or upload your own. The great thing about QR Codes is that they work with a logo since they can be partly covered and still work just fine.
Take a look at Pageloot's QR Code Generator with logo for free.
#13 Can QR Codes be inverted or white?
Yes, this is now possible thanks to modern smartphones. You need to make sure that the background is dark enough though. We recommend using colors with enough contrast for an inverted or white QR Code. Usually the background should be at least 40% darker than the QR Code itself.
Here are some examples of white QR Codes on dark backgrounds that have been inverted.

#14 How much does a QR Code cost? Are QR Codes free?
This depends on the service you are using. Normally Static QR Codes are free and dynamic QR Codes are offered as a paid service. The great thing about Pageloot is that you can create dynamic QR Codes for free. Check it out today and give it a go.
#15 Can QR Codes expire or break?
No, QR Codes don't expire. What can expire though is the website or information they are linked to. So in order to avoid these issues, it is always a good idea to opt for a dynamic QR Code, which leaves you the opportunity of changing the contents of your codes later when needed.
#16 Are QR Codes dead?
Absolutely not. Even though they were dead for quite some time after their first appearance, QR Codes have made a crazy comeback in the last few years. They now have a lot more use cases and are easier to create and scan.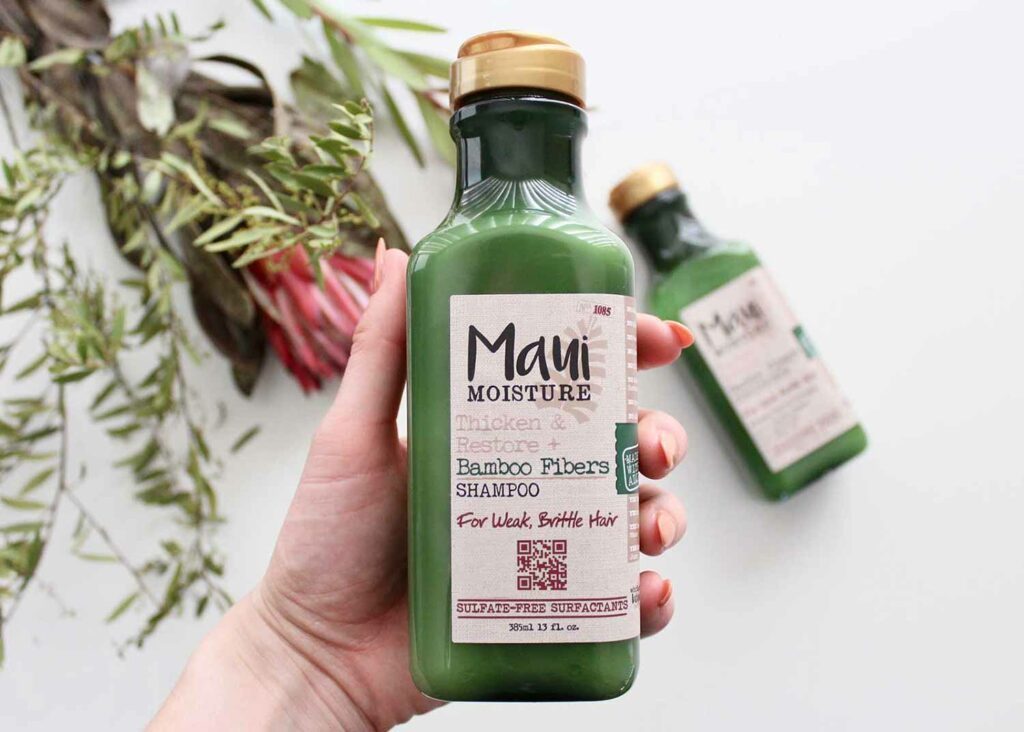 You can find QR Codes used on products, print media, menus, smartphone apps and many more. While every technology comes and goes, it is safe to say that QR Codes will not be going anywhere for the next 5-10 years and should be a cornerstone when it comes to your marketing tactics.