Online sales are becoming the dominant force. Location-based services and businesses need new ways to keep up with the competition. Wouldn't it be great if we could digitalize all physical customers and get the benefits and potential revenue of an e-commerce store?
Well, I've got great news for you – If you make a QR Code, you can use online sales funnels to convert your physical customers online and upsell them a bunch of more services and products as a result.
So what are you waiting for? 🤔
Let's dig deeper to find out how we can increase your business revenue.
Tough financial times await for brick and mortar with Coronavirus
As if the e-commerce industry wasn't already hurting physical location stores bad enough, Coronavirus steps in and makes it even worse. Many smaller businesses and services will be out of business and bankrupt indefinitely. This can be the case for restaurants, gyms, and other stores that require close contact. But hey, it's not all that bad though, there is a silver lining to all of this.
First off, did you know that over 100,000 smaller shops and businesses could be gone within a few months? Even though this may only be the case in the US and a few other countries, surely the trends are similar all over the world. What this means is that you have a great opportunity. Less businesses means less competition. Maybe you could even get a new rent real with a lower price?
Now is the time to up your game and kill the competition with converting visitors to online customers. After all, this is just a trend, and more people will eventually return to the stores.
Everything is focused towards online solutions
Even though not all local businesses are trying to sell online, many of them already are. If you can't fight them, then it only makes sense to join them, right? E-commerce has had a great surge in volume and demand lately due to the COVID-19 situation. But this just accelerated the natural flow of things 5-10 years towards the future. The future of commerce will mostly be done online and consumer trends are changing. So many local businesses are trying to keep up with the trends to survive and converting their customers gradually towards different online platforms and solutions.
Of course it depends on your business type and nature, it may not always be so easy to offer your products and services on line. But even if that is the case, you can always find clever workarounds, like getting customers online to engage with your brand. This can include giving more information about your products and services, offering customers valuable weekly updates and knowledge, and many more. The one common thing that all the local businesses are doing is using QR Codes to get people online and subscribed to their mailing lists or e-commerce services.
Why everyone is making QR Codes to make money online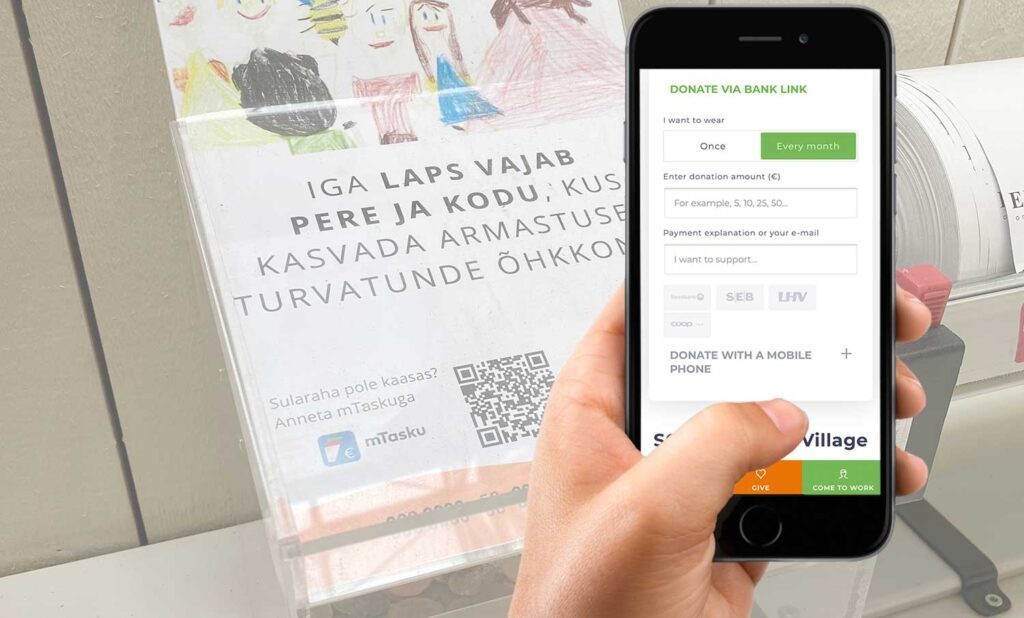 PRO tip: If you're not exactly sure about what QR Codes are, then check out our in-depth article on what are QR Codes and how you can make one (or a lot of them).
To start making money online, you need to be using the proper tools. QR Codes help you out with digital marketing. A QR Code can display all the content you need – images, videos, text, or a custom landing page. The neat thing is that you can even change the contents of the code later without printing it again. Once customers scan your QR Codes, make sure they are directed to something that has a call to action on it, so they can either buy something or leave you their e-mail.
There are 2 ways you can use QR Codes to make money online. The first option is displaying QR Codes online, either on your website or social media. This only makes sense if people are mostly viewing your page on their computer, because they need to have their smartphone ready to scan your code. Check out your mobile traffic percentage here with Google Analytics.
The second and best option is to use QR Codes in the real world. For example – If you are selling any physical products, definitely consider making QR Codes for product labels. Maybe you are meeting up with clients – then consider giving them QR Code business card.
While a lot of physical location businesses have been limited or temporarily closed down during the coronavirus crisis, companies are inventing new and clever ways to keep their business alive. QR Codes actually help people exchange information from a distance really well. For example, restaurants have started using a lot more online ordering systems for home delivery. Why not put QR Codes on your menus?
Alternatively, you can place QR Codes on your restaurant window or any space you have available really. Even QR Codes on vehicles work well for QR Codes because they are always visible and move around a lot. But also all traditional spaces like flyers, posters, magazines and even QR Codes on stationery work really great.
QR Codes are safe and fun to scan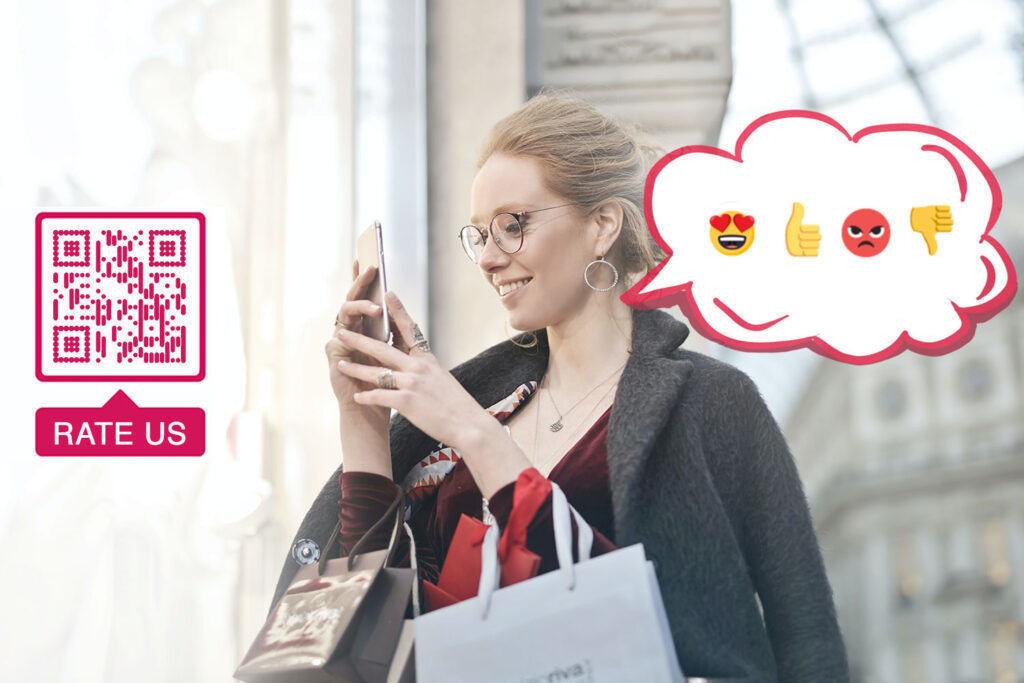 Even though QR Codes already made their comeback in the last few years, the main reason why QR Codes went really viral and popular during the COVID-19 crisis is because they work without any contact. It is a lot more safer for payments and many other functions than NFC for example, because QR Code scanning distances are a lot longer. If you feel like testing this out, check out the best 12 apps for scaning QR Codes.
If you're not going online with your business, you will die
At least your business will, guaranteed. While physical businesses have their benefits, you should always have at least a partial presence online. When it comes to shopping for products and services, the world is moving towards online and mobile, so QR Codes are the perfect gateway to start generating online customers and leads for your business.
PRO tip: Did you know that over half of all shopping happens online? So it's clear that you can be missing out big time if you're not trying to take advantage of that. The solution can be as simple as just having an Instagram page with basic info about your business, products and services.
When going online, it makes sense to optimize for a mobile experience. Most of online shopping nowadays is done via mobile and you can actually make 30% more money online by doing so. QR Codes are ideal to cash in on this mobile e-commerce opportunity. Make a small investment now to focus on online mobile experiences and you can be sure that your business will be making a lot more money in the future as things shift even more towards online.
Different types of QR Codes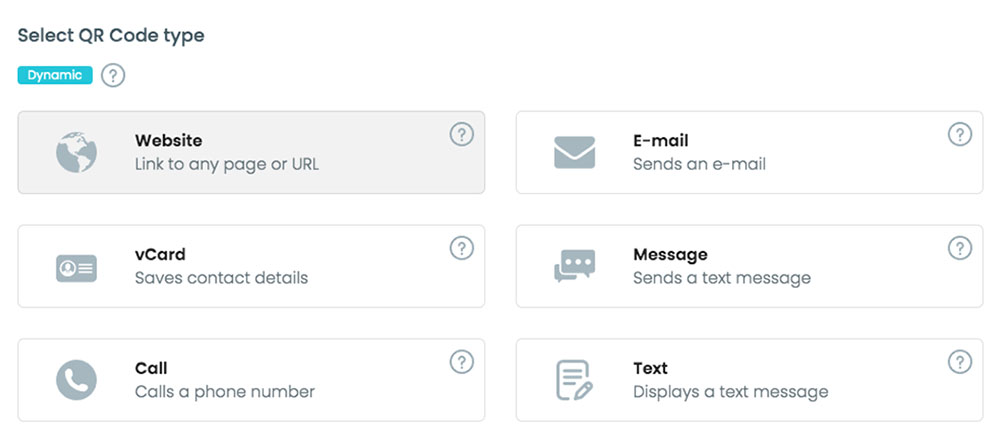 The main QR Code we all know and love is the simple URL code that redirects people to a website or any page. But did you know that QR Codes can actually perform a wide number of different functions. This ranges anything from app downloads to sending e-mails, calling phone numbers and even liking your social media pages and content!
Visually, all QR Codes can be customized to look really cool in a way that compliments your brand image. A really good way to get more people to interact with your QR Codes is to add a CTA (Call to action). This makes them more provocative and a lot less dull. When combined with a great design, you really have a solid winner. Check out this QR Code generator with a logo to see all the different awesome opportunities you can be using when making a QR Code.
How are businesses are using QR Codes to make more money online?
See how this gym (called GYM! – how original, right?) is using QR Codes for a wide variety of uses. Everything from checking in to getting more info about products and services and buying more stuff from them online.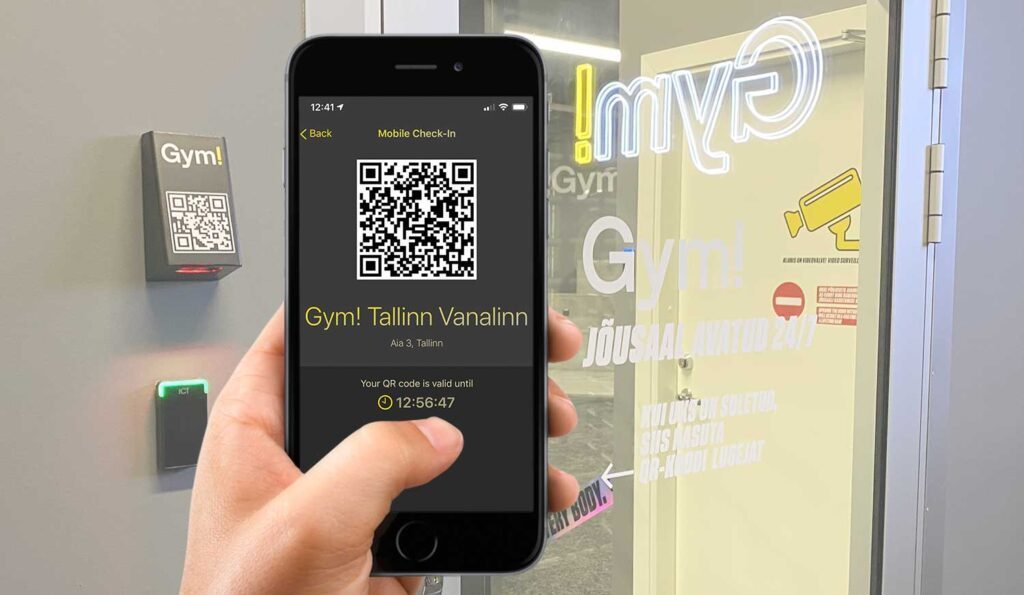 First off, this gym is quite clever in reducing overhead costs. While they operate 24/7, they don't use any employees. The whole business is entirely self-service and mostly managed by using QR Codes.
As we enter the gym, we are greeted with a QR Code that we can scan to log in and voila – the doors will magically open.
Once we are in gear and ready to get training, you can notice that each machine has a QR Code on it. Once you scan that QR Code, you will notice that it is actually a QR Code for App store downloads. This will redirect you to the Mywellness app that gives you more insight about the gym equipment, your training plans and goals.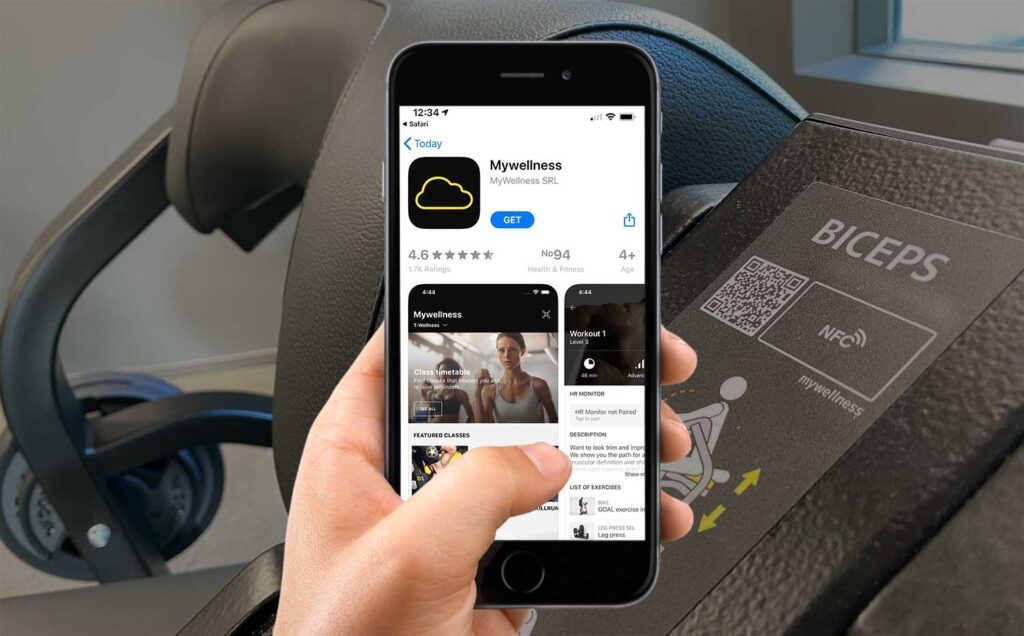 And let me tell you, it didn't stop there. Did you know that you could even order snacks from the vending machines and pay for them via QR Codes? The possibilites really are endless when it comes to using QR Codes for business and getting to engage with your customers online. Later all those users can be either added to an e-mail list or app notifications. This way, you are able to upsell people on new gym plans, special offers for courses, new clothes and equipment, and of course nutritional products.
While you may not be running a gym or fitness business, hopefully this insight has given you more ideas on how you can make QR Codes to make more money online. Whether you have a brick and mortar business or an online business – as long as you have physical customers, QR Codes can help you out in the long run.