Why create a restaurant QR Code menu?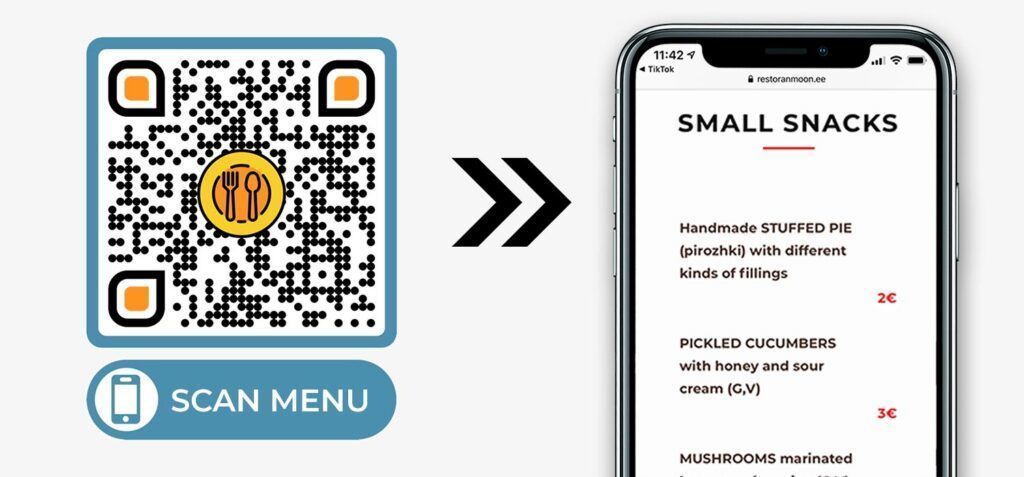 In the modern age of coronavirus, it's time to say goodbye to the old restaurant menus and welcome new contactless & digital menus. These new menus are now easily used thanks to QR Codes.
Try to make a Restaurant Menu QR Code and let us know how it brought your restaurant more customers. It also promotes social distancing and shows your customers that you take safety measures seriously. Health issues are a major issue in the food industry. Let's battle this difficult situation together!
It is a good practice to clean and disinfect everything but people still share physical menus. If we replace the restaurant menus with a PDF QR Code, customers will be a lot more safe and happy that they are not in risk of getting infected.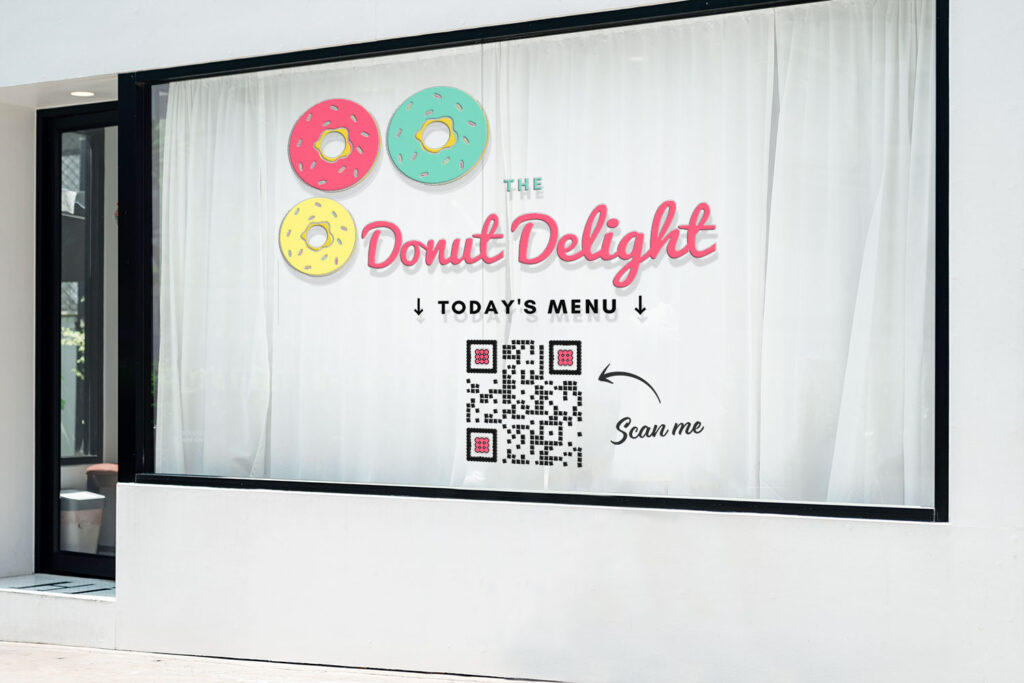 Stop wasting paper & start saving money
Menus get a lot of wear and tear over time. Quite often they get food or drinks spilled on them. Did you know that physical menus can be costing you thousands of dollars a year? Because you have to replace menus, redesign them, and change the contents based on the season.
It's time to update the old menus with new digital menus. This is not only about being green and environmental, but actually cutting your costs and increasing your restaurant business profits.
Edit your menu without printing again
If you need to edit or change your menu, you only need to upload a new PDF file to the QR Code, or to update the menu on your website – that's it! No more endless reprinting and worrying if you have enough menus made.
This is the beauty of Dynamic QR Codes, that you can print it once and use it essentially forever. The Code image will not change, but the contents of it can be changed at any time.
Create a truly contactless customer experience
Let your customers know that you want to keep them safe and care about them. Go digital and create a Restaurant menu QR Code – this survey shows us that the new normal (over 65%) is that customers will not accept physical menus anymore.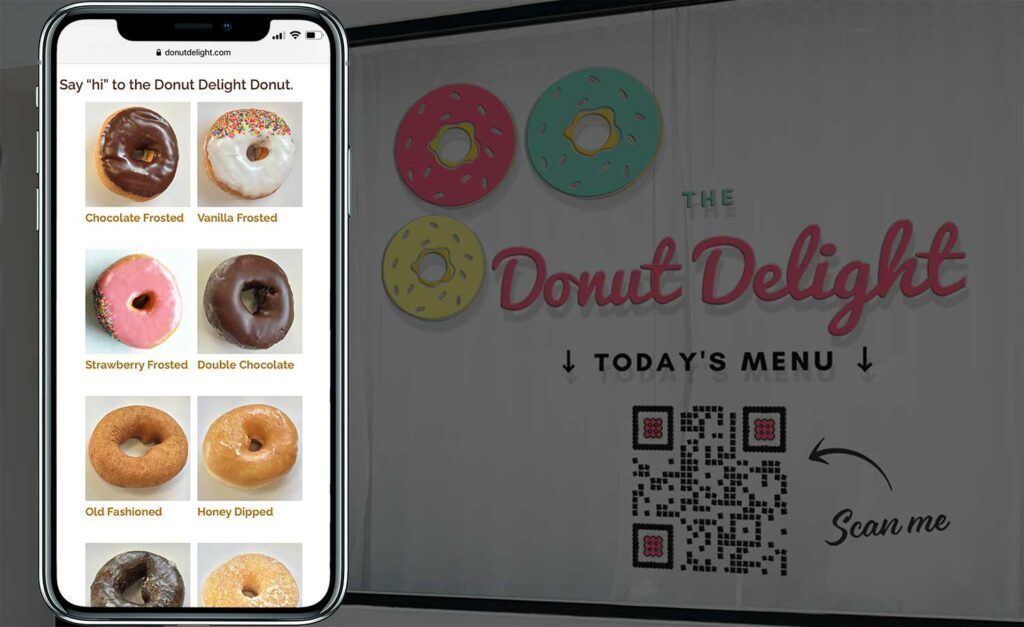 Keep your workers and customers safe
Running a restaurant business isn't only about keeping your customers safe, you also need to think about your workers. What if they get infected by a customer or vice versa? The costs of sick leaves and finding new workers can be a nightmare for restaurants.
Another issue is that all it takes is one social media post from an angry customer who got infected and you may have lost half of your income in just a tweet.
Creating PDF QR Code Menus for restaurants means that you don't have to worry about handing out menus, explaining the special meals for the day. There are various options where to place your QR Code menus, you don't even need to place them on the table. For example. you can print them on the wall so everyone can scan them from a reasonable distance.
Always update your menus when needed
How often do you have outdated content on your physical restaurant menus? Usually many businesses won't update their menus for a single small edit, but rather wait until there are more changes to be made.
With QR Code menus however, you can update everything on a daily (or even hourly) basis. No more explaining to customers what is currently available or not and why it's not mentioned on the menu.
Grab customer attention by using images
Yes, we all know that menus with images can be quite ugly and are usually not used in nice and fancy restaurants. But this is only true for physical menus.
PRO Tip: Did you know that customers actually buy more when you show them images? So definitely give the digital menu QR Code with images a try to see if it can increase your revenue. Long story short – attractive images of food just make customers crave for it since they can visualize it better.
Why are Restaurant Menu QR Codes popular?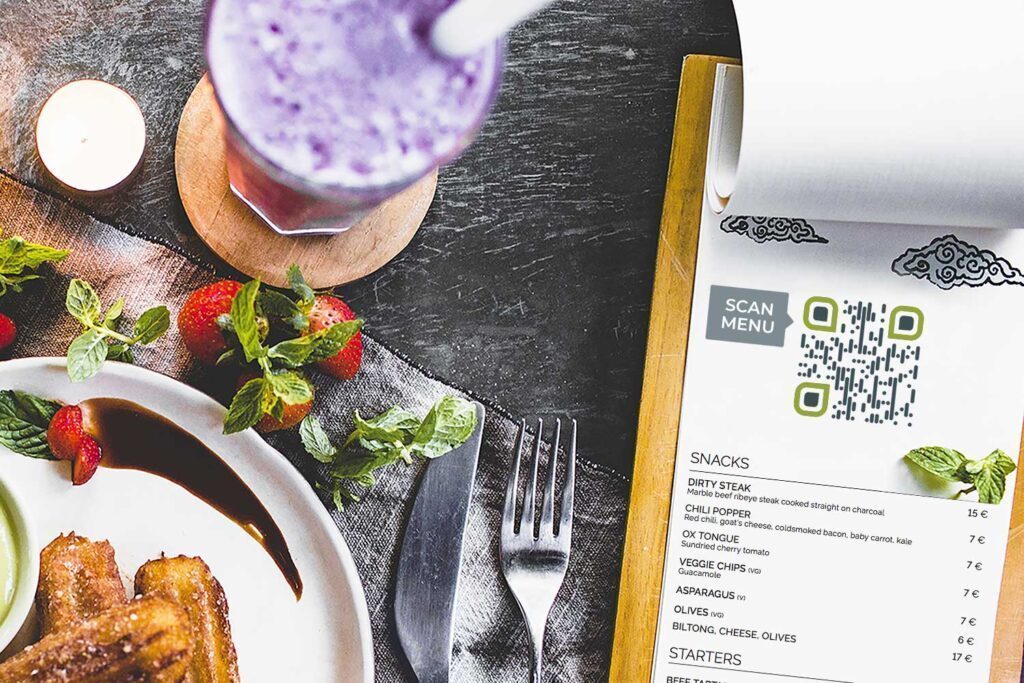 While the main reason is obvious – the COVID-19 pandemic and the aftermath, that was just the catalyst that speeded things up. QR Code menus have been gaining popularity for a while now.
It's not only about staying safe from a distance but actually a lot more convenient for users to access your restaurant menus digitally and on the go.
Will menu QR Codes continue after the pandemic?
Business owners are concerned that they don't want to invest into new solutions that won't last. The thing with QR Code menus is that the coronavirus only accelerated the arrival, but didn't really change anything regarding trends.
Surveys predict that using smartphones for viewing menus and ordering will become the new normal for the everyday dining and eating out experience. The experts said: "We don't see paper menus coming back, because people have seen a lot more convenient options. Digital menus will lead the way into the future of restaurants."
Restaurant owners all over the world are already enjoying the benefits of digital QR Code menus and the increased customer trust and spending that comes with it. Most of them are continuing to use digital menus even after the pandemic situation.
How to create a restaurant menu QR Code?
All it takes is just a few minutes to create a QR Code for your digital contactless restaurant menu – with 4 simple steps.
#1 Upload your menu
You can upload your menu either in an image format or a PDF file. Alternatively, you can also link to your existing website or social media menu if that makes more sense for your business.
#2 Design your QR Code menu with logo
Add a CTA, logos, custom colors and shapes. Make the QR Code menu fun to scan and match with your placement design and brand.
#3 Print your QR Code
Download your new QR Code and get the printers started. We are almost done!
#4 Place it all around
Now all you need to do is place the menu QR Code where people can see it and scan it. Common use cases are table tents, walls and restaurant windows.
Tips & tricks on creating the best PDF menu QR Codes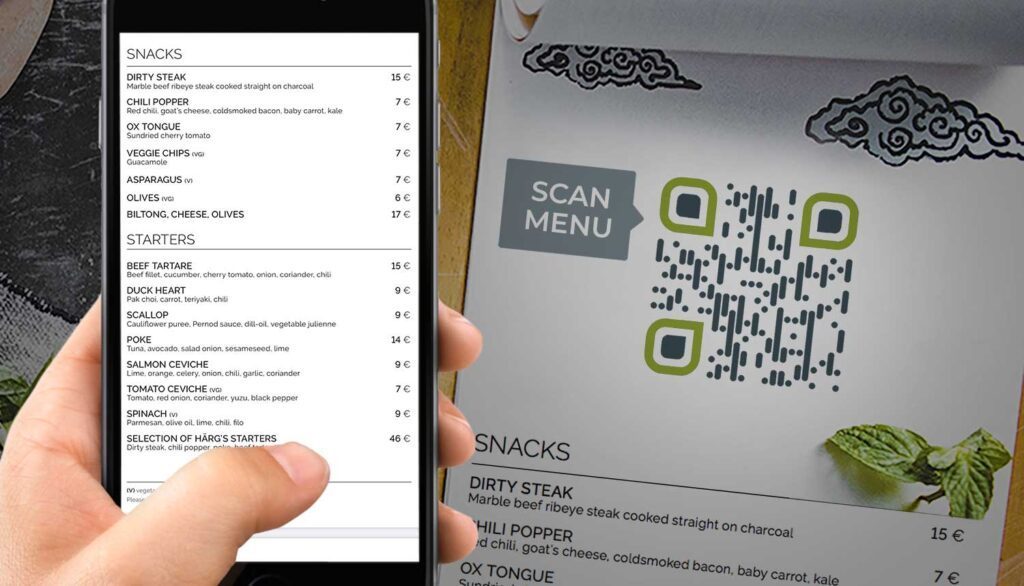 🇫🇷 🇺🇸 🇪🇸 Make it a multilingual menu
It's quite rare that all your customers only speak one language. Tourists are definitely one of the main groups here, but often even one country has several different minority groups who speak a handful of different languages.
A multilingual menu QR Code will give the customers a choice to change the language so that they can actually understand what they are ordering from your restaurant menu.
It works for any language you need
It's super quick and simple to set up
All you need is just one QR Code
📅 🕑 Schedule your digital restaurant menu
Many restaurants have different daily and weekly menus and that's perfectly normal. It's actually essential to have a fresh menu to keep customers coming back because a menu that never changes is a boring one. So one QR Code can display a different menu or parts of it at different times of the day and week.
Your menu is always fresh
Customers are excited to come back
All you need is 1 QR Code
👂 🤓 Listen to your customers
Who said that menus have to be one-sided? Restaurant menus shouldn't be only for giving customers information, but also offering them special deals, coupons and asking for feedback. Actually, you always need to give customers a reason to scan your QR Codes. Maybe try making a QR Code giveaway contest for a free meal.
Some other things you can add to your menus:
Special one-time vouchers & discounts
Collect customer feedback
Loyalty points
🚴‍♀️ 🏎️ Offer your menu on the go + delivery service
A QR Code menu doesn't have to be only about ordering inside your restaurant. Give customers a reason to visit your menu also when they are not currently at your restaurant. Home delivery services work great for increased orders and customer loyalty.
QR Codes for restaurants – frequently asked questions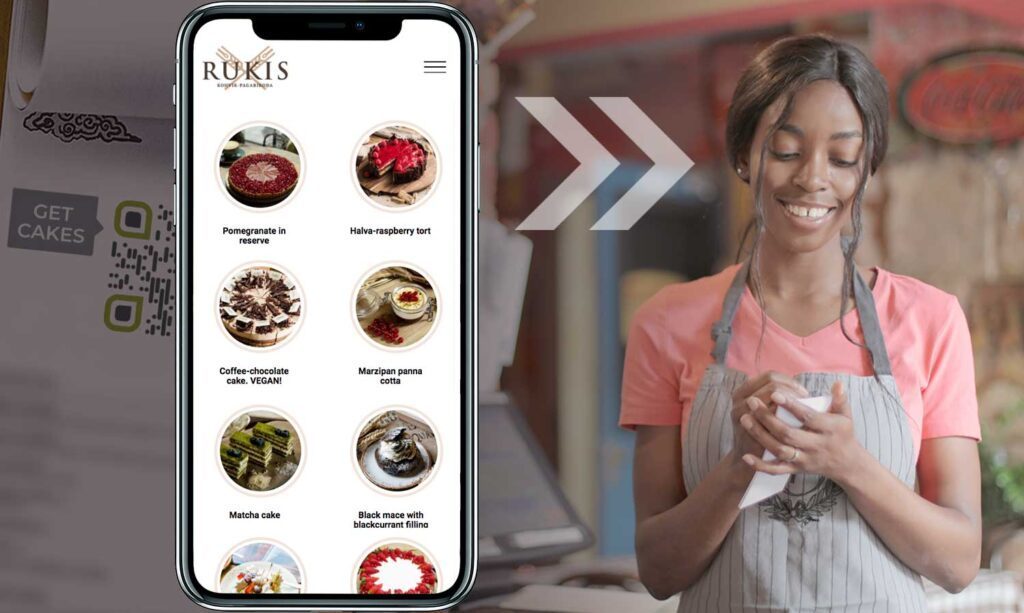 How do I create my PDF Menu?
Create a new QR Code and select the PDF QR Code.
You can either upload a PDF file or add a link to it.
Additionally you can customize the colors and logo for your menu as you need it.
How do I edit my QR Code menu?
You can change the contents of your PDF menu at all times, while still keeping the old QR Code. Log into your dashboard and click on Edit next to your QR Codes.
How to make a multilingual PDF QR Code menu?
You can upload different PDF files in the languages that you need. The multilingual QR Code will help you create either a PDF menu or link to your existing website restaurant menu.
Do I need a website for a restaurant QR Code menu?
No, you certainly don't need a website. The QR Code can also either link to your social media pages or you can upload a PDF file that is linked to the QR Code. If you do have a website, you can use the Link QR Code to simply link it to your restaurant menu page.