Introduction
The ultimate goal of every business is to drive conversions and increase customer engagement. Still, not all of your efforts pay off, even if you use all the best tools to make that happen. The same goes for QR codes marketing. You can incorporate QR codes on different stages of your marketing plan but still see no results.
Is it a broken link, poor QR code design, or wrong code placement?
Stop wondering. You may use the best QR code maker, follow the best QR code design practices and check it multiple times before printing, but the reason is way simpler than you think – ineffective CTA.
Having a QR code there doesn't necessarily mean people will scan it. You have to encourage them to do so. QR code frames are what you need to make your end-users get the idea behind the QR code and convert correspondingly.
So, in this guide, you'll find out what a QR code frame is, how to make it convert, and learn about the best practices behind the frame QR codes.
Without any further ado, let's get to the point.
What are QR Code Frames?
QR code frames are small add-ons with an actionable CTA that go along with the QR code and help you encourage customers to scan QR codes. The most common reason why people don't scan QR codes is they don't know what is hidden behind them. So, why scan it right?
QR code frames tell people what to expect behind the QR code that encourages them to take their phones out and read it.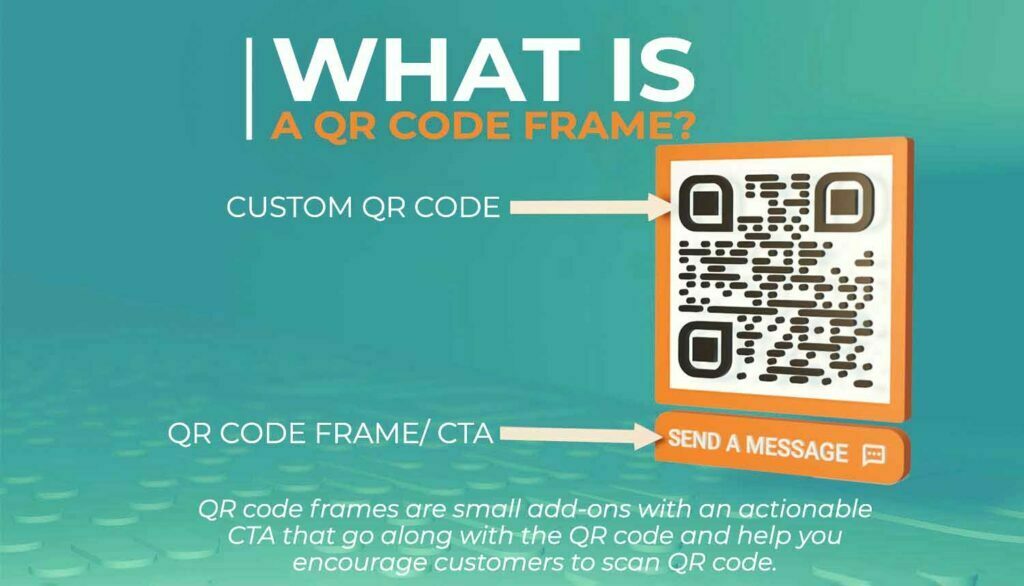 But why does this matter?
The influence of CTAs on Conversions
People are reasonable creatures, but you still need to push them to take action. This works for all kinds of marketing including QR codes. The endpoint of every conversion is always a CTA and you won't find any marketing strategy that works without it.
Just think about it. You read a blog post about your topic of interest which ends with a clear summary but nothing else. It was a great read, but it takes nowhere and leaves you wondering what step you should take next. Correspondingly, you don't convert or even leave a website.
Then, what if the blog post encouraged you to go through the follow-up article or check the latest product related to the topic.
Wouldn't you check it?
CTA sets you up on a continuous loop of pages and improves engagement. It works the same way for QR codes. QR code frames call for action and make it clear for your customers what they will get from scanning the QR code. No wonder personalized CTAs perform 202% better than regular CTAs.
That is why you should start using QR code frames in your QR code marketing strategy.
How to Use QR code frames?
While you might be wondering whether to use QR code frames, someone is already beating the market with the action-oriented CTAs added to the QR codes. Creating QR codes is not all it takes. The code has to be correct, so the QR code scanner can read it. However, it also has to be clear for people why they should scan QR code at all.
Here, we've gathered examples of how you can use QR code frames to boost conversions and improve customer engagement through QR codes.
1. Promote an app
Regardless of where you promote your application, a website, or print media, you have to make sure people land on the right app in App or Play Stores. The last thing you want is your prospect's attention to be shifted to some similar app which is very much likely if:
your app link is broken
the link is not clickable and people have to type it manually
you ask people to search for the app by name
the link is misleading
You shouldn't count on people being too determined to find your app since there are thousands of similar ones in a store. QR codes drive users to your app instantly with a clear CTA – "Scan to get the app". The fewer steps divide your customers from your app, the more likely they are to find and download it.
2. Ask for reviews
A lot of purchasing decisions are made based on reviews which are an inherent element of every store. However, getting reviews is not that easy. Very few customers tend to leave reviews on their own. In most cases, you have to ask them for it. Still, not many will leave their feedback because of the multi-step structure of the review process.
Use QR code frames to not only showcase your product reviews but to ask customers for feedback. All it takes for them to view or leave a review is one click. So, let people know about it with the QR code frame like "Rate Us" or "Scan to view reviews".
Come up with the CTA based on your intent and add it while creating QR codes with the QR code maker to drive results.
3. Share a video
The best thing about QR codes is people can use only their phones and a reliable QR code scanner to get to the content you drive them to. Videos are a great way to improve customer engagement and QR code is what makes them accessible faster. That is why using QR codes for video marketing is becoming more popular than ever.
The only thing you need is a strong call to action. "Scan to watch a video", "Watch a video to learn more" or any other QR code frame to let your customers know where QR codes will take them.
4. Digitize a business card
If handing out business cards was the most common way to generate leads a few years ago, it lacks perspective now. Not speaking about the limited information about your business it holds. The name, phone number, website, and slogan are not enough to convince people to work with you.
However, if you digitize it with the vCard QR code, you're more likely to get leads even though 8 out of 10 business cards get thrown in a trash bin. The opportunities for a business card with a QR code are virtually limitless. You can add a frame QR code as "Learn more about us" to lead people to your website page or "Scan to give us a call" to encourage your prospects to get in touch.
5. Promote social media accounts
Social media is a unique channel that promotes not only entertainment and social connections but business relations as well. Only the lazy ones haven't started using social channels to generate leads, promote their services or even sell products.
If you have a retail store, you can lead people to your Instagram page where you share the industry trends. If you provide marketing services, you can direct people to your Facebook page with the published case studies. If you work in recruiting, you can ask people to apply for jobs on LinkedIn. Don't underestimate social media powered by actionable QR code frames. It can get you more leads than any other channel. Just be smart about it.
6. Share a PDF
Sometimes, people don't have enough time to read your blog posts, resume, pamphlets, or any other form of content right after they've discovered them. However, they might want to leave it for later. In this case, you can conveniently share PDF files and encourage people to view them at their own time.
"Download PDF" or "View in PDF format" QR code frames will help your customers get the information shared in just one scan. It works great for construction QR codes.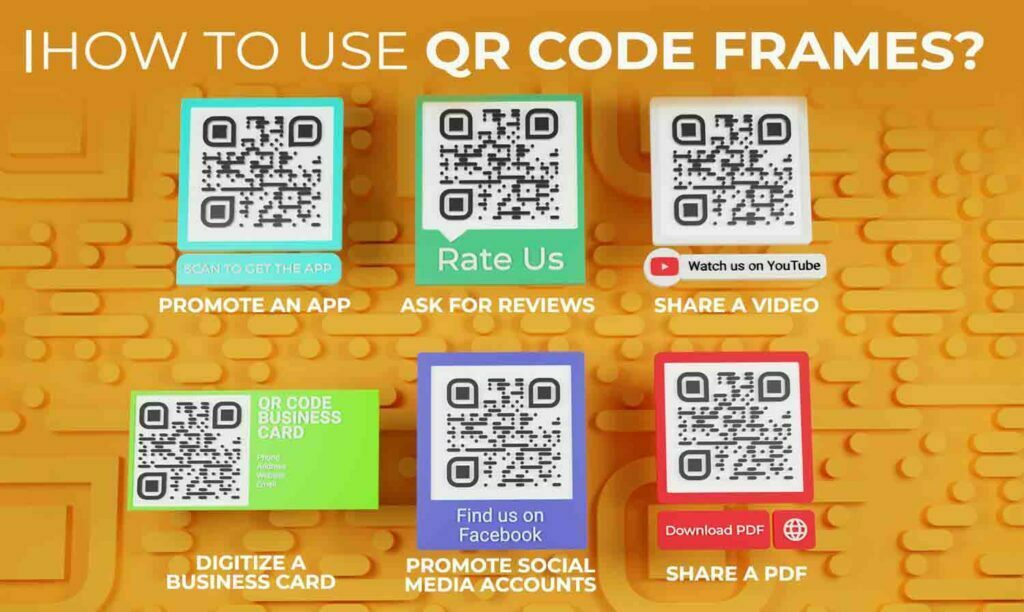 7. Provide product details
Though your product already has a barcode that helps to track and store it, adding QR codes will increase the interaction with customers. You can add multiple QR code frames on different types of product packaging to provide details about a product, give away a discount on the next item, share a video about the story behind it, or lead to a review page. You get the idea.
Moreover, Statista reported 57% scanned QR codes to get the product details. Therefore, adding action-oriented CTA to your QR codes not only helps you to improve customer engagement. It also allows you to streamline the communication with your customers and encourage future purchases.
8. Give away discounts
Discounts and coupons always drive attention and encourage people to buy something they don't even need. QR codes, at the same time, increase customer engagement and make information accessible with little effort.
So, why don't you combine those to give away discounts or freebies to promote your store and brand?
Be it a display window in a mall or a printed monthly catalog, the right frame will drive attention and encourage people to scan QR code and get a discount or coupon. Just remember to define the message behind the QR code clearly. " Scan to get a 15% OFF winter collection" and "Get free templates now" will do just well.
9. Share an audio
Most QR code makers allow you to create different types of QR codes, including MP3 QR codes. You can use them as a medium to encourage people to listen to a podcast, museum excursion, audiobook, etc. This is the best option for those who prefer listening over reading.
QR code frames help people to get the idea of the audio type they will be directed to and allow them to choose whether it is content they want to hear.
10. Promote your website
Encouraging more traffic to your website is way easier with QR code frames. You can place them in your print media, offline store labels, billboards, etc. Online is a new normal and the best way for you to build that bridge between offline and online is through quick and easy online integration. QR code frames provide just that.
Even if your customers have QR code scanners implemented on their phones, they won't use them to discover your website, if you don't ask them to. "Scan to visit our online store" or "Visit our website faster" is one of many ways to go.
Very often what separates your customers from discovering your content is the right "push" that QR code frames are good at.
But that's not it.
QR Code frames best practices
Implementing QR code frames into your marketing strategy is not always that easy. Besides, using the best QR code maker also won't do the trick. You have to implement the best practices for frame QR codes to make them stand out.
Be clear about the content behind the QR code
When creating QR code frames you should always view them from the customer's perspective. QR codes are there to help people get to your content faster, not to make them regret scanning the code.
Be clear about the content behind the QR code and don't give promises you're not going to fulfill. Moreover, don't use complex words and phrases to call for action. QR codes are about simplicity, not confusion.
However, don't give away everything at once, create an incentive to encourage a scan.
Customize the QR code frame to resonate with your brand
All of us know what QR code looks like which is not new and doesn't drive attention that much. The QR code frames are used to encourage action and drive leads. However, it won't have any impact if you don't make it resonate with your brand.
Customize QR codes along with the frame to have your brand colors, logo, and images if applicable. QR code makers are capable of creating unique QR codes that stand out. Use that.
Add an action-oriented CTA
You may add the CTA to your QR code and expect it to convert, but still get no results. CTA is about driving an action that calls for a directive verb. It is exactly what you should aim for.
You may be clear about the content behind the QR code, but if you don't ask people to take action to get that content, they won't make an effort to scan QR code.
Correspondingly QR code frames like "Best ideas to style your look" or "Our customers like our products" won't perform well. Add an action-oriented CTA and convert these to "GET the best ideas to style your look with our product" and "LEARN what our customers say about our product".
Which one would you rather scan?
QR code frames should encourage action, not just inform about the content behind the code. This is what drives conversions.
Make sure frame QR codes align with your plan
One of the most common QR code marketing mistakes is not being strategic about QR code marketing. If you're not taking all of the details into account beforehand, your campaign is doomed to fail. And it applies to all stages: creating QR codes, customizing them, choosing the QR code maker, and creating CTAs for QR code frames.
Try to think of the QR code frames as part of the bigger strategy.
What is the purpose behind it?
Should you create a different QR code frame depending on the medium you place it in?
What is your backup plan?
Analyze all of the possible mishaps before you launch your campaign, so the QR code not only works without issues but drives the results you aim for.
Test QR codes before printing
To prevent all of your efforts from going in vain, make sure to test QR codes on different distances, materials, and conditions it is supposed to be accessible from before you print it.
Put yourself in your customers' shoes and ask someone to help you test the code before putting it out there. Getting an objective view of the QR code and QR code frames from the "outside" will help you learn what works well and what needs to be optimized.
There is always room for improvement, but you have to make sure your QR codes get the right start.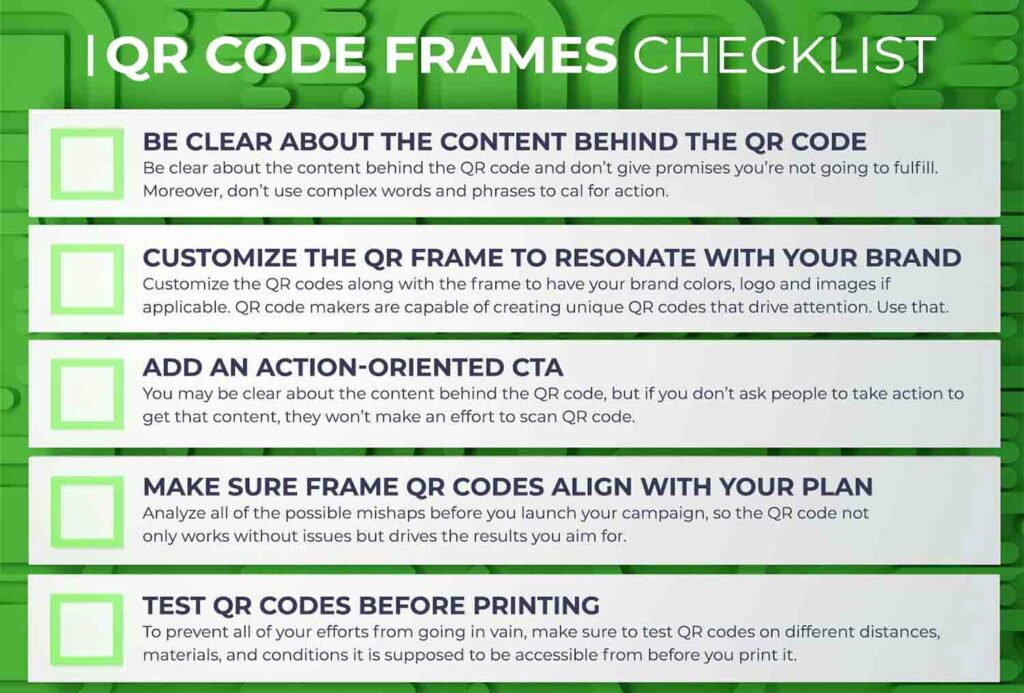 Boost Conversions with QR code frames (Conclusion)
Actionable QR code marketing requires actionable CTA. QR code frames help you achieve that and drive customers to the content they will love to get to. The math is simple – be clear about the content behind the QR code and make it worth it.
Your marketing campaign will drive results you expect only if you use the right tools to achieve that. Regardless of the industry you work within, QR codes and frames can come in handy as a great add-on to your strategy. Keep in mind the best practices to create QR code frames and drive conversions to make your marketing efforts pay off.
Moreover, the opportunities are limitless, you just have to use your imagination and always keep the " what works best for our customers" idea in mind.
Have you come up with some engaging frame QR codes already?