Dropbox has become a highly accessible way to share files and pictures with others without sacrificing quality. Sure, social networks like Facebook still dominate the market, but whether it comes to an event or a special occasion, you know how much harm Facebook can do. Lots of people upload their pictures straight to Facebook, only to realize that quality and resolution are drastically affected. Everything changes with Dropbox though.
While Dropbox is perceived as a file sharing platform that gives you the opportunity to access your personal files from anywhere in the world, the truth is it can be used for a plethora of other operations. You can use it to monitor your computer, secure files, manage downloads, install applications and even print stuff. With all these, plenty of users find it the optimal way to share quality pictures. If you find yourself in this position, things can get even easier if you implement QR codes into the process.
When scanned, your Dropbox QR code can link users straight to your gallery. You obviously have the opportunity to set permissions on business accounts, while regular accounts can only set privacy. Bringing QR codes into the game saves the hassle of sharing or typing links. Instead, you just have to share the code and whoever scans it will go straight to your library – a great opportunity for both regular and business users.
TL;DR – Get your shareable Dropbox link and paste it into our free QR Code Generator.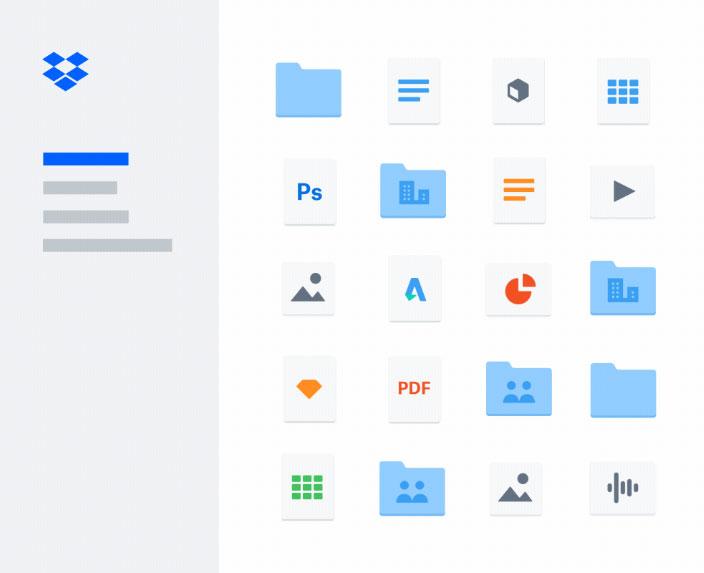 Benefits of using QR codes for Dropbox
When executed by the book, a Dropbox QR code campaign will conveniently make a transition between the offline and the online. Obviously, this campaign must be used in conjunction with a mobile optimized application.
Some of the people scanning your code may have Dropbox installed on their smartphones. In this case, once scanned, the code will take the user to the associated link through the application. If the application is not present on the smartphone, the link will load in the default browser.
Since you can place QR codes everywhere, versatility is definitely an important asset. You can turn anything into a marketing material. It can be a magazine, a window display, a billboard, packaging or even tickets and invitations.
For instance, the people at Unplggd came out with a QR code on all of their event posters. They collected lots of email addresses, where they sent their invitations. Soon after, everyone was invited to share pictures in a Dropbox folder. Without this innovative idea, most pictures would have been shrunk and resized to meet social network standards.
While their QR code did not actually link to a Dropbox folder, the action shows you just how versatile these marketing tools are.
Last, but not least, it will cost you nothing to come up with your own Dropbox QR code. Most generators are free of charge. Of course, you can spend some money and opt for a premium generator as well. It will give you more options to customize the code, but you get the idea – it is one of the most cost efficient marketing tools with a massive ROI.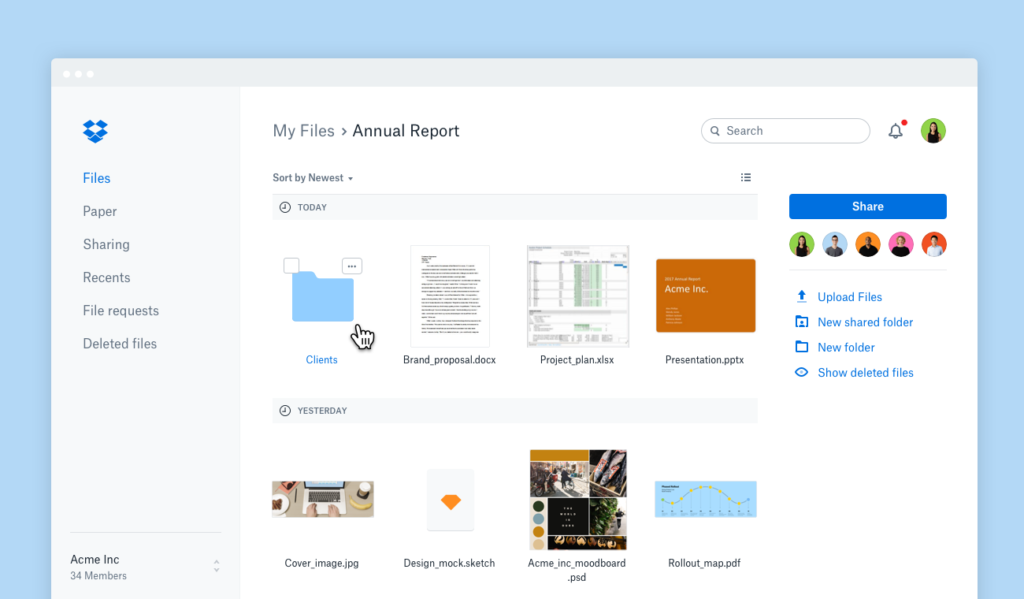 Where to use QR codes for Dropbox
QR codes for Dropbox can be used in a plethora of different places – the more imagination you have, the better your final decision will be.
Say you host an event or a party and you want to share your professional pictures with everyone. Social media is an option, but it will kill quality. Linking to Dropbox is a great idea to make sure that anyone can admire the gallery.
Some marketers use these codes on tickets or invitations, meaning whoever is likely to attend an event or a party can then access the public gallery and see pictures or even submit some. The downside of this idea? Unless they are truly interested in seeing the gallery, most people will ditch their tickets and invitations once they are in.
A follow-up note or card makes more sense when thinking about using a Dropbox QR code. The event was in the past, so the gallery is already up. Users who want to see pictures can scan and access it right away – no need to wait.
But then, Dropbox QR codes are not all about events, but they have multiple ramifications. In the business industry, they can lead to multiple types of galleries. For example, you can use Dropbox to share application forms for jobs, pictures of your latest products or presentation videos about your production.
On a similar note, Dropbox QR codes make good choices for students too. You can share links to your presentation or project – no need to copy everything on a classic USB stick, burn it on a CD or email it to all of your professors.
No matter what kind of industry you are in, chances are you can find a way to use a Dropbox QR code and share your creation:
Young artists sharing demos and samples
Students sharing projects
Companies sharing pictures
Event organizers sharing pictures
Tattoo artists sharing portfolios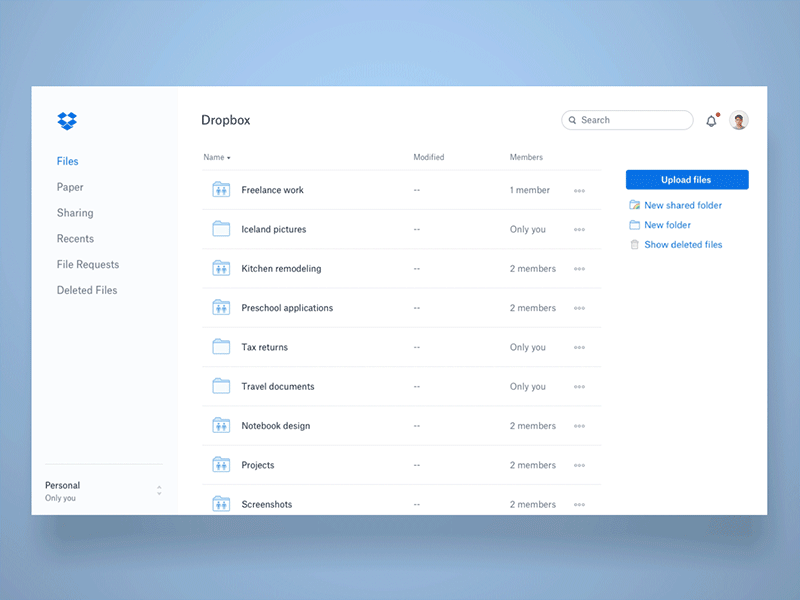 How to use QR codes for Dropbox
You do not have to be tech savvy to know how to use QR codes for Dropbox. Creating codes is the easiest part. Knowing how and where to use them is what asks for attention.
Dropbox QR codes – just like most other types of QR codes – are generally used in marketing. When interested in linking an offline element to an online one, the QR code becomes the quickest choice. Users pull their smartphones out the moment they are actually interested in your product and get linked within seconds. They are more likely to make a purchase the moment they actually feel interested in it.
On another hand, if you think about it, a Dropbox QR code is more about sharing, rather than marketing – only because of the link. Therefore, it makes a good choice in sharing projects in school, demo tapes, public galleries and files. If you run a business, it is up to you to find the connection between these two different purposes:
Sharing after party pictures
Sharing event presentation galleries
Displaying the latest products in stock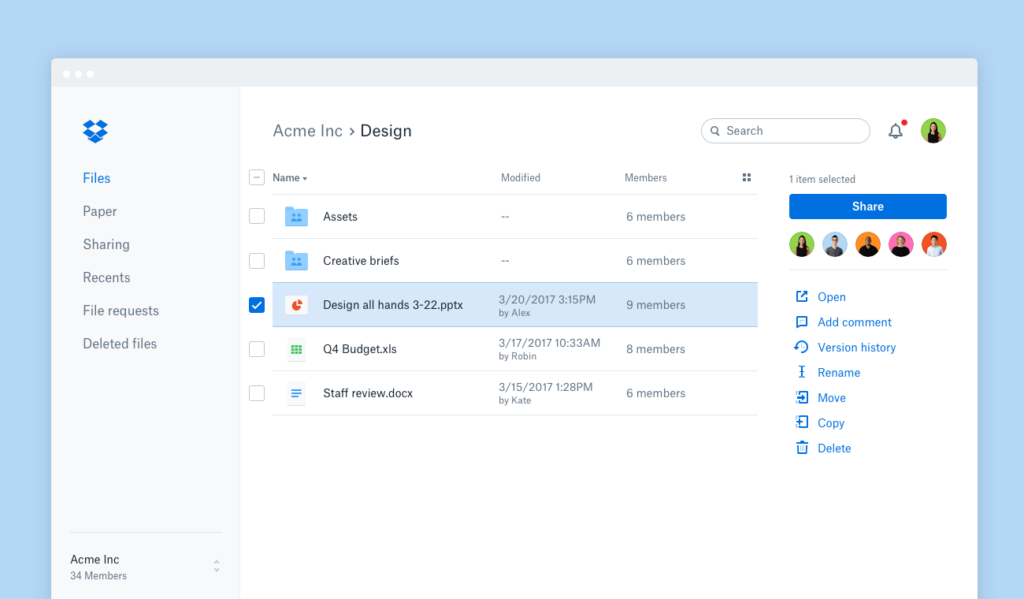 How to make QR codes for Dropbox
There are two phases in creating a Dropbox QR code – the shared link and the actual code.
You need a Dropbox account to come up with the shared link.
Sign in to it or register and sign in after.
Find the file you want to share and click on it.
Once selected, you will see a button – Share Link – on the top action bar.
Pressing the button will bring in a popup window with a button that allows you to get the link.
You will see a preview of the respective file. The shared link is the one in the browser's address bar.
Creating the QR code gives you more freedom because you have plenty of options in terms of generators.
Find a free QR code generator by searching over the Internet. You can use Pageloot's QR Code Generator.
If you are given more options about the link (vCard, phone call, email, URL and others), choose the one for URLs.
Paste the shared URL you copied when you generated the link in Dropbox.
Go through all the customization settings if any and generate the code.
Tips and tricks when using a Dropbox QR code
Knowing a bit more about Dropbox QR codes can help you make a better decision.
Do understand the difference between static and dynamic QR codes. If you expect to change the content of the code within the next three months, you should opt for a dynamic code. It costs, but it saves money, as you can change the link without changing the code.
Many marketers scan their newly generated codes with their own devices. If they work, they assume that they work on every device – terrible misconception. Try it out with more devices and operating systems.
Do play a little with Dropbox before sharing content with it and understand how privacy and permissions work. Otherwise, you risk giving access to other files that you may want to keep private – a rookie mistake among marketers.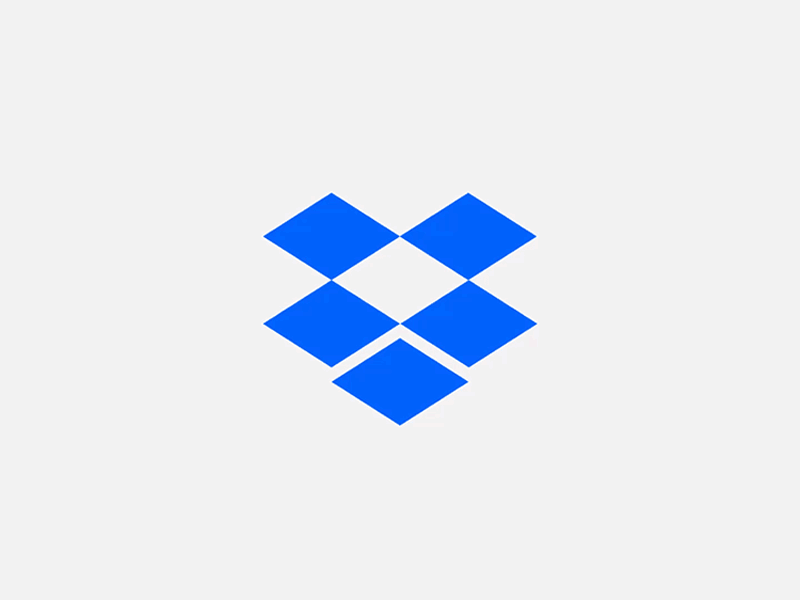 Bottom line
As a short final conclusion, a Dropbox QR code may look irrelevant at first. After all, you can share links by giving out the actual link. However, no one will type it in a browser while looking at a flyer or a window ad. Using QR codes in both digital and printed stationery will ease your potential customers' work.
Whether you need a QR code for school, marketing or brand awareness, this opportunity is all about versatility and ease of use. People today expect everything to be fast – quick loading pages, scanners, no typing issues and bookmarks. If you can help them gain speed, you are a winner.
Creating your own Dropbox QR code is also simple and does not require any experience.