From PDF to QR Codes
A PDF QR Code will show a PDF file or a document. This helps you connect all your PDF documents to your customers' smartphones, so they always have it on hand. You can make a PDF QR Code to share product manuals, restaurant menus, real estate listings, and much more!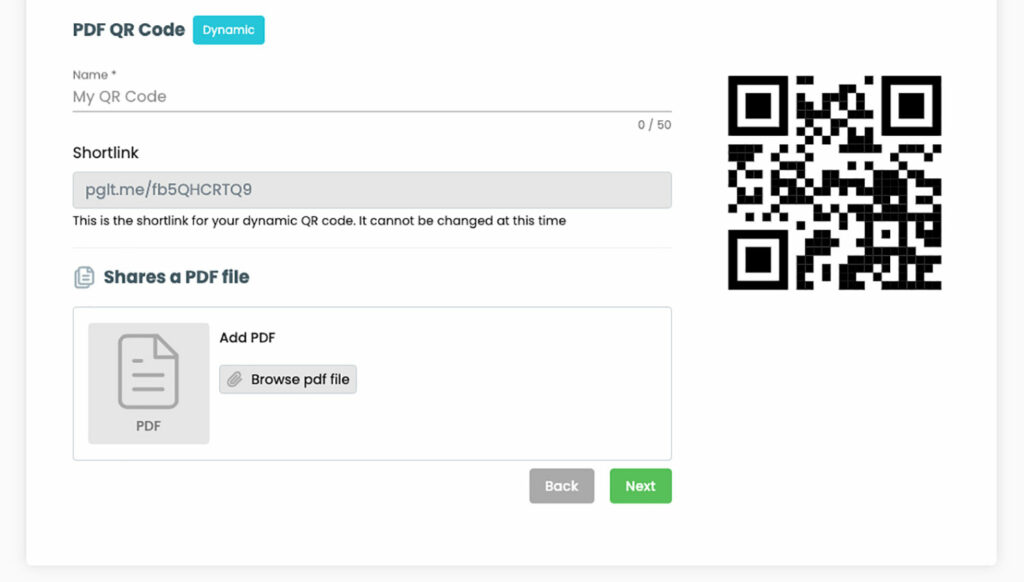 All you need to do is upload a PDF file or link the QR Code to your online PDF link and use a PDF QR Code Generator tool.
What is a PDF QR Code?
PDF files were developed by Adobe around 1990 for sharing documents between different devices and software. When creating a PDF file QR Code, we are taking this one step further and making it even more easier. Now anyone with a smartphone who sees your QR Code will have access to the PDF file instantly when they scan your QR Code.
Where to use QR Codes for PDF files?
The use cases can vary depending on your product or service. Here are some popular options to give you some ideas where you could use a PDF QR Code:
Cafe menus
Price lists
Cheatsheets & lead magnets
COVID-19 checklist
Infosheets
All kinds of forms
Any documents
Why should I use PDF QR Codes?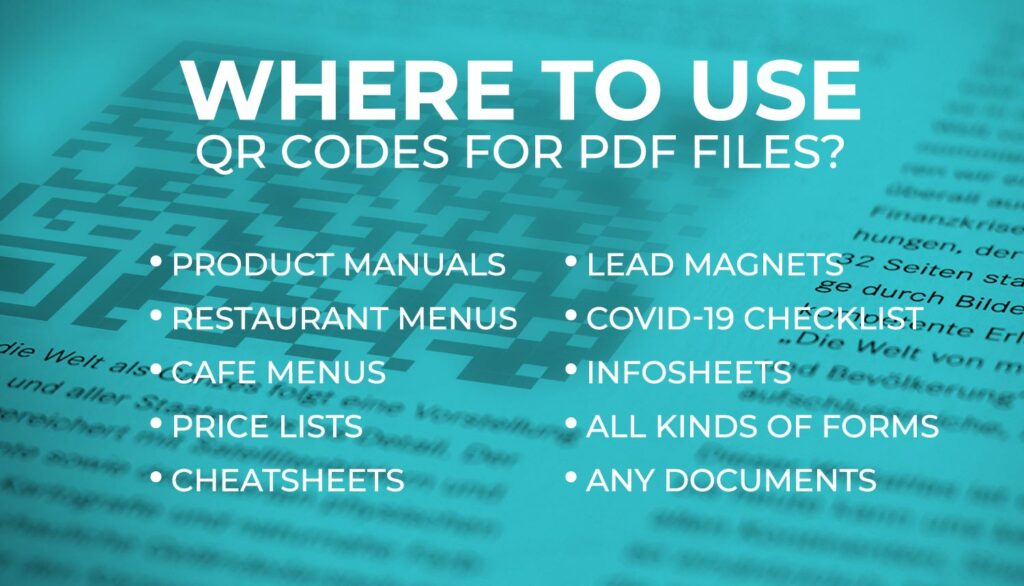 The main reason to use QR Codes for PDF files is saving time and offering your customers a quick and easy solution. It would be really odd to put a link to a PDF file on a receipt or product packaging. It takes time to read and manually type in a link.
Alternatively, your customers would have to manually Google search for your product or service PDF files, which can be time consuming and they may not always find the correct one they actually need.
QR Codes are accessed within seconds. All the customer needs to do is open up their smartphone camera and that's it. QR Code readers are nowadays integrated into all modern smartphone native camera apps.
Benefits of using QR Codes
QR Codes are the quickest way to learn about products and services
Users keep the history on their phones for later
The same QR Code can be changed later for another purpose
How to share QR Codes with PDF files?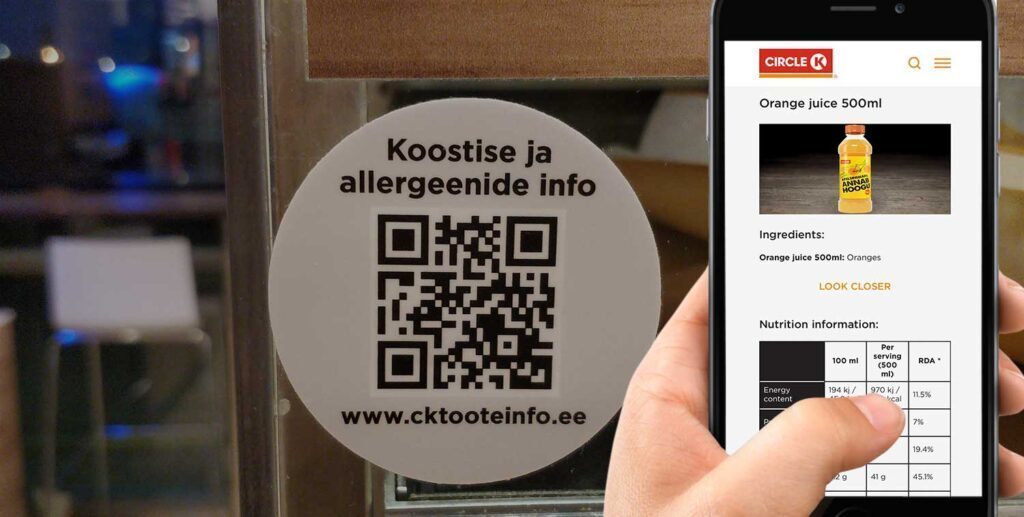 On print media
Consider using PDF QR Codes on any print media or surface. This includes magazines, product labels, product packaging, brochures and much more. Using QR Codes helps you save space and make things look a lot more clean and minimal.
While this makes your product or service look more premium, it also gives more value to the customer. All they need to do is scan the QR Code with their smartphone and they will have access to the detailed PDF files that provide the info they need to make a purchase decision. Also, they will have it on hand, saved in their smartphones for later when needed.
Display it on a digital screen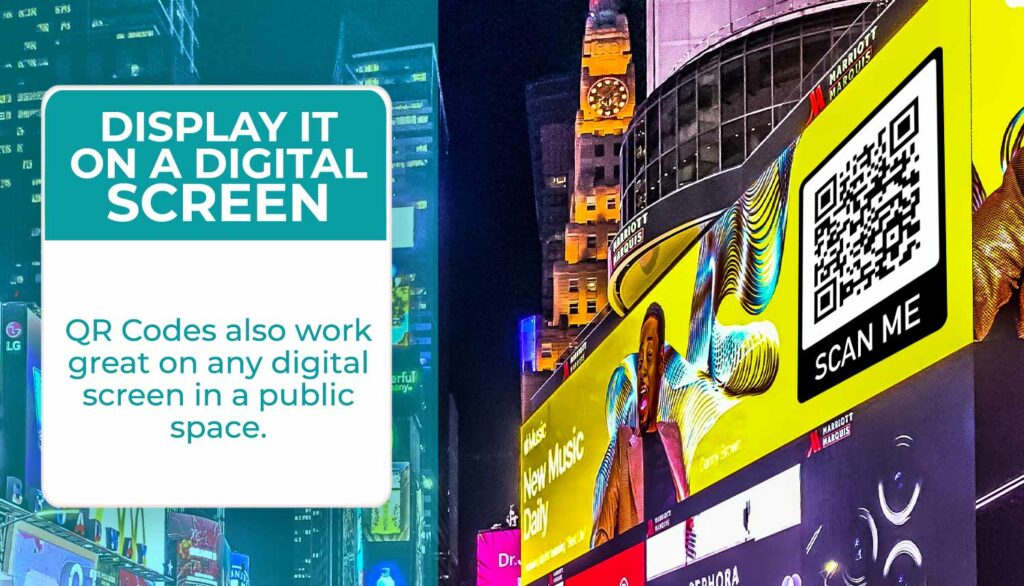 QR Codes also work great on any digital screen in a public space. This is a great option for an environmentally friendly solution that doesn't waste paper. Your customers still get the same experience, as they only need to scan the QR Code once and it will remain in their smartphone browser history.
Change the contents of the PDF file
Consider using a dynamic QR Code when you need to change the PDF file in the future. This helps you keep the old QR Codes, so you don't need to print or change them again each time.
This can often be the case for restaurants and cafes, where the menu changes seasonally or maybe even daily. It's also possible that many product manuals and info sheets need updating on a regular basis.
Find your PDF QR Code use case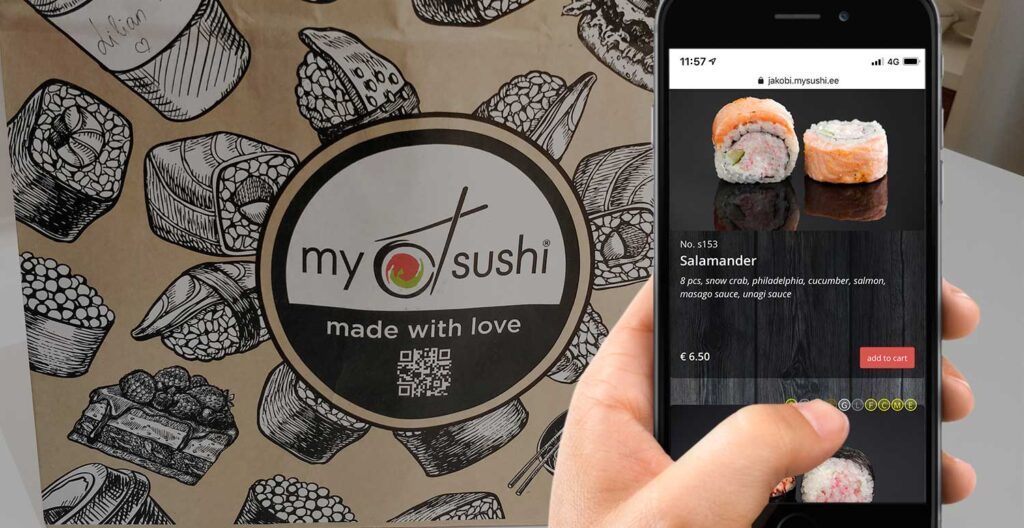 Use QR Codes for PDF files for a safe and contactless experience
Even if you are not using any PDF files for your product or service yet, you should seriously consider taking a look. Every industry and niche can make use of PDF files, because they add so much value to your customers and leads.
The possibilities truly are endless here, so we will look at some of the more popular options.
Restaurant menu QR Code
Create a contactless and safe experience for your customers. Convert your menu into a digital menu with a QR Code. Upload your menu PDF file and create a QR Code instead.
PDF QR Code for restaurants and cafes – This is an excellent alternative for paper menus. People can access it on their smartphones and also keep it saved for later. You can also have a home delivery service inside the menu so people can order at home.
Product manual QR Code
User manuals can often be lost and misplaced. Now your customers always have a fresh new copy waiting for them without going online and manually searching for it. This QR Code can be placed on the product label, the product itself, or the packaging. It links the user directly to the product manual PDF file.
Cheatsheets & lead magnets
You don't always have to give away valuable PDF files for free. It is possible to collect users' emails or phone numbers in exchange for a PDF file. This is often called a lead magnet or cheatsheet. In exchange for giving away free content, you can build an email list for marketing purposes. Consider giving this one a try, all you need is to use the landing page QR Code.
COVID-19 checklist QR Code
Ensure that visitors can get a COVID checklist that they can fill out digitally. This is useful for doctors' offices and many other services, where it is important to imply social distancing measures and keep the experience contactless whenever possible.
Real estate PDF QR Code
Virtual real estate experiences have boomed after the COVID outbreak. People are still looking to rent and buy properties, but wish to do so at a safe distance, while maintaining a contactless experience.
Consider making a PDF QR Code for real estate. This can include a virtual tour, pictures, price and extra info about the property. The QR Code can be placed on a yard sign, a billboard or any other type of print media or screen.
Document QR Code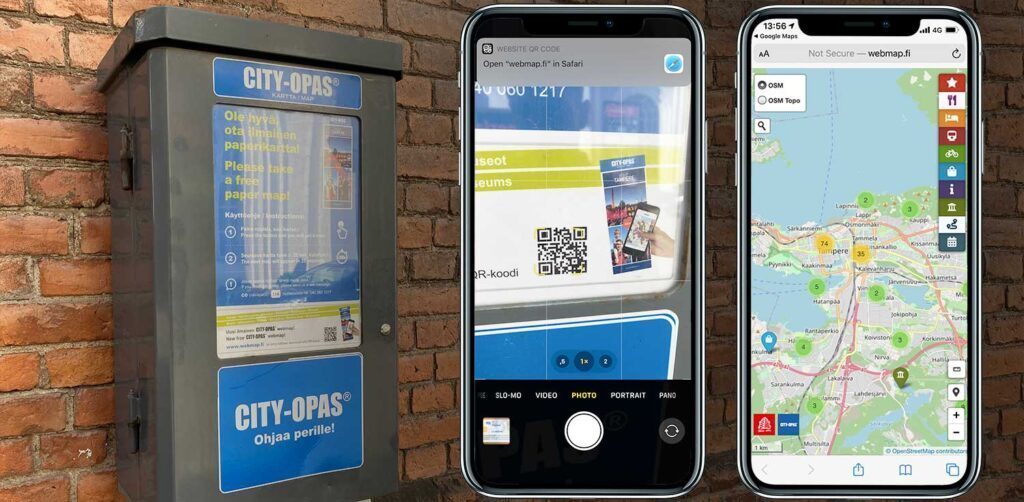 As a summary of all the previous use cases, your PDF QR Code can include just about any content you like. Alternatively, it doesn't always have to be a PDF file either. Maybe you wish to use a Word document or and Excel sheet instead if that makes more sense for your use case. This procedure is similar for all file types.
How to make a PDF QR Code
Creating a PDF QR Code is easy. You don't need to be a computer wizard or developer for this. Long story short – there are 2 options to convert a PDF to a QR Code:
Your PDF file is already online
You still need to upload your PDF file
#1 Method – You already have a PDF file online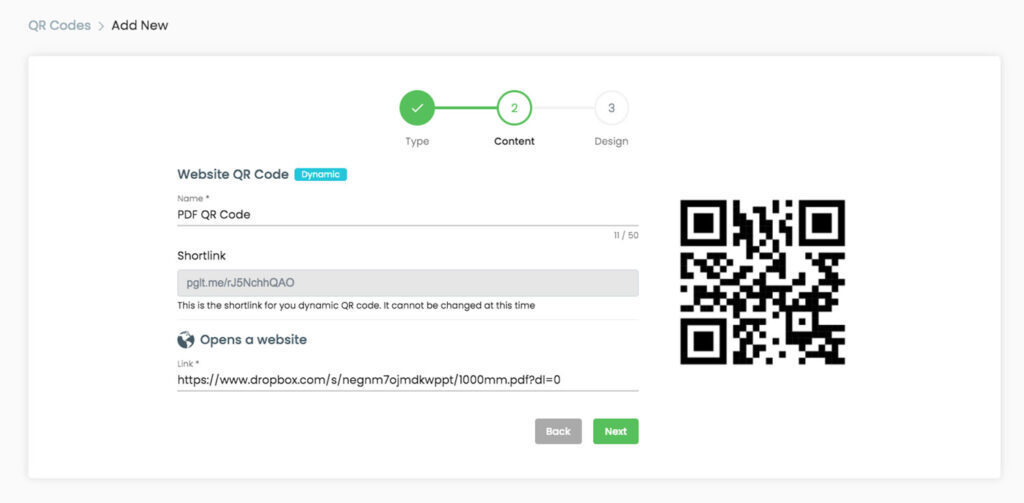 If your PDF files are already hosted online, all you need to do is get a link (URL) for them and use the Link QR Code. You may not even know that your PDF files are already online. This method can be used if your QR Codes are on your:
Any upload or cloud service
Social media
All you need to do is get the URL link for that PDF file and paste it into the Pageloot QR Code generator tool.
#2 Method – Upload a PDF to convert it into a QR Code
While you can upload your QR Codes just about anywhere. Let's look at a popular example based on Dropbox & Google Drive.
Upload your PDF file
Create the public link for your PDF
Use the QR Code generator tool
How to customize your PDF QR Code
Let's make sure that your QR Code also looks nice, because that can affect how many people will actually scan your code. Not everyone understands what a QR code is or what to do with it, so using a few quick improvements like colors, adding a logo and a call to action will definitely help more people use your PDF QR Codes.
#1 Add a PDF QR Code logo

Users may not always understand what the QR Code contains or what it is for. Adding a PDF file logo on the QR Code helps people understand that they will receive a PDF file from this code. It also makes it look a bit nicer in general, right?
#2 Choose the right colors & shape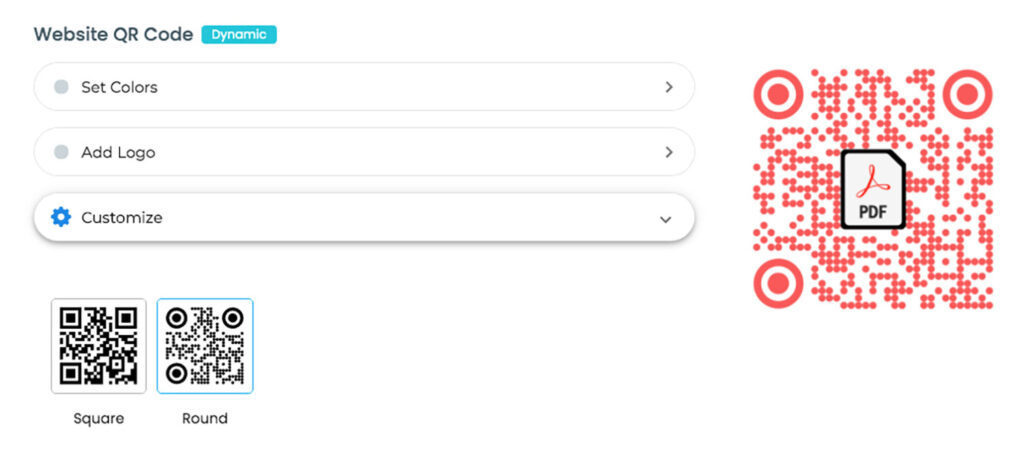 Making it look even nicer, consider changing the shapes and colors to match your surrounding design elements. Did you know that users form opinions on a product based on design in less than a second? This is important, so let's get it right.
#3 Add a CTA (call to action) frame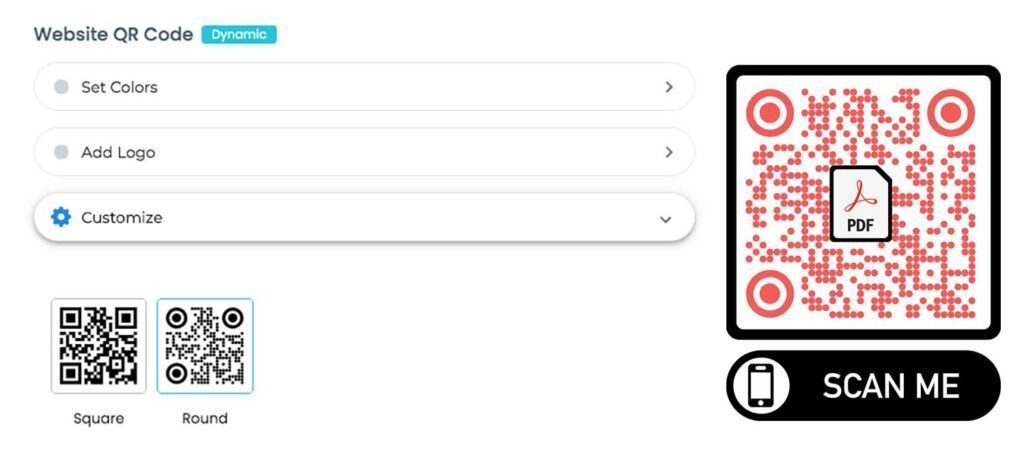 Now that our PDF QR Code looks nice, it's important that people understand what it is or what to do with it. A simple CTA will help understand and also to motivate more people to scan the PDF QR Code, because it makes them curious.
#4 Choose a short URL for your brand
Once they scan the QR Code, a link appears in the top of their smartphone screens. If that link looks weird, then they may not want to click on it since they don't trust it. Make sure your links look nice by using customized and shortened URLs that match with your brand and campaign.
How to edit your PDF QR Code
After you have created your QR Code, you may need to edit the PDF file contents or make some changes to it. You can do that easily when you are using dynamic QR Codes with Pageloot. Just go to your dashboard and click on edit.
Find your PDF QR Code
Click on edit
Upload a new PDF or update the link
Click on save changes
Best practices for PDF QR Codes
Always use a PDF logo in the QR Code
Use the right colors
Optimize your QR Codes for web display
Choose the right size for your QR Codes
PDF QR Code frequently asked questions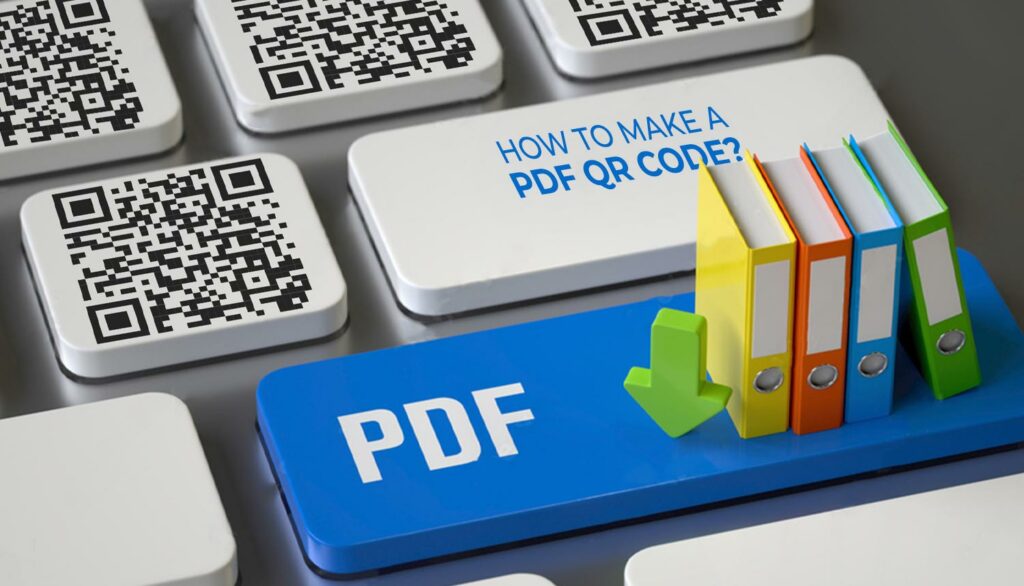 #1 Can I make a QR Code for a PDF file?
Yes, you can easily create a QR Code for PDF files. Either copy the link of your PDF file into the QR Code generator or upload your PDF file directly to convert it to a QR Code.
#2 How to scan a QR Code to open PDF files?
Check out our guide on how to scan a QR Code. While some phones may be a bit different than others, generally all new smartphones can scan and read QR Codes straight from the camera app.
#3 How to add a QR Code in a PDF?
If you wish to place a QR Code inside your PDF document, just save it as an image file. Click on "download" and place that image file inside your PDF with Adobe Illustrator or Word.
#4 How to make a QR Code for PDF free?
Check out Pageloot's PDF QR Code Maker tool to create PDF QR Codes for free.
#5 Can I convert a PDF file to a QR Code?
Basically, yes. You can link a PDF file to a QR Code when it is uploaded somewhere online. The PDF file will still be a PDF file, but it will be easily accessed by anyone who scans the QR Code that is linking to it.