The immense rise of using technology in our everyday lives also affects the marketing strategies of beauty brands. Traditional marketing just doesn't work as well as it used to. Beauty brands need to adopt innovative methods to make an impact. A great way to do it is to make a QR Code. Here are 7 ways QR Codes for beauty products help your brand stand out from the rest.
7 ways how QR Codes for beauty products can help your brand to shine
#1 Promote your beauty product with QR Codes on free samples
Beauty samples are an amazing way for your potential customers to try out new products you'd like to promote. Many huge beauty brands have understood how profitable this can be! Drunk Elephant, Smashbox, Kat Von D Beauty to name a few. A brand like Madara Cosmetics allows customers to choose free product samples to go along with an e-store purchase.
According to Euromonitor research, free samples were one of the biggest influencers for purchasing beauty products. This is a stage of the buying process, where a consumer is new to your product. You want to provide all the relevant information about the product to help make the buying decision. However, since samples are small there is also limited space to promote the brand on the product packaging. This is where a QR Code maker will come and help you out!
Add a tiny QR Code on your product sample which directs scanners to read additional information. It can lead to a list of ingredients or to read the benefits of the product. It can also direct to your social media or a sign-up link for a newsletter.
Use a free QR Code generator on product samples to promote your brand and meet your sales and marketing goals. All this helps the consumers to make an informed buying decision.
Read more on how to make a QR Code for Product Packaging.
#2 Make the most out of your print ad campaigns with QR Codes
Digital marketing has indeed exploded and it's extremely useful when it comes to increasing beauty brand awareness. However, print media is still highly effective for companies to reach their potential clients. When it comes to making a purchase decision print media is the most trusted advertising channel. You can make the most out of your print ad campaigns with QR Codes.
Drive traffic to your website by adding QR Codes to flyers, posters, billboards, and magazine ads. It's quick and easy to scan a QR Code. With a dynamic QR Code, you can also create a unique link and analyze the scanning statistics. This way you can see which print ad works best for your company.
Want to know more about QR Codes on print ads? Check out this post: how to make a QR Code for Flyers.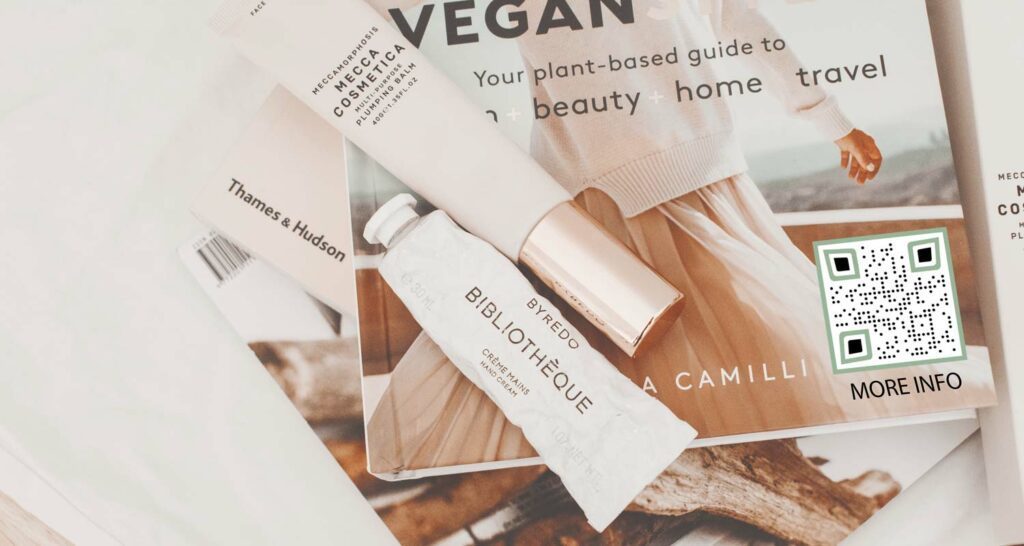 #3 Use QR Codes for beauty products in-store to promote user-generated content
Product reviews are an essential part of marketing your beauty product. Most consumers say they almost always read reviews before buying a beauty product online.
Increase your sales by making reviews available for in-store shoppers as well. Place QR Codes on your products and direct shoppers to read online reviews. It adds value to the retail experience and helps shoppers access valuable information when they need it the most.
Make a QR Code, ease their concern, and help them make a quicker purchase decision. It goes a long way in building trust with your customer and building your brand's credibility.
Pro tip! Add a catchy call-to-action button on your QR Code to stand out from your competitors on the shop shelves. Try "Read helpful reviews".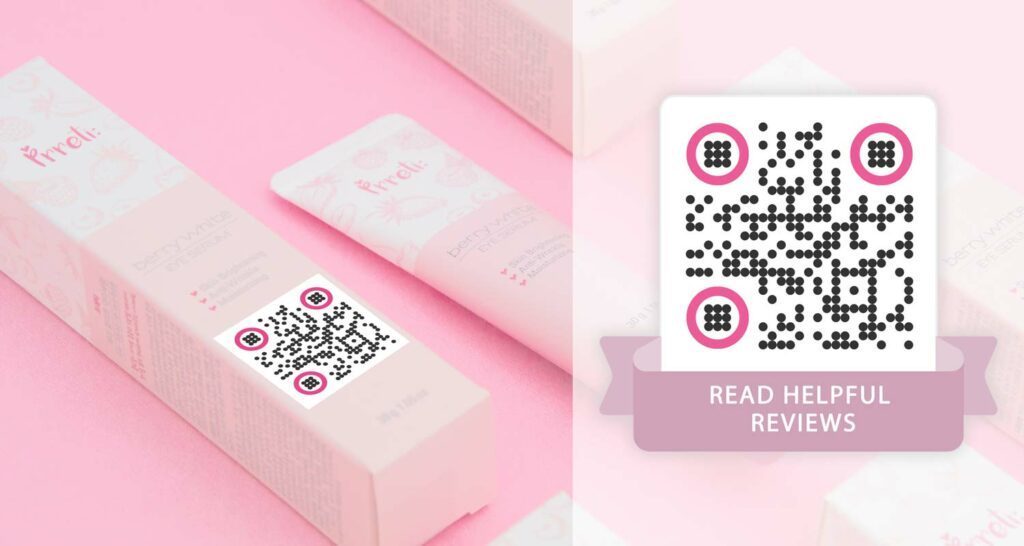 #4 Get more customers to sign up for your loyalty program
Bond Loyalty Report 2020 found that 72% of consumers are likely to recommend brands with strong loyalty programs. Rather than filling out a membership program physical form at a counter make it fuss-free with a QR Code.
To get instant sign up to the program place the QR Code on your store walls, invoices, at the counter, or on your beauty products. The whole process will be seamless. Watch how more and more happy customers are signing up for your loyalty program with an easy scan!
#5 Allow more attendees to visit your booth at trade fairs and exhibitions
Going to a trade fair or exhibition? It's a great way to gain more interest in your beauty product. However, fairs are often held at large venues and it might be difficult for attendees to find your booth. Add a location QR Code to flyers and posters at the entrances, so people can find you easily.
#6 Strengthen your online community with QR Codes for beauty products
Consumers are more loyal to the brand when it has a strong online community. Furthermore, the majority of companies say they understand customer needs better thanks to their communities. A branded community also helps to generate new leads.
Brand advocates, loyal consumers, and influencers on social media will spread the word, give honest reviews, post unboxing videos, give out recommendations, etc. All this user-generated content does a lot of work for you while cutting down marketing spends. You gain new consumers and keep the exciting ones engaged.
Use a QR Code maker to enhance your community strategy even further. Link the QR Code to your online community and add it to packaging, counters, or in-store displays.
Pro tip! Offer a 30% discount to consumers who post an Instagram story with your beauty product. Link your QR Code to Instagram so posting a story is quick and easy. This way you'll grab the attention on social media and generate new leads.
#7 Gain access to first-party data
Many beauty brands depend on third-party retailers like Amazon, Sephora, Ulta, etc. It can happen that brands don't get access to meaningful consumer data and statistics. Hence, not fully understanding consumer behavior can lead to bad marketing decisions for your beauty brand. Leading marketers strongly believe owning first-party data is critical for your brand to grow. QR Codes on your beauty product packages help you get that valuable data.
When consumers purchase your beauty product and scan the dynamic QR Code, you'll get to see the number of scans, devices used, and locations. Based on your collected first-party data, optimize your listing on retailers' websites. This way, even on retailers' websites you will better understand your customers. This will eventually lead to better marketing and more repeat purchases. All thanks to using a QR Code maker!
Still not sure QR Codes can help you gather useful insights into consumer behavior? Read more about tracking QR Codes.
Do you want to try out QR Codes for beauty products?
There are several clever and innovative ways to enhance your marketing strategy and generate more sales with QR Codes. Whether it's using the QR Codes on the packaging, on posters and flyers, or building a strong brand community. Pick a strategy that works best for your beauty product and make a QR code. Let us know how it helped you!