Why make QR Codes for Airbnb rentals?
Travel and tourism are coming back once again. The main question is how to make guests feel welcome and safe with Airbnb and Booking rentals?
We have 2 Airbnb hosts at opposite ends of the world. First up, we have Piret from Estonia who owns two Airbnb listings in Estonia – a romantic old town apartment and a cottage house near the seaside. Our second host is a Superhost – meet Omar from Mexico City who is hosting Airbnbs in Coyoacán, Mexico. After the devastating crisis, they are both wondering how to get more guests coming back again?
Making QR Codes may just provide a solution for that. Long story short, they allow you to inform guests, show them you care, and stay in touch with them while maintaining distance. We have a bunch of great tips for all Airbnb rentals that you can consider mixing into your own strategy.
Airbnb QR Code for Guest Wifi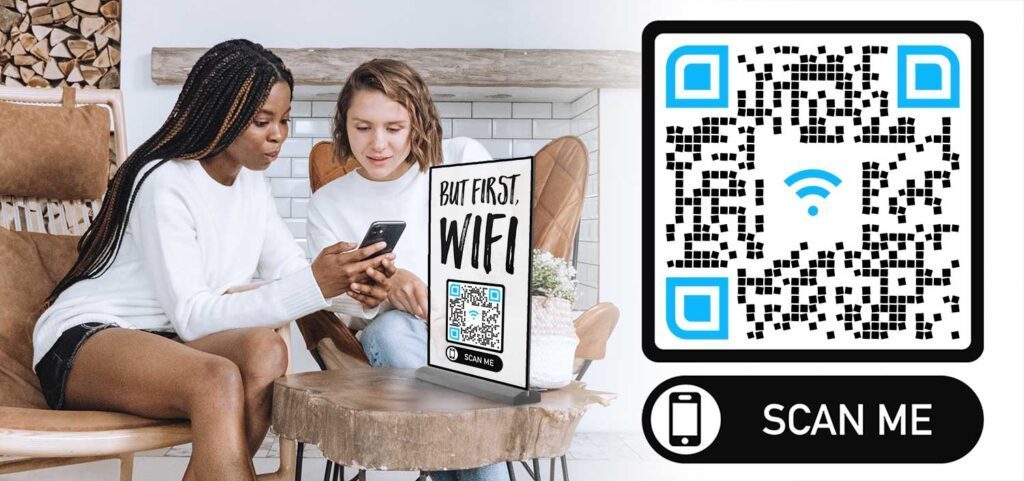 What? Both Piret and Omar make QR Codes and use virtual hosting. Physical items are constantly removed and being replaced with digital ones. Starting from automating how guests join the WiFi network but ultimately using QR Codes for every amenity possible in an Airbnb rental. Things are changing for Airbnb, but it is just a matter of adapting and embracing technology.
How? Guest WiFi login instructions don't need to be complicated or boring. Give it a try, scan the WiFi QR Code above. This could be your Airbnb or Booking.com WiFi network that the guests are easily connecting to.
The main benefit of using a QR Code generator for joining a WiFi network is that nobody has to type in any passwords manually, it is done automatically in a matter of seconds. The secondary upside is that nobody has to touch or hand around the WiFi password card like they used to do it in the old days.
Why? Sure, alternatively you could just send a message to your guests each time with the password, but they would still need to manually type this in – it is just annoying and takes too much time. If you are extra concerned about the hygiene protocol, it doesn't have to be placed on a table. Consider placing it on your wall instead, maybe decorate it with a nice picture frame.
Check out the WiFi QR Code if you feel like this could help improve your Airbnb experience.
How to make a QR Code for Airbnb?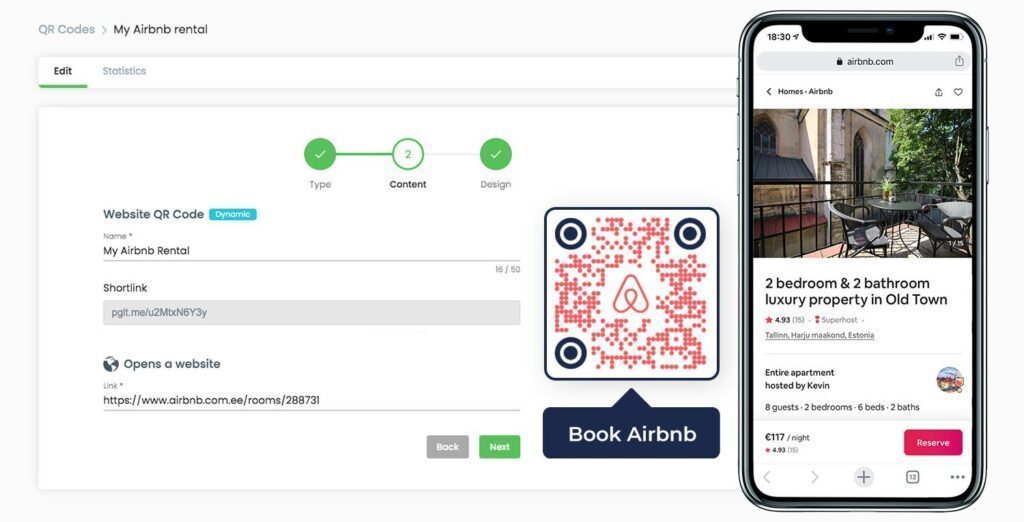 You can use a QR Code Generator that is available on the web, for example, Pageloot. All you need to do is copy and paste your link into the tool and it will take care of the rest. Designing things, adding a logo, and making them look nice is also very quick and easy thanks to templates.
All QR Codes don't need to be printed out. There are some benefits to make QR Codes on your Airbnb listing for example. The problem there is that you can't link or embed things on your listing, for example, a virtual house tour. That would really make your listing stand out, right?
Since Airbnb doesn't allow links on the listings, the easiest workaround for this is to add a QR Code into the image gallery. Here is an example of that: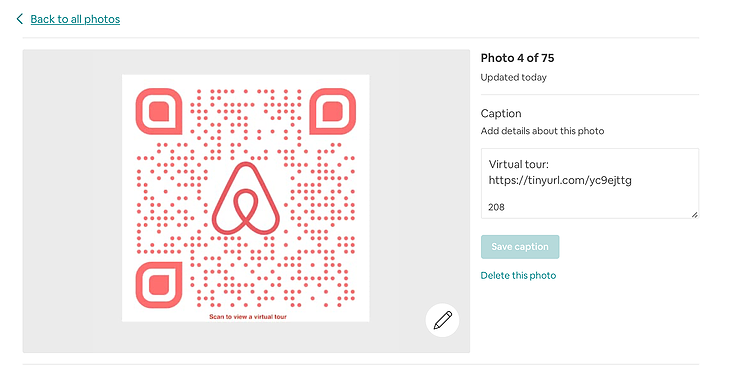 Don't use this as the first image, but do use it as the second or third. This way it doesn't get cut out into the gallery and is visible on your listing landing page. Check out Kuula.co if you want to create a virtual house tour for your guests.
Don't create ugly QR Codes that nobody understands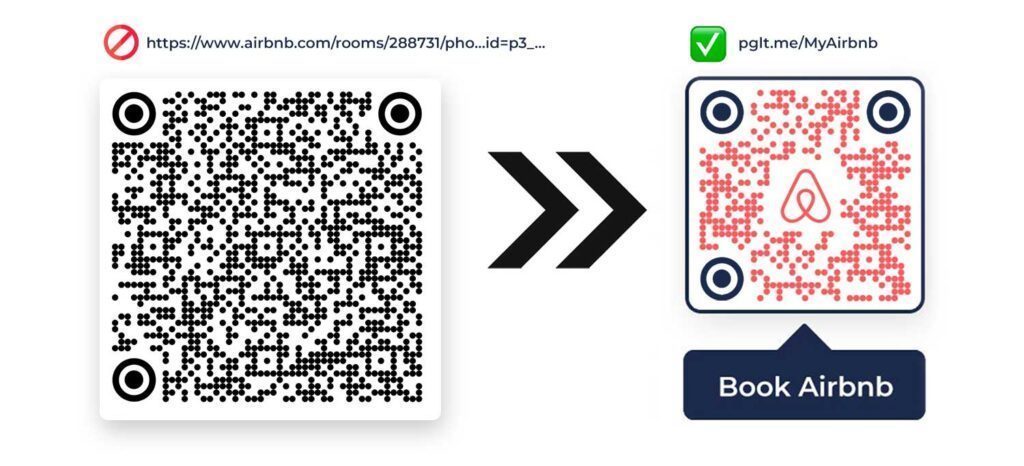 Airbnb links can often be long and complicated. This results in a really large QR Code that doesn't look appealing. Actually, this only happens when you are linking the QR Code directly to the long link. Instead, we recommend you use Dynamic QR Codes, that add a short link in-between. This means you can always change the contents later without printing a new QR Code again – saving you time and money.
When using a QR Code Generator, you can do all that plus add a call to action (CTA) and some colors that will make it easier for people to understand what to do with it. Be sure to download your QR Codes in vector formats so they don't get blurry when printed.
Let's summarize what we've learned so far:
Don't use long static links
Use Dynamic QR Codes instead (with short links)
Add a call to action (Example: Book Airbnb)
Make it look nice – add colors and shapes
Download in vector formats for high quality
What QR Codes can I make for Airbnb?
#1 Entrance – check in
A perfect place for a welcome message. Why not start with a video tour and link that to a QR Code?
#2 Living room
What's the first thing that everybody wants in an Airbnb? Hint: We already discussed this one. Yes, a WiFi QR Code in the living room makes perfect sense. Also, consider adding a House Manual QR Code here to explain your house rules to your guests. This could also be placed in the entrance instead of the video tour.
#3 Balcony
If you have a balcony in your Airbnb with awesome city views, consider placing an Airbnb guidebook linked to a QR Code. This way visitors can instantly see what is where and relate to the city map and tour guides. You can use a Google Maps QR Code for this.
#4 Kitchen
A Feedback QR Code would make sense here, since the kitchen is one of the places that is expected to be very clean in an Airbnb, especially in the post-pandemic world. If guests have any complaints, you are able to address them right away before getting bad feedback!
#5 Bedrooms
Consider adding WiFi QR Codes here as well, maybe the guests didn't notice it in the living room.
#6 Bathroom
'If kitchens should be clean, then bathrooms should be even cleaner. One option is to duplicate the review QR Code here. But another option would be to add a COVID-19 QR Code that gives guests information and help in case they may need it.
Use cases for Airbnb QR Codes
While self-check-in is the new normal with Airbnb nowadays, not many people have thought about the welcome and introduction part of a booking rental when new guests arrive. Sometimes the host greets people personally at the door and shows them around, but this isn't always the case. Not only is this time consuming, but after the first coronavirus period, this is actually avoided and contactless solutions are preferred.
#1 Airbnb house tour video QR code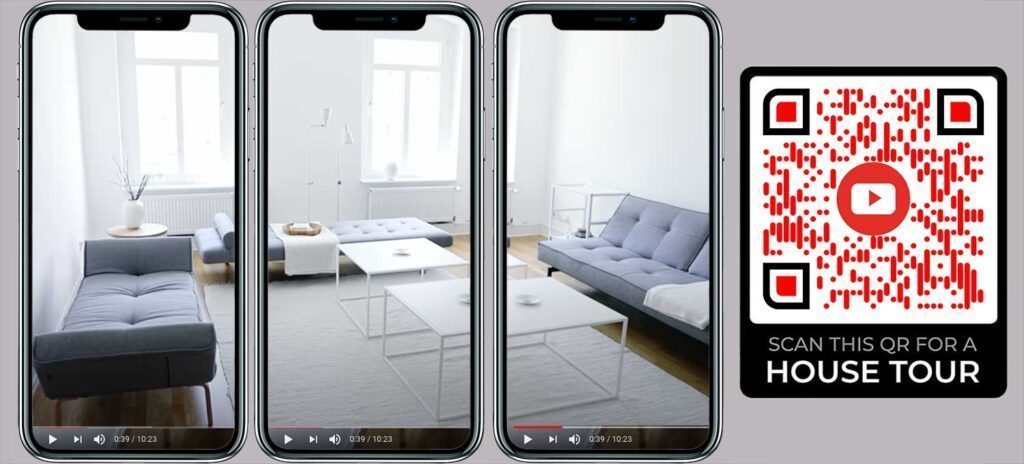 One really cool way to show your guests around is by creating video content for your rental. You can do this by making a video on YouTube and then linking that to a QR Code. Once that is done, just give it a nice design (feel free to browse our design templates), print it out and you're done!
This works really well with the post-pandemic situation. Not only does it save your time, but also shows your guests that you care and gives them a warm welcome. You can also point out all the necessary details in your house or apartment – what is located where and how to do certain things that may need explaining and would be complicated to do over the phone.
If you really want to take things to the next level, then you can create a customized greeting for each guest's arrival, mentioning their names. You can use YouTube playlists for this and only remake the first video as a short 10-20 second clip. The following actual house tour video would still be the same each time. The best part about this is that you don't need to make a new QR Code each time. By using Dynamic QR Codes, you can always change the contents of the link without reprinting the code.
This can also work for goodbye messages, but we would recommend getting a courier to deliver a small gift instead. This is a killer recipe for getting perfect 5-star reviews all the time.
If you feel like testing this out, then try out the YouTube QR Code.
#2 Airbnb house manual guide QR Code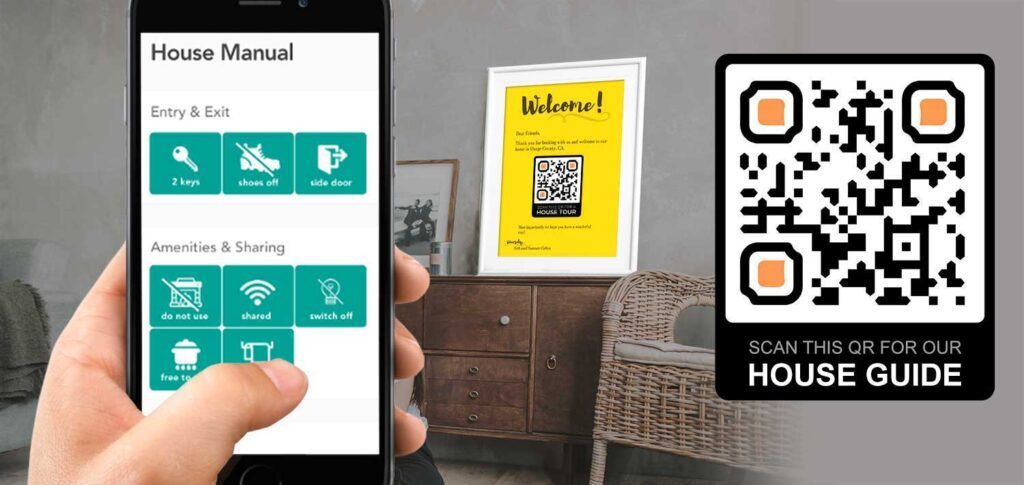 Both Piret and Omar have considered removing physical copies of their house manuals from their apartments. While it is a good practice to send the guests digital links of this and all other resources via SMS or Airbnb messages, the problem is that they often get lost in the endless emails and messages.
A much better approach is to share this as a House Manual. You can print it on paper and hang it on the wall or place it on a table. Consider putting it inside a frame to make it look nice. This way, your guests don't need to scroll through their emails and messages to find all the stuff that you sent them. Instead, they can instantly access what they need when they are currently in your rental.
The result of using a house guide provides your guests with all the information they need. Each home has different appliances and systems that need some kind of explanation. This means a lot fewer questions being asked and more free time for you to manage your Airbnb listings and focus on improving other things and getting new bookings. It also guarantees great reviews and ultimately gets you more new bookings.
Consider trying this one out with the PDF QR Code.
#3 Airbnb coronavirus PDF QR Code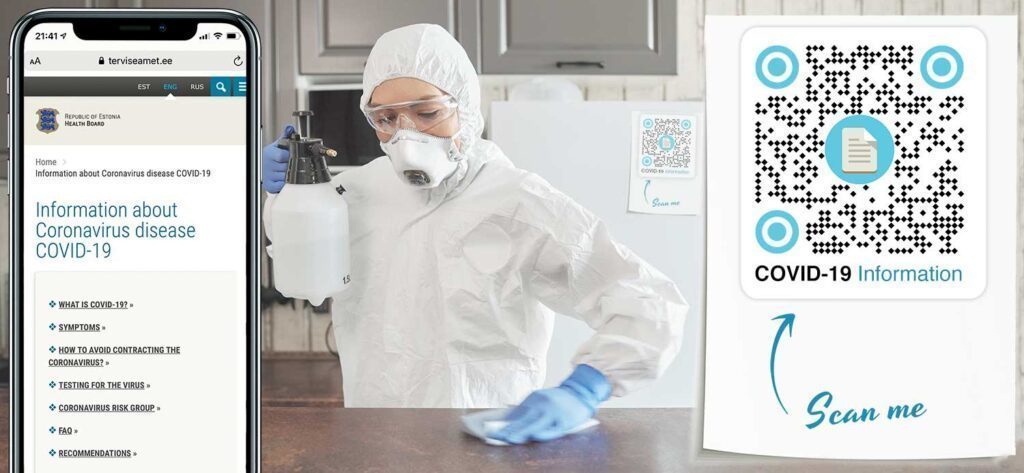 Piret and Omar send their guests a PDF house manual as soon as they book a stay. The manual also includes safety information, regarding sanitizing rooms and removing unnecessary items from the rentals. Omar Says: "I emphasize the COVID-19 measures we are taking so they feel safe at my Airbnb."
While you can have this info inside the house manuals, it can make sense to have a separate QR Code for this in a certain place, like the kitchen or bathroom, where cleanliness is a must.
It's all about making your guests confident about your Airbnb rental and feel like at home. While hand sanitizers are great, QR Codes always give out extra information that people don't need to physically touch to read and interact with. They can let your guests know where to find the cleaning supplies and emergency details for the closest hospitals & medical centers.
Consider taking a look at the Airbnb enhanced cleaning protocol to get better reviews from guests.
How to be a Superhost on Airbnb?

Competition on Airbnb is super tough nowadays. Almost anyone with an apartment is trying to rent it out – this creates price wars and too much saturation. Instead of pouring oil into the fire and lowering your price, always try to go for a high-quality listing and premium pricing. This will actually work to your advantage and make you more money in the long run. If you can't be the cheapest, then rather be in the top price range, because nobody cares about the second-cheapest.
Keep in mind, not everyone is just bargain hunting for the lowest listings, plenty of guests actually prefer quality over price. One of the things that can set you apart from the competitors is the Superhost badge, displayed on your listings and profile.
Be a Superhost – While most guests do leave feedback after their stay, it doesn't hurt to gather private feedback before the actual real feedback. Why? Well, competition on Airbnb Bookings nowadays is so high that you rarely ever book anything under a 4.8 right? So getting good reviews is extremely crucial if you don't have too many reviews yet and even a 3 or 4-star rating can drag your average down horribly low.
#4 Airbnb Feedback QR Code Generator

The Airbnb Superhost requirements say that you need at least a 4.8 average rating. The other requirements are up to you that you can manage yourself, but this one is the trickiest for sure.
QR Codes for feedback and rating provide just that – similarly as going to the doctor's office, preventing problems is a lot easier than to try and fix them later. You can't remove your 1 and 2-star ratings later unless you get those people to change their minds within 48 hours. After that, the reviews are locked in for life! If you get a one-star review, you need twenty 5-star reviews to get back to a 4.8 average.
#5 Airbnb activity guidebook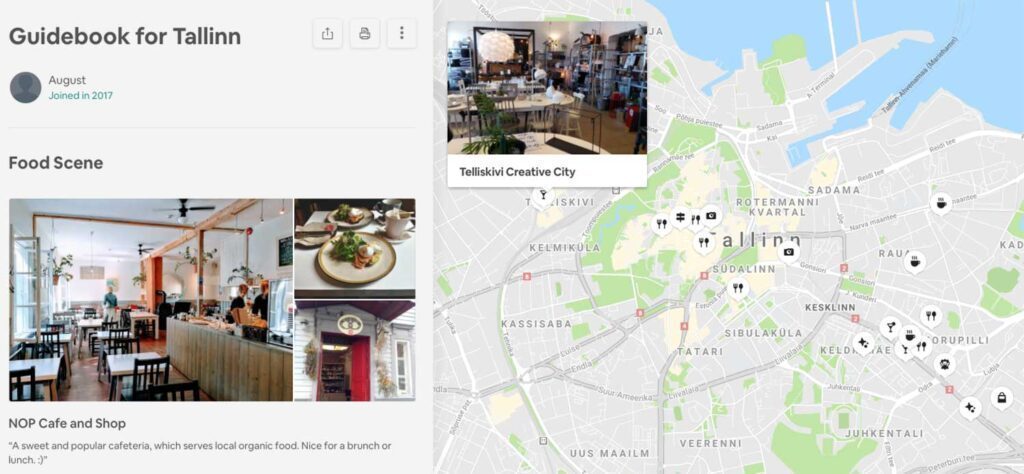 Previously, Piret and Omar were using physical printed copies of city maps and tour guides. Now, both of them have upgraded their guidebooks to digital Airbnb guidebooks, that are linked to QR Codes for an easy scan.
"We definitely need to add more outdoor adventures with the current situation" Piret mentions. While we definitely want our guests to feel at home, we also want them to have a great time and get to know the city as much as possible.
Omar is adding app suggestions for ordering takeaway food from restaurants, like UberEATS and SinDelantal.
Here is a quick checklist of what you can add to your activity guidebook:
Restaurants – which ones are good nearby? Share phone numbers.
Attractions – what do you recommend? What is a must-see?
Shopping – where are the best prices and quality?
Transport – what should guests use?
Activities – something fun and original from your country!