Millenials are bringing QR Codes back and the Google QR Code generator is going strong with the trend. It all started when Snapchat, TikTok and Instagram started to make use of QR Codes again after they had been put to rest way back in 2011.
Nowadays QR Codes are making things better and easier for business and people around the world. It is really easy to make a QR Code with a logo or colors that fit your brand. Google has a huge impact on all web services nowadays, so it just makes sense that they would tap into QR Codes as well. Even though they are mostly known for their search engine, there are a lot of other really useful tools that they offer.
How does the Google QR Code Generator work?
Q: Does Google have a QR Code generator?
A: Well yes and no. Let's look at some options that we have when it comes to creating Google QR Codes. Also, many things have changed during the last 5-10 years when QR Codes first came around, mostly for the better.
Long story short, we can either use Google's own tools exclusively or combine them with other tools to get more features and functionality.
Option #1 – Using the Google URL Shortener (discontinued)
Previously known as the Google URL Shortener (now discontinued), this has been replaced by Firebase Dynamic Links. While it keeps some of the original functionality, it is now more intended for paid users and app developers.
Unfortunately, Firebase is a NoSQL database and is unable to generate QR Codes. This means it does not have a way to create or generate QR Codes anymore. Well, no worries. Even though the Google URL Shorthener was great while it lasted because it was free – there are now tons of better options out there specifically for making QR Codes with logos and custom colors.
You can see from the video above how easy it was to use the Google URL Shortener for making QR Codes. Everyone could do it and it was 100% free as well. While the downside is that this service is no longer available, the great thing is that there are now new tools available that are 10 times better and easier yet!
There were also other problems with creating Google QR Codes via the URL shortener tool. For one, the QR Code was super tiny and not so useful for printing and design options. For better options and possibilities, we should take a look at various QR Code Maker tools, also known as QR Code Generators.
Option #2 – Using a QR Code Generator tool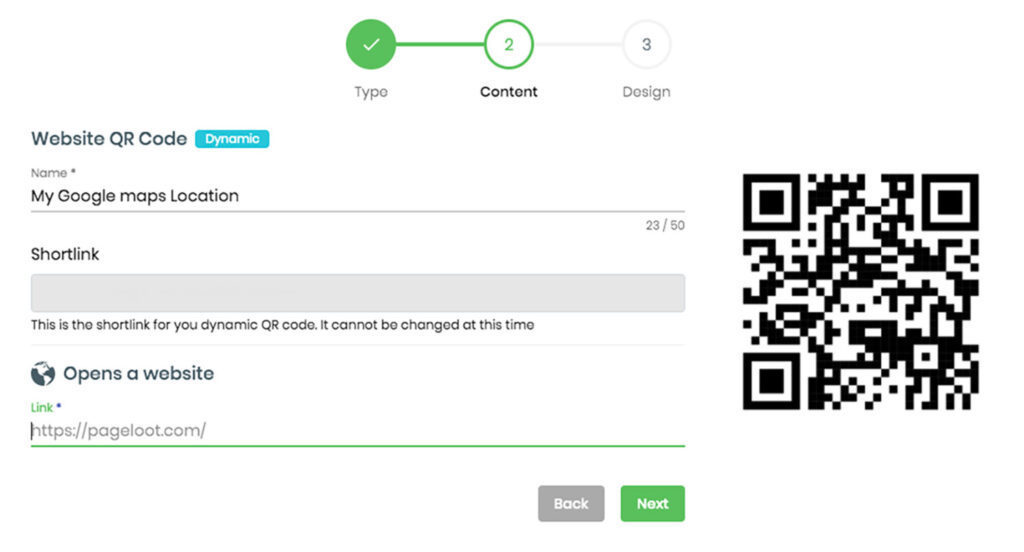 This is where things start to get interesting. As long as you have a website address or any other call to action that you want to perform, a QR Code maker can do it for you. Give it a try and Create a Google QR Code here.
While there are many options out there, you may want to check out what is the best free qr code generator. One thing is the variety of different options. The second thing is cost and what can we do for free online. QR Code manager tools can help you manage all of your QR Codes in only one place. You can even group your codes into folders or tags!
In regards to content and types of QR Codes, you really have endless options here. Everything from directing to a website or Google document or Google maps. You can share the location of your business via Google maps, share your Wifi login, link to a Google sheets or document file and much more.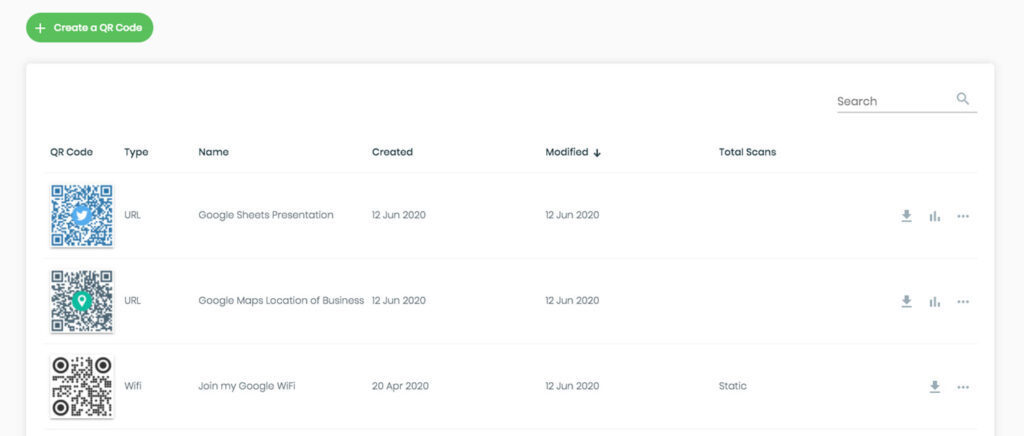 The benefits of using a QR Code maker tool
You can change the design of your QR Codes (colors, shapes)
You can add a logo for your QR Code
You can keep all your QR Codes in one place
Download QR Codes as vector files for high quality print
Advanced statistics for tracking and retargeting your customers
What data you can get from using dynamic QR Codes
Location – Where your QR Code was scanned
Time – When your QR Code was scanned
Type – What type of device and operating system was used
Target group – Who scans your QR codes? By using Facebook Pixel integration
Google Analytics – Yes, you can also integrate Google products into QR Codes
There are a ton of benefits why you should opt for a QR Code Generator tool. Now, let's take a look at some of the options there are for different Google QR Codes.
The 9 Different Types of Google QR Codes

By combining Google QR Codes with a QR Code Maker tool, we can get really nice looking QR Codes that attract people to scan them. You don't need any designer know-how or skills to make Google QR Codes look nice. There are design presets already in place that help you out with all of that. Learn more about how to make a QR Code with logo and custom design.
Take a look at some of these example Google QR Codes for inspiration to start making your own codes. You can even copy them if you like, we don't mind!
#1 Google Docs QR Codes
Probably the first thing that comes to mind with Google after their search engine is Google Docs. QR Codes allow you to share these docs with other people really easily. Of course you could just paste the link in a chat, but this can be really useful for offline situations where it makes sense to print it out on a paper or display on a screen.
Use Case: For example, either a classroom or an Airbnb apartment for guidelines, rules, materials and much more. Everything from a PDF file to a Word document or spreadsheet.
#2 Google Video QR Codes
While YouTube retains it's brand, it is still owned by Google. It is really easy to create a QR Code for video files by uploading them to Youtube. The next step is to copy the URL of the video and paste that into a QR Code Generator tool. That is all, your QR Code is ready for sharing! Make sure to make it look nice as well. See the video above for a really neat overview.
Use Case: Informational videos for gyms and fitness centers or product assembly / usage tips videos for e-commerce products. Maybe even a virtual tour of an AirBnB apartment during any future coronavirus outbreak season.
#3 Google Slides QR Codes
Take control of your meetings by sharing your Google Slides presentation materials. Alternatively you can put QR Codes inside your presentation so people watching it can instantly scan the link and view additional materials on their smartphones while listening to your pitch. This can either be done at the beginning of a Google Slides presentation, during or after.
Use Case: For startups, school presentations, anything really.
#4 Google Sheets QR Codes
Remember the old days when everybody used Microsoft Excel? Thank god Google Sheets came along and saved the day. QR Codes take this a step further. We can now conveniently share Google Sheets documents with real people in the phsyical world as well. QR Codes do a really good job in bridging the gap between the virtual and physical world. They can be displays on digital screens or print media.
Use Case: Sharing your sheets with business partners, colleagues or classmates.
#5 Google Forms QR Codes
Google Forms is a great way to gather feedback, create surveys and get a free insight on your products and services. You can have customers and leads subscribe to your newsletter and download useful guides and information. Custom design QR Codes help you direct the customer in the right direction when it comes to Google Forms QR Codes. Use Google forms to build your email list and integrate with other services like MailChimp.
Use Case: Conduct surveys, reports or questionaires for clients and customers.
#6 Google Maps QR Codes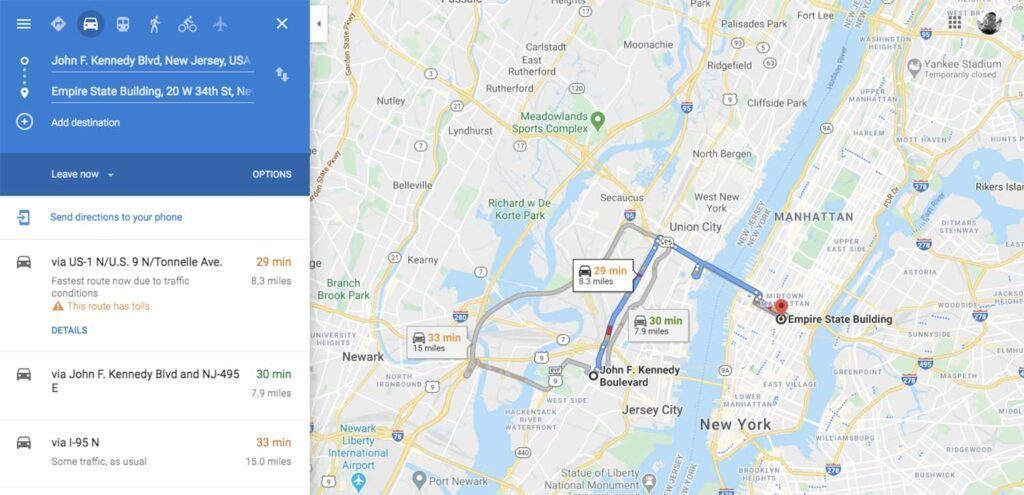 You can use a Location QR Code to share your Google Maps location for your business, AirBnB apartment or any location you particularly need. This helps people find your location with ease. You are not always available to send them your location link, so this works really well for any print media or displays and screens. You could even use location QR Codes to organize a scavenger hunt with trails and clues.
Use Case: Share locations of your business or related locations to the current location. Maybe you are planning to open up a new location, so you can advertise on flyers and posters about it. This can drive more physical traffic to your new store. Make sure to add an incentive or CTA, for example -35% for the first 2 hours of the opening.
#7 Google Calendar QR Codes
Did you know that you can send customized QR Codes that are personalized to invite your coworkers and friends for meetings? You can do this thanks to Google Calendar QR Codes. They come in handy when you need to organize people and events on a certain time schedule basis.
Use Case: Creating events, organizing meetings and schedules.
#8 Google Business Reviews QR Codes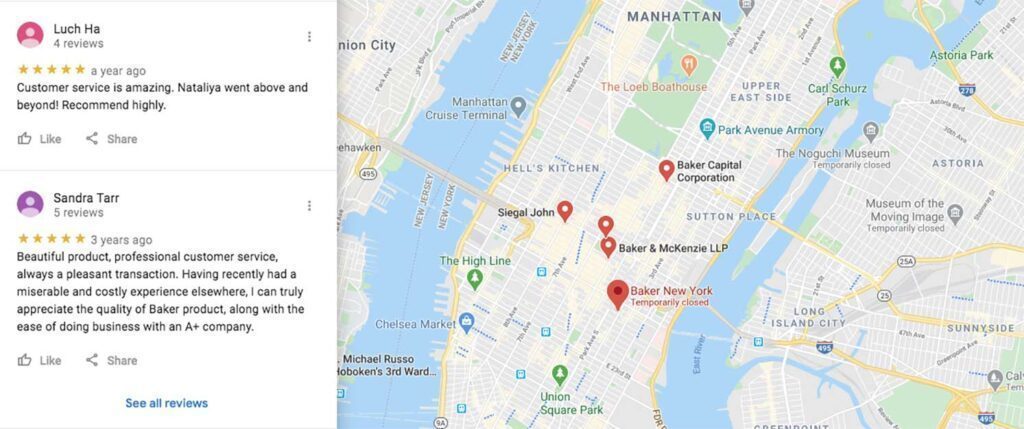 There really is no end to the different wonders and products of the Google swiss army knife. Did you know that you can even use Google Business QR Codes to get more reviews for your Business. This helps with social proof and increased sales and conversions against your competitors.
Use Case: Offer an incentive for customers to write you a review. For example, every week you can arrange a giveaway or lottery for the new people who reviewed your business.
#9 Google Photos QR Codes
Google Photos offers a really easy and fun way to share your images or a specific gallery. Take use of QR Codes and simplify this even one step further. This can be either for personal use or for your business. Maybe you want to share your portfolio via the Google Photos gallery and distribute it through Google Photos QR Codes.
Use Case: For sharing photos with friends and family or your professional portfolio.
How to make a QR Code for Google Services
It doesn't really matter which type of Google QR Code you wish to create. The steps for all of them are very similar. The only thing you should take into consideration is whether you want to use that QR Code only for this particular document or maybe you want to link it to another document or file in the future.
For single use
A simple static QR Code would help you out in this case. There are many online QR Code Generator tools that can do this for free. The downside of this is that if your Google file link changes or you want to link it to another file, you need a new QR Code. So all those codes you shared and printed earlier are now useless.
The best way to make Google QR Codes
We always recommend everyone to use dynamic QR Codes. The main reason for this is that you can change the contents of the code when necessary. Maybe you want to create a new Google document and use that same QR Code? The only downside with dynamic QR Codes is that most of them are not for free and you need to pay.
The upside however, is that Pageloot offers dynamic QR Codes for free, where many others don't. Take a look and see if dynamic QR Codes are the right choice for your Google QR Codes.
How to create a Google QR Code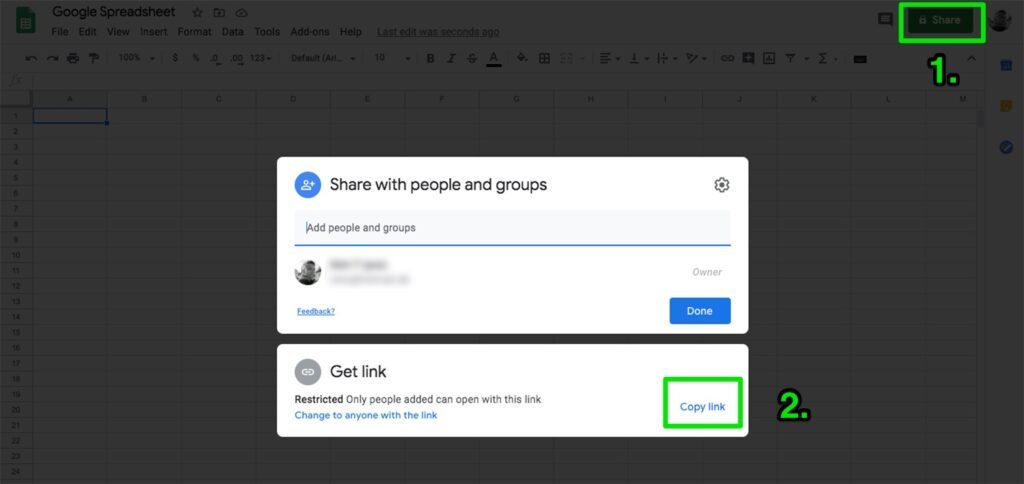 Which ever service you are using – check the top right corner for the sharing options.
From there you can get a sharable link that you can copy and paste into the QR Code Maker tool.
Warning: Beware of the link type! Make sure if it should be only viewable, if people can comment on it, or if anyone who visits the link should be able to edit it.
Keep in mind – you can only choose one link per file, so if you later make a new link for the same file, the permissions for that file change. So it's possible you can grant editing accesss for a file that you only wanted people to comment on.
Generate and download your QR Code.
Profit.