QR Codes for Real Estate Agencies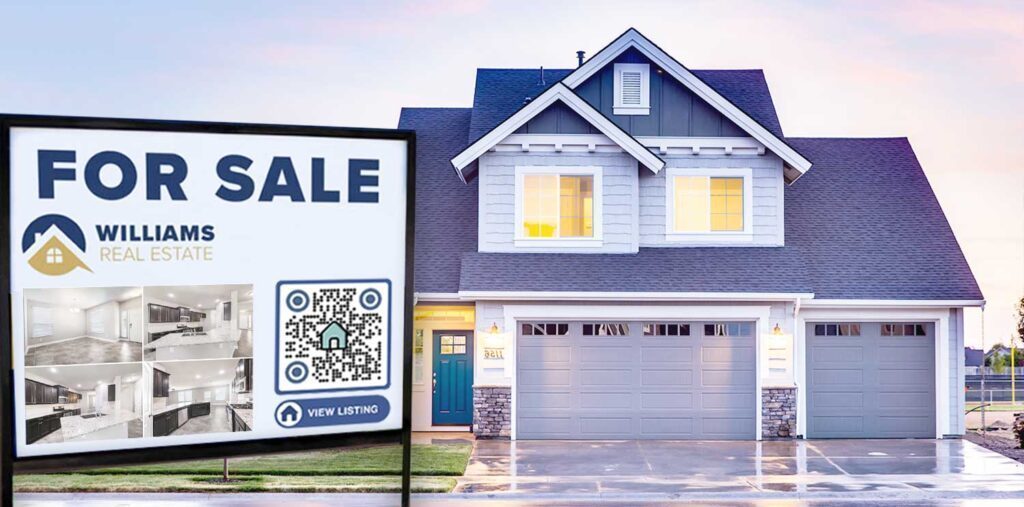 The real estate market is changing rapidly. People are busy and their attention span is almost non-existent. Everyone is glued to their smartphone constantly. Everything is moving towards digital experiences.
People no longer want to physically meet and look at properties.
They prefer virtual real estate tours that they can enjoy at home and instantly.
Using QR Codes for real estate properties is a lifesaver nowadays.
Not only is this more safe, but it also is a lot more convenient and saves time for everyone. After the first coronavirus pandemic wave, everything has shifted towards online and digital, including real estate sales. This attracts more potential buyers and gives people a safer and easier way to browse real estate listings. This isn't a temporary shift, but a permanent one. The crisis just accelerated the progression of things 5-10 years.
QR Codes have made a comeback. Long story short, they can link any digital content with the physical world. Also, they are super easy to use with smartphones. For real estate, they are now the new hot marketing channel. They help real estate agents connect with more buyers and serve them better content about potential listings.
Meet DigiHabitat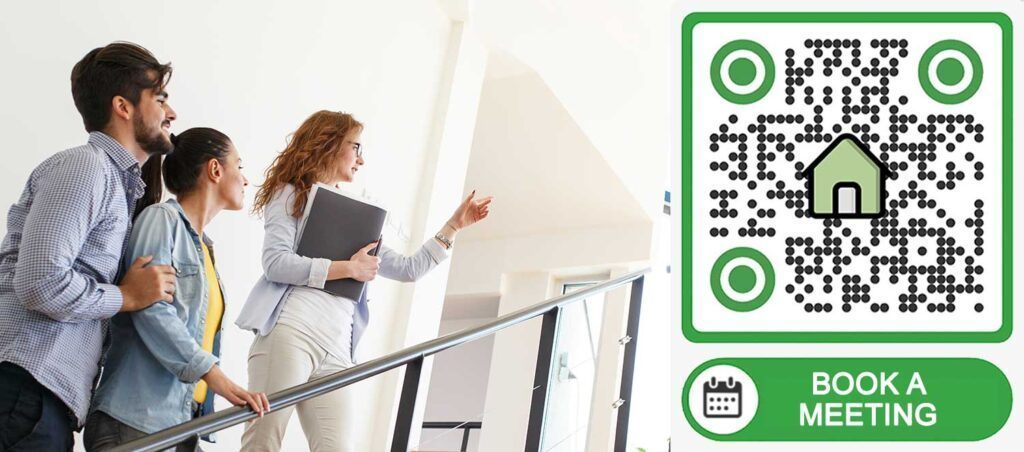 Real estate agencies have started investing in mobile marketing to keep up with the fierce growing competition. This helps them thrive in a changing market.
Carlos from DigiHabitat.com is running a real estate company in Paraguay. Let's take a look at some of the use cases, how he makes QR Codes for real estate sales and promotion. The bottom line is that using QR Codes in the marketing strategy increases customer engagement. This in turn leads to an increase in potential sales.
Are you ready to take your real estate business to the next level? Take a look at these creative ideas how we can use QR Codes for real estate promotion.
Create QR Codes for real estate listings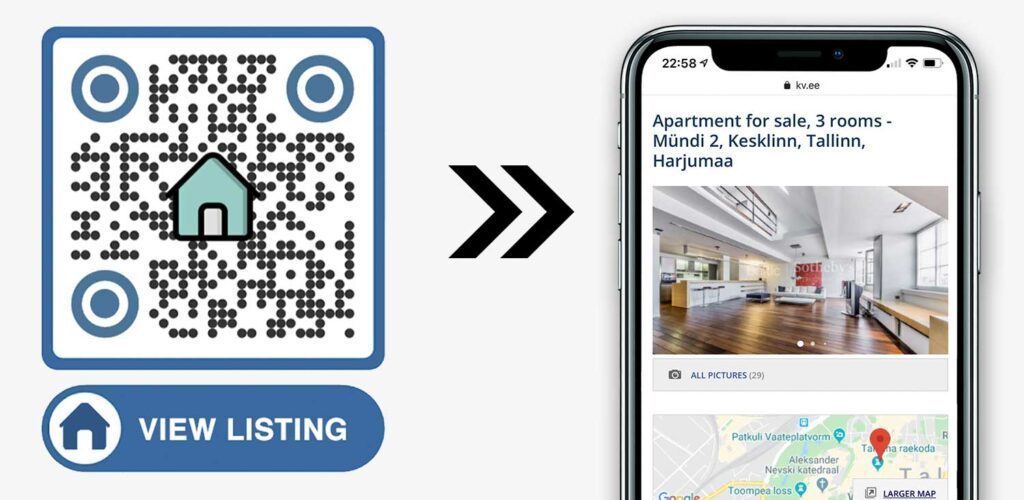 Let's start off with the basics. Nowadays almost every real estate listing has an online version of it with images. Consider adding video for increased customer interest.
What most properties don't have however, are QR Codes that link to real estate listing pages. Property signs are quite useless when they only have text on them, because nobody will manually type in anything on their smartphones nowadays – people are just too lazy and distracted for that. We need to give potential customers and easier way to connect if they happen to pass by a potentially interesting real estate property. Alternatively, consider placing them on your office windows next to the listings that are printed out.
QR Codes make this easy – all you have to do is point the smartphone camera at the yard sign and your potential buyers are connected to your online sales page in seconds.
How to create a QR Code for a real estate listing?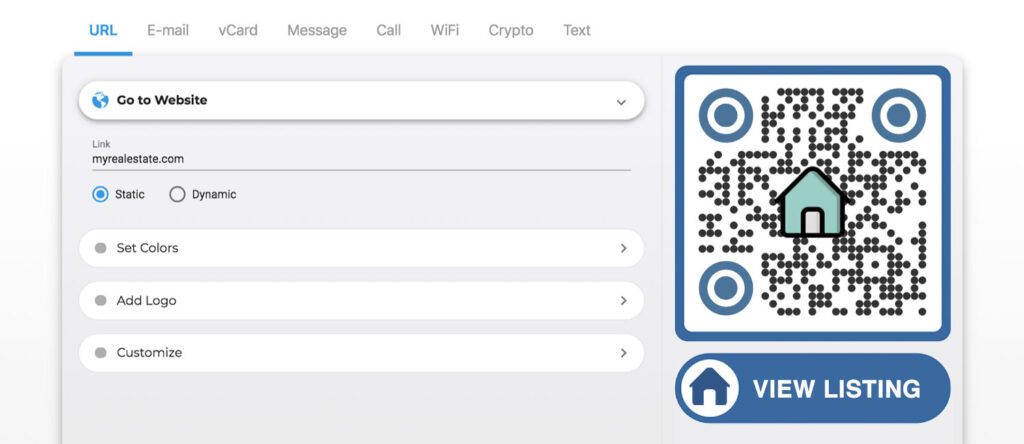 Open up the QR Code Generator.
Type in your listing page address.
Give the QR Code some style to make it look nice.
Add a call to action (CTA) frame.
Place it on your print materials.
Sit back and watch all the new buyers come in.
3D Virtual Tours for Real Estate
Everyone is showing images on their real estate listings. Some are even showing videos. But the new thing that sets the leaders apart in the post-pandemic market are Virtual Tours.
Customers are shown to be 300% more engaged. And nearly 75% of real estate agents say that virtual tours helps them close more deals without a doubt.
This immersive experience gives buyers a feeling as if they were really visiting the property, straight from their smartphone. And they can do all of this in the comfort of their own place and time.
How to use QR Codes for real estate?
#1 Generate more leads

By providing more details and making it easier for customers to reach you via QR Codes, you are instantly attracting more buyers. This is because your listing has a competitive edge over the others. You can also use a landing page to collect emails and phone numbers.
#2 Show other nearby properties

Maybe that one listing wasn't quite right for the potential buyer, but you may have other listings nearby that are relevant. Always give the buyers more options to choose from.
#3 Show photos and videos

Always add videos for real estate listings. Consider using a Youtube QR Code to show a video or a playlist. Images are so generic because everyone has them, it doesn't set you apart from the competition.
#4 Give them a 360° virtual tour

If you feel like taking it to the next level, try linking QR Codes to interactive virtual tours. Check out DigiHabitat and Matterport if you need solutions for virtual tours of existing properties. The best part – people can experience all of this on their smartphone.
3D Studio can provide virtual tours for new developments that haven't been built yet via 3D rendering technology. It is also possible to use 3D for renovation projects.
#5 Share your virtual business card

Nobody likes to keep physical business cards. Consider using QR Codes on your business cards and also displaying them in your office and on your website. This way people always have your contact information on hand.
#6 Set up a meeting event

Try using an Event QR Code to book meetings with clients and inform them of open house dates. This will ensure people automatically have the events saved into their smartphone calendars and will not forget them.
#7 Show property locations on Google Maps

A Location QR Code will share a Google Maps location with the client. They can use it to instantly find the property location and go there without getting lost.
#8 Seal the deal with a digital sales contract

Try using a PDF QR Code to share contracts with clients. You can also use it to share property details. Some clients nowadays have even bought properties online without ever physically visiting them. All they need is a virtual tour and a digital contract. That is the true power of digital marketing!
New property developments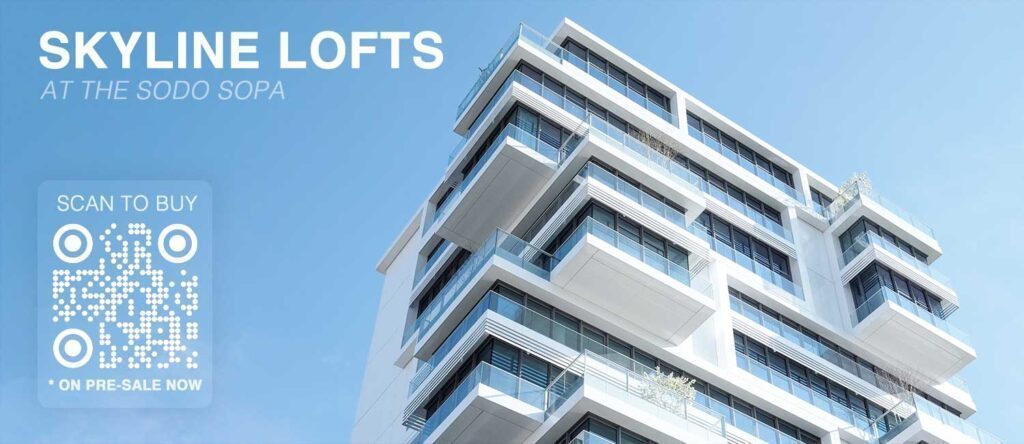 Details are often changing on new and upcoming property development projects. This means a lot of printing out new details over and over. When using a QR Code Maker tool, you only need to print it once and then update the information digitally in real-time.
Creating Dynamic QR Codes is making real estate marketing a lot more efficient nowadays.
Promote new real estate developments to nearby people.
Get more qualified leads and sales.
Less reprinting and managing print materials.
Who else is using QR Codes for real estate?

To name a few, RE/MAX and Sotheby's International Realty in the USA are using QR Codes on a daily basis. They make QR Codes for everything from print ads, business cards, billboards to property signs.
QR Codes are helping them get more data on potential buyers and retarget them later with followups. The current research shows that:
people really like to interact with QR Codes for real estate.
Customers are able to get more info quickly.
They do it on their own time when it fits best for them.
Sales numbers are up around 32%
The Corcoran Group was very excited about the number of buyers they got from QR Codes. They were also able to boost their social media presence by using real estate QR Codes with social media QR Codes.
The future of real estate is burning bright with QR Codes
Real estate agencies will go bankrupt and new ones will be born depending on their marketing strategies in the post-pandemic world. The market has changed and the agencies need to adapt to the situation.
We can either make progress and go with the flow, or get stuck in old habits and watch the sales numbers slide down to zero.
Real estate companies in the US and all over the world have achieved great success with QR Code marketing as we can see in the examples above. Now, everyone is looking for new tactics and methods to stay ahead of the competition.
QR Codes are providing an excellent contactless solution that works wonders in the world nowadays with the new social distancing measures. Real estate businesses can still generate a lot of revenue in remote conditions. Almost everything can be done online nowadays – from house tours to actually signing contracts and buying new homes.
The future of the real estate market is all about how real estate agents will respond to the new market conditions.
Frequently asked questions
Q: How to use QR Codes for real estate marketing?
Real estate listings
Virtual tours
Real estate videos
Sales contracts
Collecting emails / phone numbers
Print ads
Digital business cards
Get feedback and reviews
Q: How can a real estate agent use a digital business card (vCard) QR Code?
All you need to do is create a vCard QR Code at Pageloot for free. You can then place that on a physical business card or anywhere online.
Q: How can I use text / message QR Codes for real estate?
Message QR Codes can be used so that when a customer scans the QR Code, they can instantly send you a message on Facebook Messenger, Whatsapp, or even a simple SMS if you prefer.
Q: How much do real estate QR Codes cost?
You can start out by creating QR Codes for free. Take a look at the QR Code Generator tool by Pageloot to find out more.
Q: Where can I place QR Codes for real estate?
Yard signs
Office windows
On your website
Brochures and flyers
Any type of print ads
Anywhere near your locations
In nearby shopping centres, cafes, or public spaces
Q: How can I track the scans of real estate QR Codes?
To track the data of QR Code scans, you would have to use Dynamic QR Codes. Sign up for Pageloot for free to try them out.