Countries and cities all over the world are using QR Codes to enhance the experience of tourists and locals. The use cases range from city maps and history guides, all the way to payments and free WiFi QR Codes.
With social distancing on the rise, many tourist locations have taken a big hit in traffic. This has made many tourism businesses see the value of using various contactless technology solutions like QR Codes for maps and QR Codes for WiFi. Most countries are already actively creating QR Codes with a QR Code Maker to improve everyone's lives and keep them more connected.
The tourism industry across the world has started opening up again, after the downfall of the COVID-19 coronavirus situation. In order to reduce risks of any new virus outbreak, many businesses have started thinking about the new order and rules that should be taken into account. This means:
How QR Codes for tourism work
Everything is now booked online.
Businesses now use signs that they are following proper safety regulations.
Different social distancing methods.
Touch screens are rather avoided, different solutions are preferred.
The entire experience is transformed into contactless as much as possible.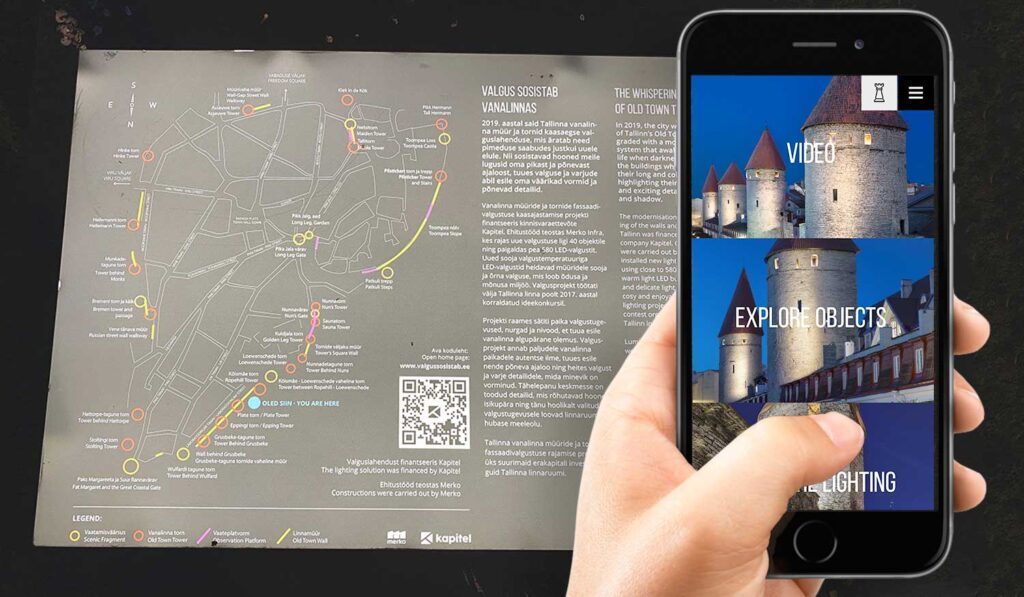 Let's start our tourism journey from Tallinn, Estonia – the home of Skype, Pipedrive, and many other successful online startup companies, it is the European Mecca of tech. QR Codes have been adapted in Estonia rapidly for both tourism and various other uses.
In the example above, we can see how the Old Town of Tallinn is displaying the wonderful evening light show on an info tablet. The problem is that most tourists nowadays rarely bother to read long texts and such, they prefer a digital and immersive experience. This is solved by using a QR Code that redirects tourists to the mobile landing page of the light show. You can check out the Tallinn old town tourism landing page here.
Why use QR Codes for tourists
One of the main advantages of QR Codes is that they can create a touch-free contactless solution. What this means is that by adding a QR Code to a physical print or screen, everyone can access the info from a distance simply by scanning it from their phone. If you are more interested about how to scan a QR Code, then check out our in-depth review of the best 12 QR Code Scanning apps. Keep in mind though that QR Codes need to be big enough to scan, this depends on the scanning distance. Another aspect is the image print quality. To resolve this issue, we recommend always using QR Codes in vector formats (Like .SVG, .PDF, or .EPS).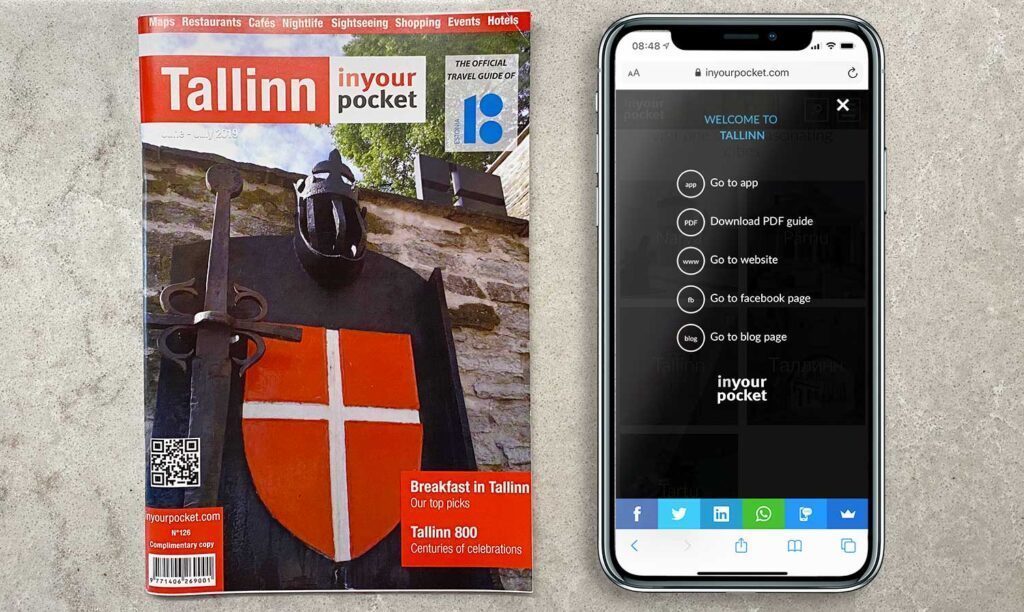 Different types of QR Codes for city tourism
As we dive deeper into Estonia and its use cases for QR Codes in the tourism industry, we can see the In Your Pocket Guide for Tallinn and how they use QR Codes to complement their magazines. They are able to add a digital addition to their otherwise physical printed media. This QR Code goes to their specific landing page for Tallinn, that gives tourists a digital PDF guide and also the possibility to:
Download their App
Go to their website
Like their Facebook Page
Read their blog page
There are a lot of different QR Code types that can be used in the tourism niche. For example, we can use them to share maps, locations, images, links and even PDF files. The big upside here is that you can also track the scans and usage of your QR Codes to see which ones perform better.
PRO Tip: Did you know that the QR Codes that have a lower performance history can actually be changed to another type or function? This is possible thanks to Dynamic QR Codes. You don't need to print anything again and this can potentially save you a lot of time and money.
The possibilities really are endless. It depends what makes sense for the particular QR Code to do. Read more about how to make a QR Code and which type is the right one for you.
QR Codes for governments & cities
Governments are taking action to help out tourism businesses that have suffered great losses. One example is the Scottish Tourism Recovery Toolkit. This magical little toolkit helps companies recover from losses and create new opportunities. One possible way is to create more contactless solutions in a post-pandemic world.
And it's not just Scotland or Estonia that is keen on creating QR Codes for tourism and other uses. Check out the video above how Wales is using a QR Code Generator tool to make QR Codes for various use cases across town.
QR Code usage has exploded in the last few years, but the whole pandemic situation definitely took it to a whole new level. The main reason for this is that they provide faster and easier experiences while less touching and more distancing is involved.
QR Codes for hotels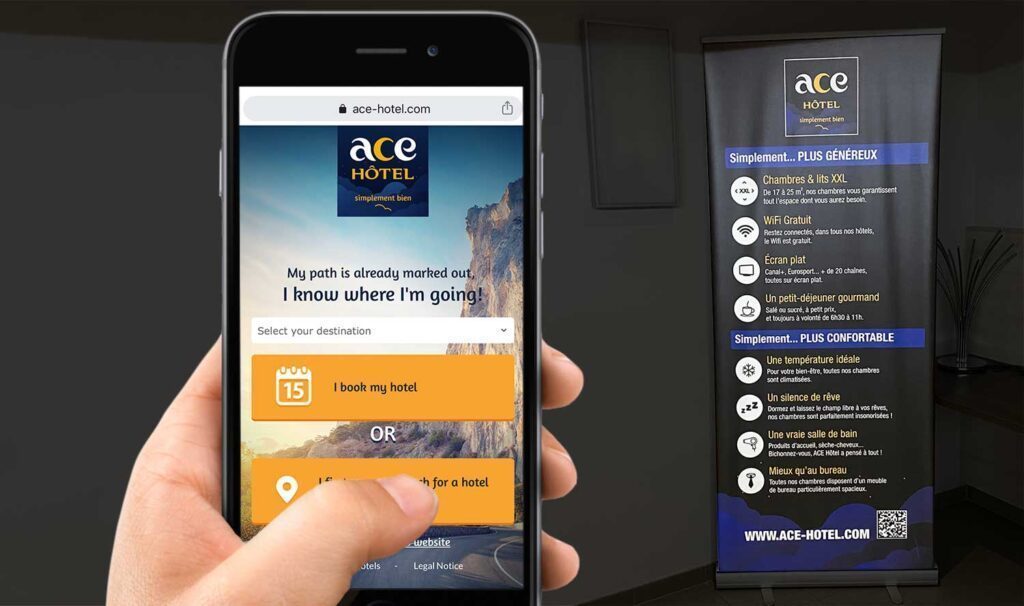 Now, next stop – let's hop on over to Paris in France. Ace Hotel is using QR Codes for Wifi to promote easy internet access to guests. They combine this with a landing page that offers you discounts on your next visit to their hotel chain.
This is a good example of how visitor flows can be reduced in smaller areas like hotel lobbies. If you have all the information out on a large scale print poster and also a QR Code, then less tourists will ask the hotel staff which means it's possible to manage with less workers and a lower overhead cost.
Customize the QR Code design
QR Codes can be easily customized for any type of media or surface layout. This means that you can use any specific colors and even a call to action that would say something along the lines of "Scan Me Now". This can be taken one step further by adding your company or business logo to increase branding and the overall look and feel of the QR Code that used to be an ugly thing of the past.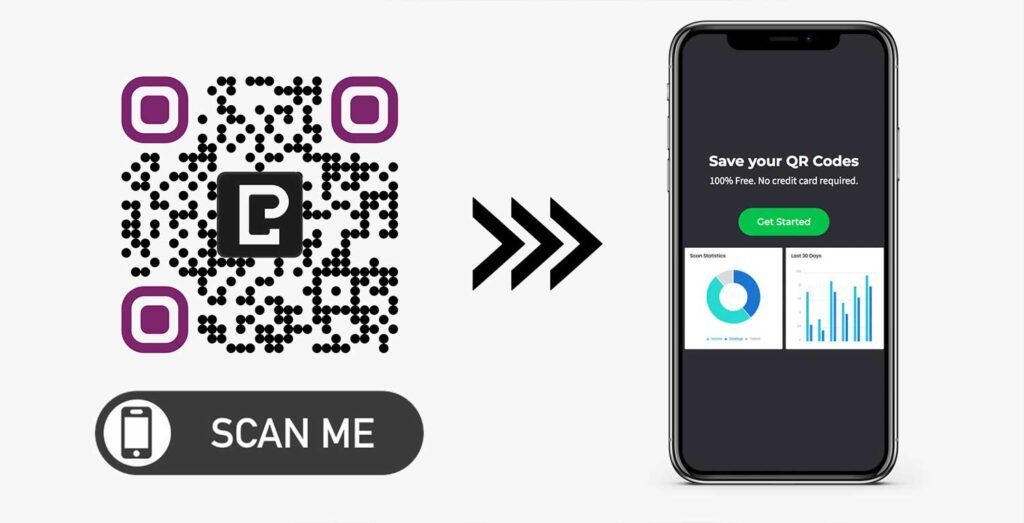 When you are making QR Codes, make sure to keep the QR Code design guidelines in mind. When in doubt or left without a designer, check out what rapper Drake thinks about how a QR Code should look like.
To finish up this overview of QR Codes for tourism, let's look at a few more QR Code types and how you could implement them for your business if you are in the tourism niche.
QR Codes for tourism maps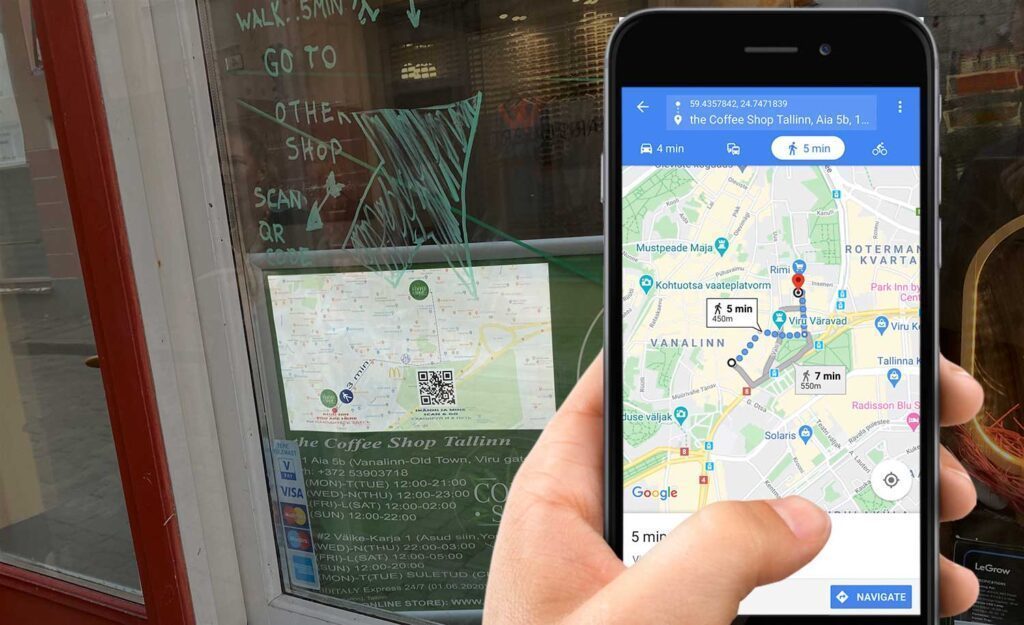 Here is a coffee shop in Tallinn that is using Location QR Codes. Basically how it works is, the QR Code is linked to a Google Maps link. You can read further about this in the article above.
This can be used for various events and reasons. Tourists can easily get lost in a new city or town, so when you give them a quick way to navigate to your shop, you can be sure that you will increase your sales numbers.
QR Codes for tourist shopping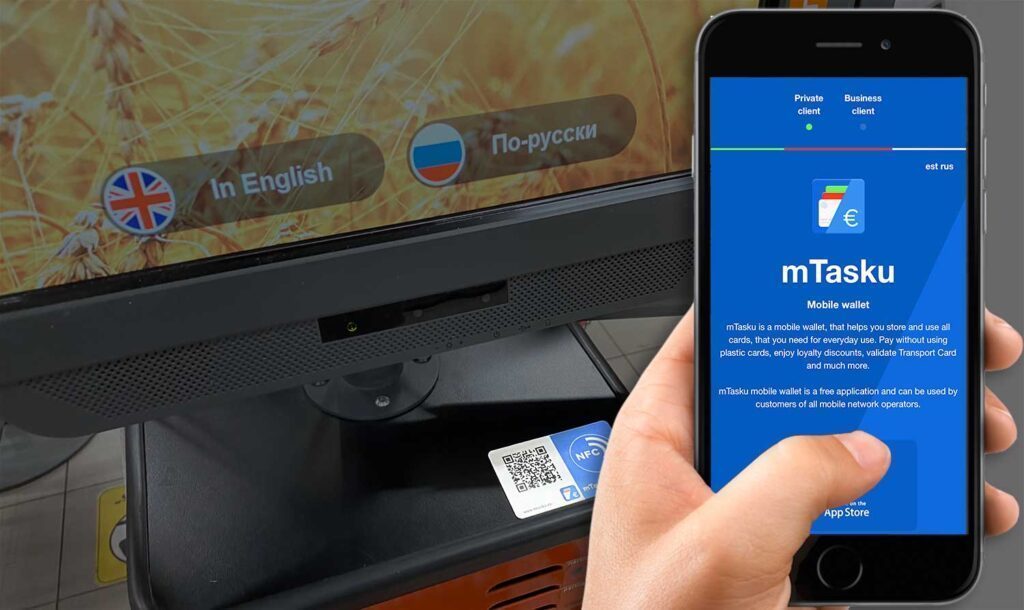 Speaking of sales, did you know that QR Codes can also be used to accept payments? This grocery store in Estonia is using QR Codes in their self service payment terminals. People can actually do everything with their phones in the stores. This means scanning items, paying for them and eventually getting more discounts for their loyalty. If this sounds interesting, feel free to check out the mTasku app.
Hopefully these QR Code solutions for tourism got your head thinking in the right direction. Feel free to browse around and create or scan a few QR Codes to get more insight on how QR Codes could benefit your tourism related ventures.