Weddings are a celebration of love, and what better way to add a modern touch to this timeless ceremony than by using QR codes? From digital invitations to interactive seating charts, this guide will explore the innovative ways you can incorporate QR codes into your wedding planning.
Why Use QR Codes at Weddings? 💍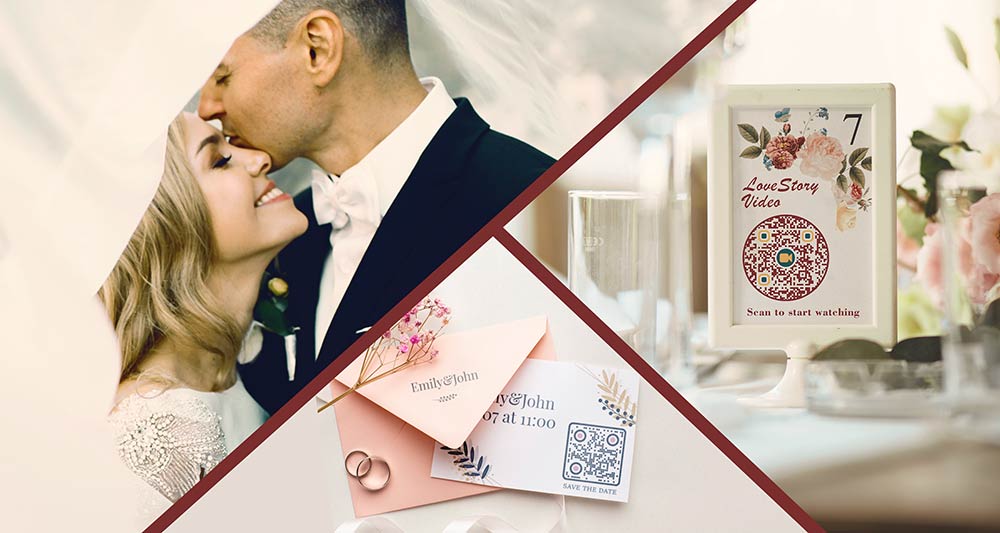 QR codes can modernize various aspects of your wedding planning and execution. They can simplify information sharing, enhance guest experience, and even contribute to your wedding's unique style.
| Type of QR Code | Description | Example Usage |
| --- | --- | --- |
| Image & Video QR Codes | Embed photos or videos | Wedding Invitations |
| Location QR Codes | Shows the wedding venue on a map | Wedding Directions Card |
| Event QR Codes | Information about pre-wedding events | Save-the-Dates |
| Digital Seating Charts | Show guests where they'll be seated | Wedding Reception |
| Wedding Program QR Codes | Detailed program of the wedding ceremony | Ceremony Booklet |
| Interactive Menus | A list of food, drinks, or songs for the evening | Reception Tables |
| Wedding Favors | A thank-you note or a small gift | Favor Tag |
Note: Prioritize Information
Keep the main information like time, date, and location visible on the printables. Use QR codes to link to supplementary information or interactive features.
How to Generate Wedding QR Codes 👰🤵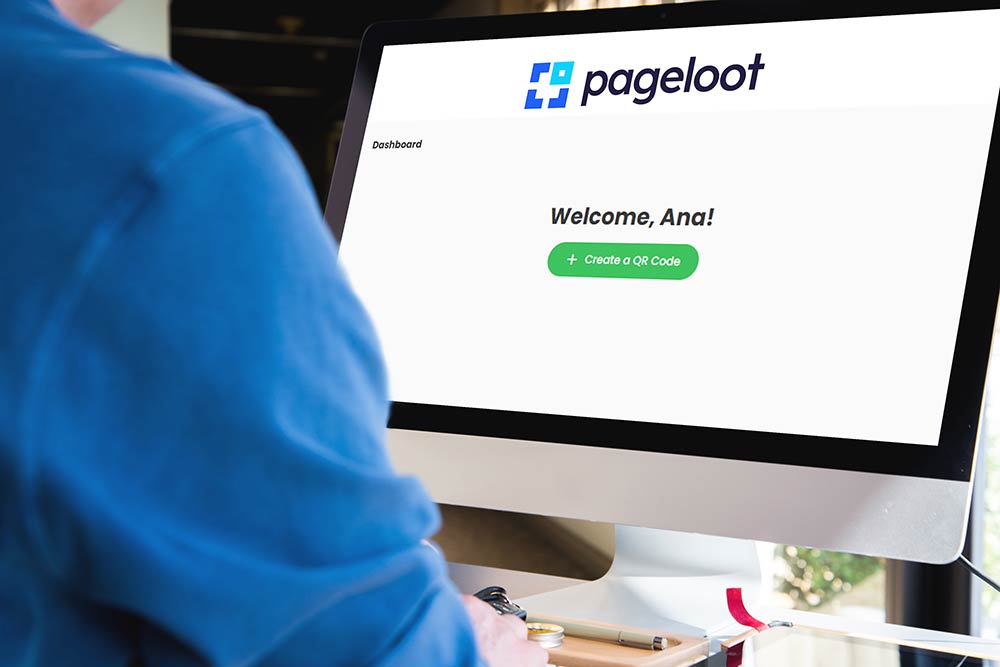 Step 1: Choose a QR Code Generator
Select a reputable QR code generator that provides customizable options for weddings.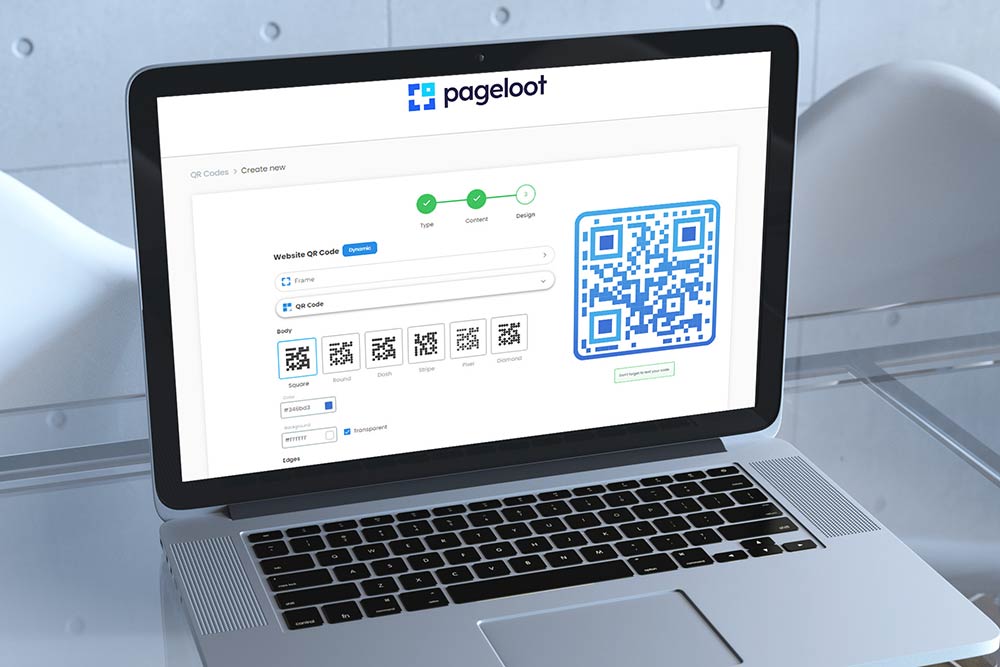 Step 2: Customize Your QR Codes
Tailor the QR codes to fit the aesthetic of your wedding.
Step 3: Test the QR Codes
Always test to ensure they're working as expected.
Quick Tip: Customize to Match Your Theme
Customize the QR codes to match your wedding theme or colors. Many QR code generators offer customization options to make the code seamlessly fit into your design.
Where to use Wedding QR Codes?
QR codes can be used for invitations, venue directions, menus, and much more. There is a world of possibilities to make your wedding an unforgettable experience. Here are some use cases to consider: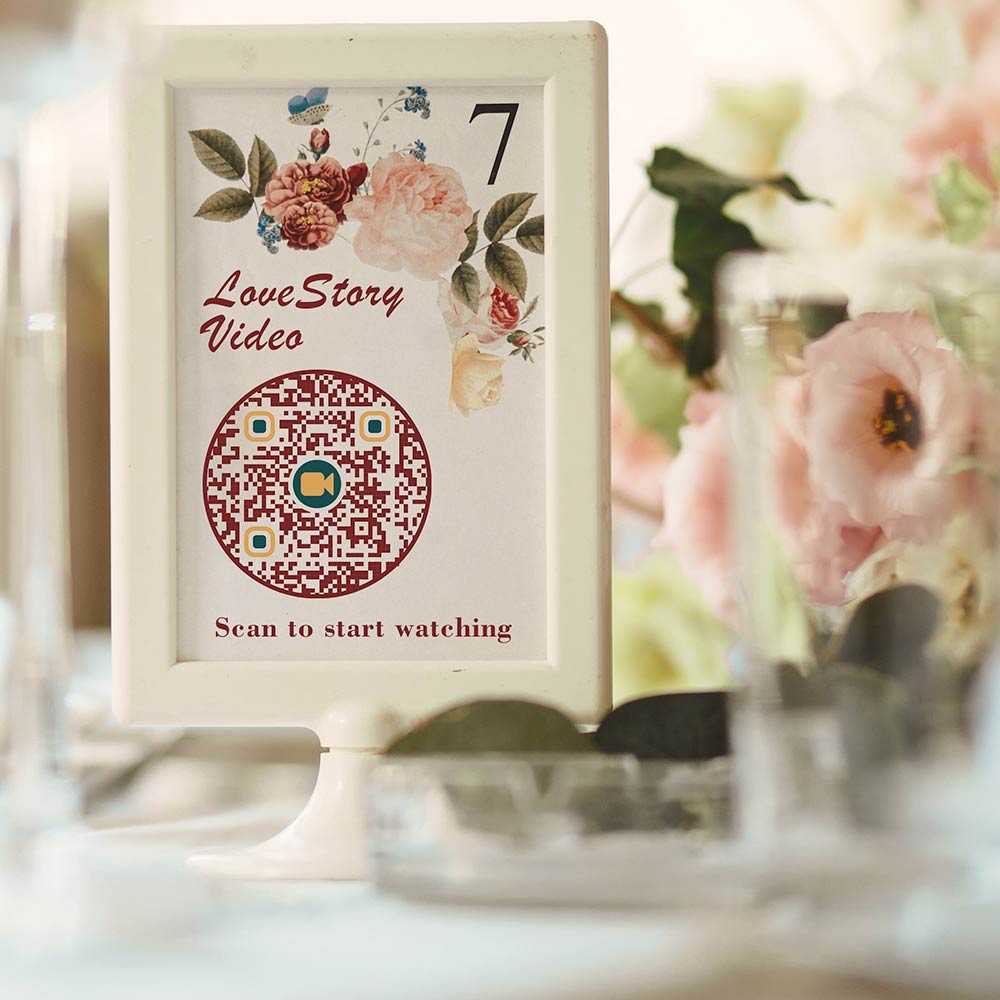 📷 Image & Video QR Codes
Capture every magical moment and make it accessible to your guests via an Image Gallery QR code. Place these QR codes on table centerpieces so guests can scan and view a digital gallery of photos from your engagement shoot, wedding preparations, or even live updates from the wedding photographer!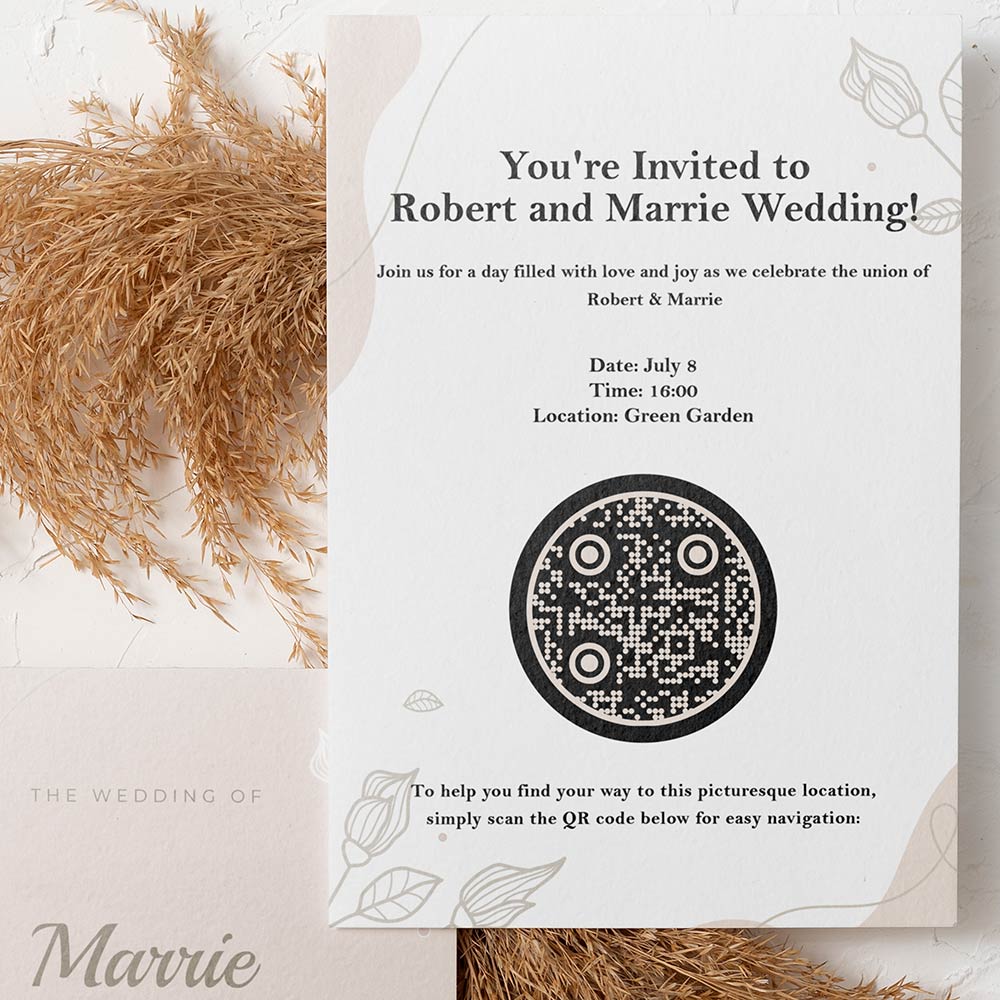 📍 Location QR Codes
Ease the stress of finding the venue or different locations within it. Location QR codes can be included in invitations or displayed at the entrance, providing guests with maps and directions in real-time, straight to their smartphones.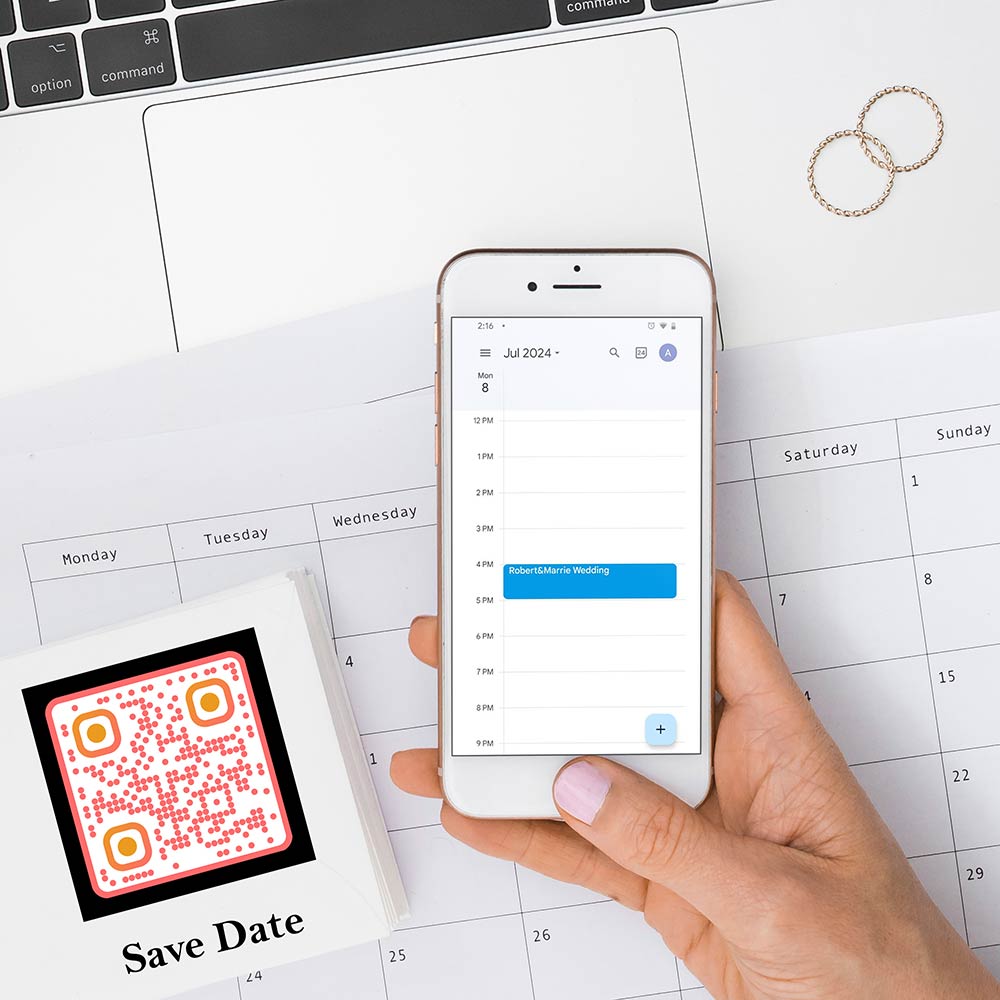 🗓️ Event QR Codes
Instead of mailing physical Save-the-Date cards, send a digital version that includes a QR code. When scanned, it can take guests to your wedding website where they can find all the details.
Link the QR code to a digital calendar event so that when guests scan it, they can instantly save the date to their calendars.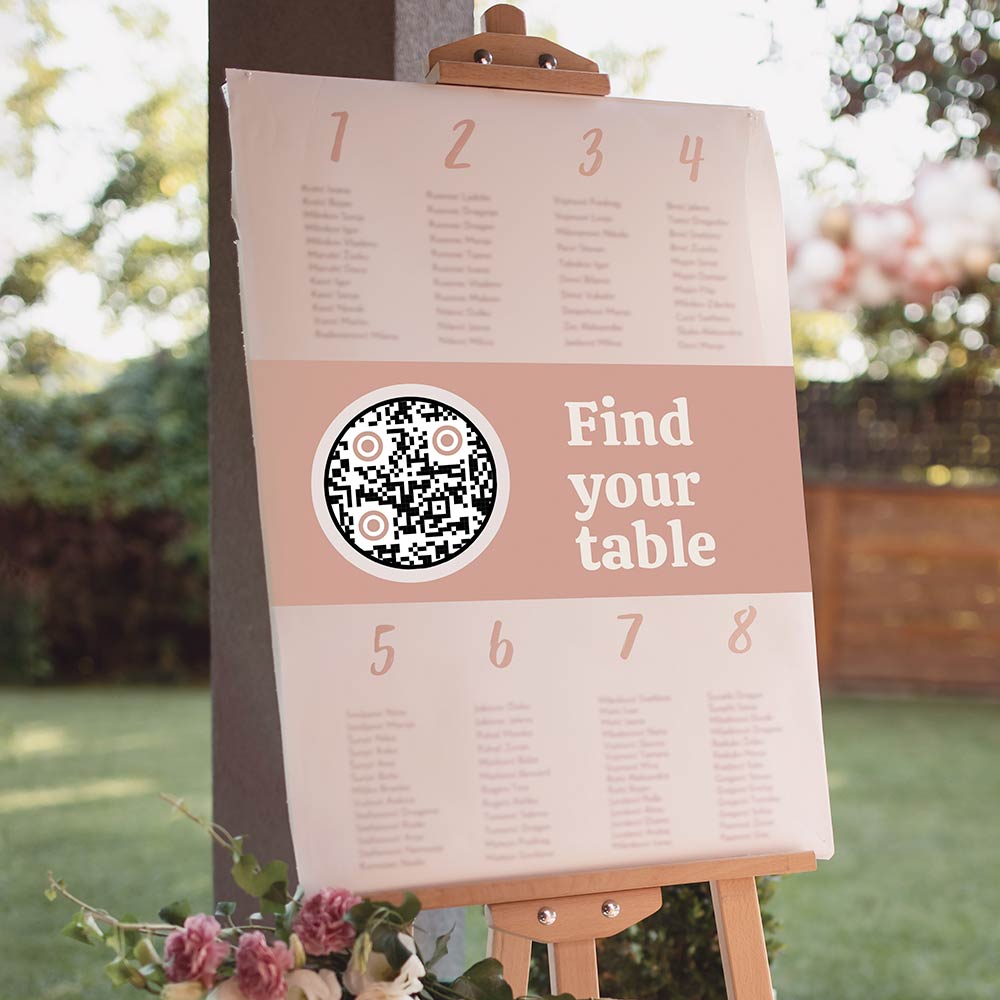 🪑 Digital Seating Charts
Place a QR code at the entrance of the venue or on tables that leads guests to a digital seating chart, making it easier for them to locate their seats.
Each QR code could also include a personalized message or introduction to the other guests at the table.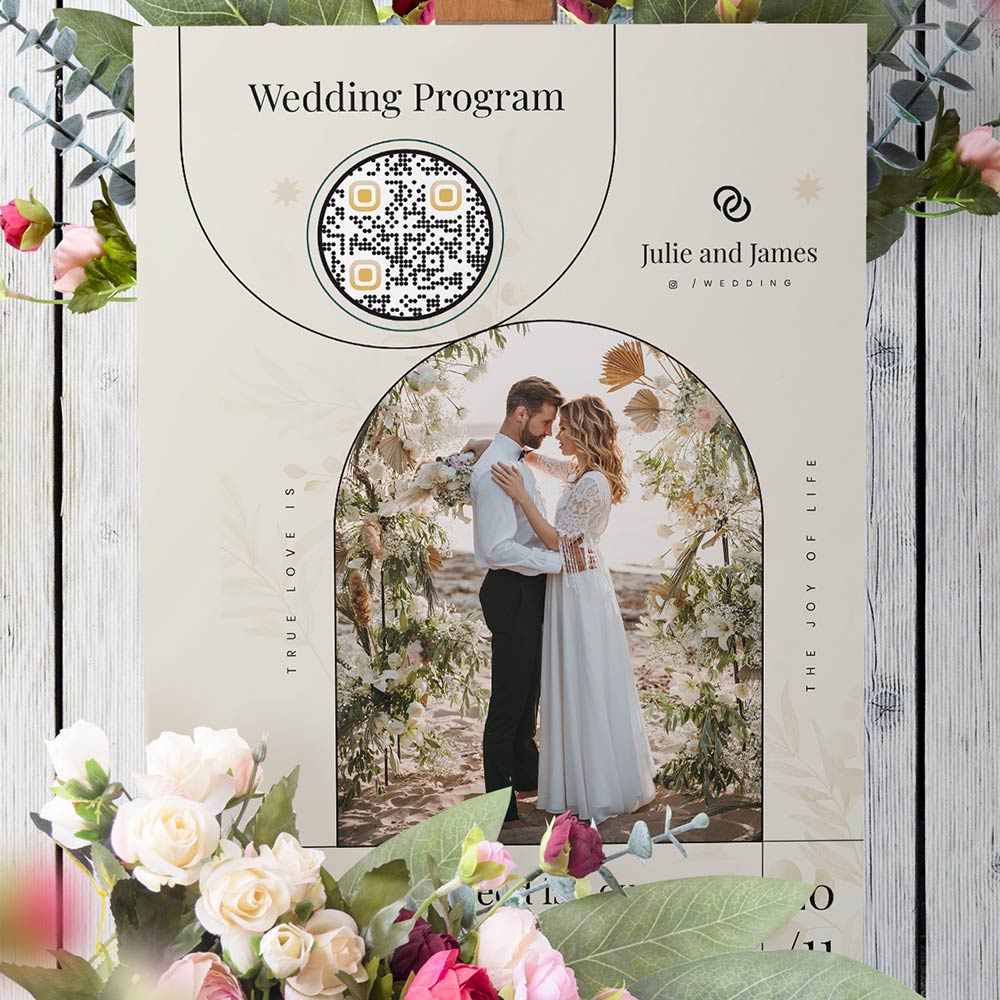 📜 Wedding Program QR Codes
Instead of a traditional paper program, provide a QR code that links to a digital version. This can be especially useful for updating guests on any last-minute changes in schedule or venue arrangements.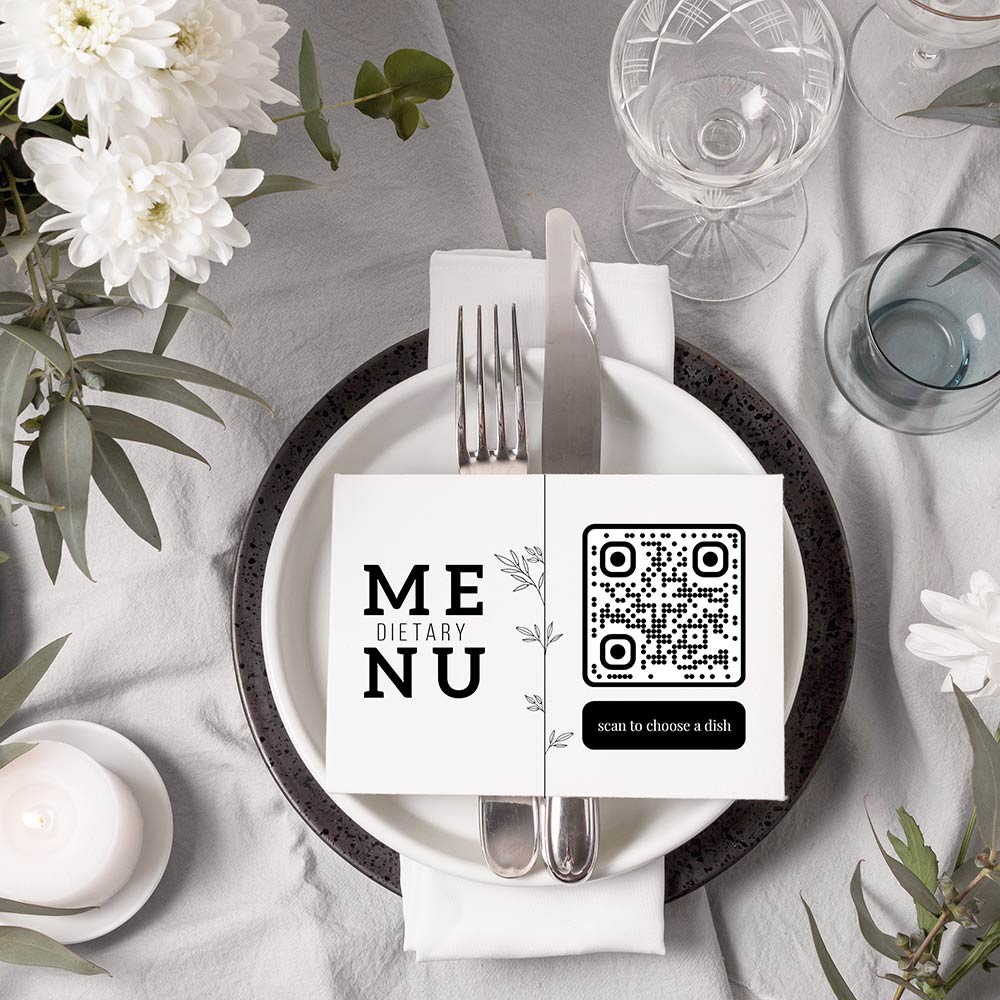 🍽️ Interactive Menus
Scanning the PDF QR code could lead guests to a detailed menu, complete with ingredient lists for those with dietary restrictions.In a more tech-savvy setting, the QR code could facilitate instant ordering of specific dishes or drinks.
Pros and Cons of Wedding QR Codes
| Benefits ✅ | Drawbacks ❌ |
| --- | --- |
| Easy Access to Info | Not All Guests May Have Smartphones |
| Cost-Effective | Limited Design Customization |
| Real-Time Updates | Requires Internet Access |
| Interactive Experience | Learning Curve for Some |
Frequently Asked Questions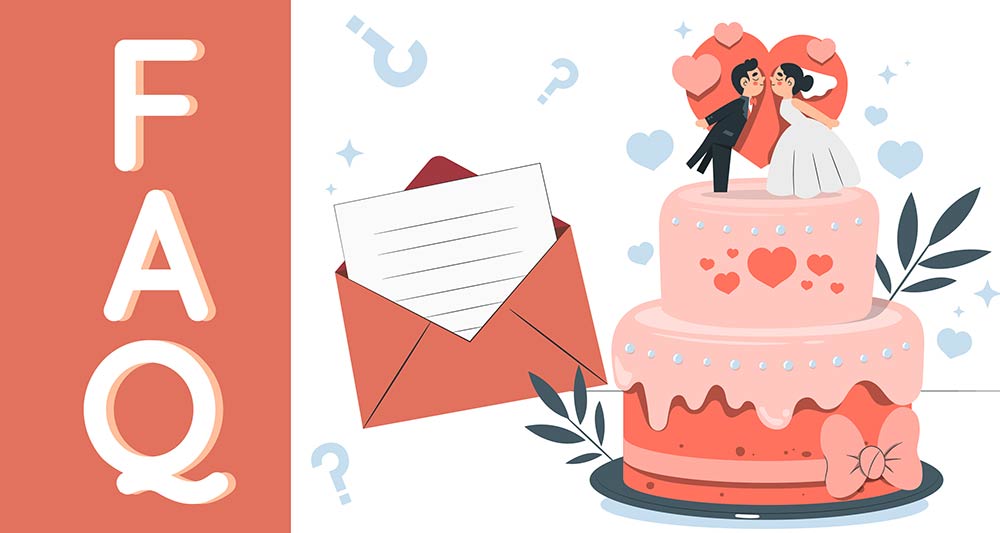 Can I use multiple types of QR codes for my wedding?
Absolutely! In fact, mixing different types of QR codes can make your wedding more engaging and seamless for your guests.
Do I need to print out my wedding QR codes?
While printing is an option, you can also display QR codes digitally — on screens around the venue, as part of a slideshow, or even on a wedding website. This way, you save on printing costs and can make last-minute changes if needed.
Can I customize the look of my Wedding QR codes?
Yes, many QR code generators offer customization options. You can match the QR code design with your wedding theme, colors, and even add your own images or logos.
Will older guests be able to use these QR codes?
As long as your guests have a smartphone with a camera, they should be able to scan the QR code easily. You can also place simple instructions next to the QR code to assist anyone unfamiliar with how to scan them.
Can I update the content linked to a wedding QR code after it's been created?
If you're using a dynamic QR code, then yes, you can update the content it links to even after it has been printed or distributed.
Can I add a QR code to a digital wedding invitation?
Certainly! A QR code can easily be included in a digital invitation, providing a quick way for guests to access additional information, RSVP, or even get directions to the venue.
How much does a wedding QR code cost?
The cost can vary depending on the QR code generator you choose and the features you need. However, basic QR codes are often free to create, and even advanced features are generally quite affordable.
Can I create a wedding QR code for free?
Yes, you can create a wedding QR code for free using an online QR code generator. These platforms offer basic features for free, such as generating a simple QR code that links to a website, video, or text message.