Introduction
The hunger for learning is booming right now and people look for new ways to get information on the subject of their interests. Podcasts are a trending way of getting knowledge on multiple industries by listening to industry experts. QR Codes for podcasts are here to help.
Moreover, a lot of successful companies like Sephora, eBay, and Microsoft already incorporated podcasts for branding their products and reaching out to new audiences.
So, whether you're exploring podcasts as a new way of driving prospects or an experienced host, you need to know that to find the new audience you have to market your podcast like a pro. For that, you need to go through various tools. However, one of those you might leave unappreciated is the QR code.
All people need to do to discover your podcast is to use the QR code scanner or their phone. Is there a faster way?
You can bring your podcast marketing to a whole new level with QR codes and we're going to prove it. In this guide we'll walk you through the benefits of using QR codes for podcast marketing, explain the best ways to do that, and discuss the best practices you should utilize.
However, let's go about the basics first.
What are QR codes in podcast marketing?
QR codes are two-dimensional codes that consist of black and white modules and contain thousands of encoded symbols. They are the most universal barcodes that can pass different kinds of information from videos and images to website links and audio. Correspondingly, the podcast QR codes are codes used for podcast marketing that usually lead to podcast audio files and apps.
More and more industries are incorporating podcasts into their marketing strategies and QR codes are great means of driving the results of those efforts. Not without a reason.
There are multiple benefits QR codes can bring to your strategy.
Benefits of QR codes for podcast marketing
QR codes for the podcast can not only help you reach your end-users but leverage better podcast marketing by customizing QR codes you use on print and online media.
Here's why.
High-speed Scanning
When you put your podcast QR code on a print media or a website only seconds divide your audience from getting to that content they're striving for. They can use the QR code scanner or their camera to read the data in a blink of an eye.
When marketing your podcast you need to ensure your end-users don't have to make any extra clicks. QR codes provide just that.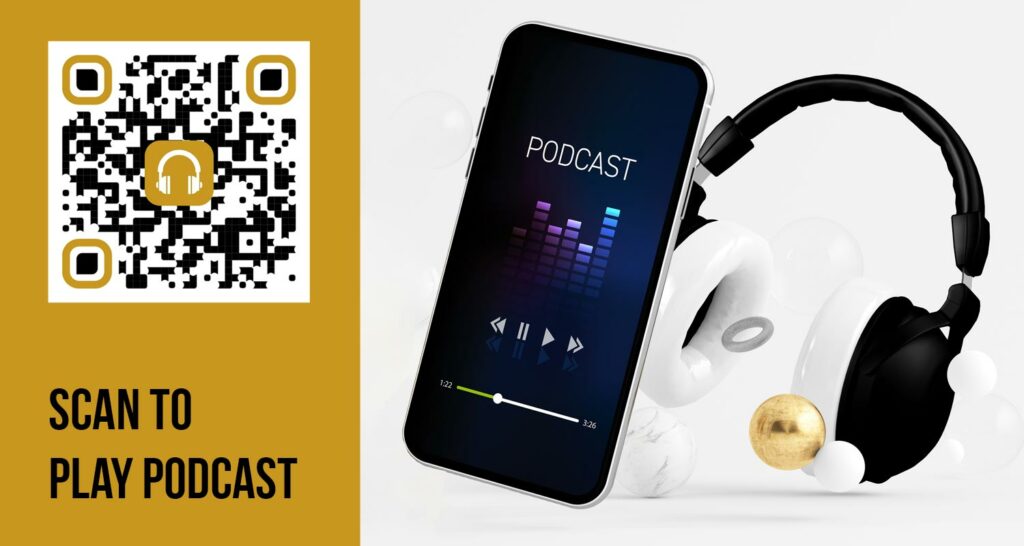 Customization
In a digital world with extensive use of technology, everyone has probably seen how a QR code looks like. So, you have to make it stand out to grab customers' attention. Luckily, QR codes are the only customizable type of barcodes.
You can make them unique simply by adding brand colors, logos, or background images. This not only provides better customer engagement but also increases brand awareness and makes your podcast instantly associated with the QR code. But don't overdo it to avoid QR code marketing mistakes.
Editability
If you want to market your podcast all means, online and printed, work well. They just have different reaches. However, we can all agree that if you've invested in a print advertisement you expect it to pay off.
Imagine if you created a QR code with a QR code maker, printed it, and then realized you've linked to the wrong podcast or changed your mind and decided to link to your website. On the other hand, what if you've embedded QR codes on multiple web pages or social media.
Wouldn't it be a huge waste of money?
It would, but not with QR codes since they are highly editable. It means you can change the information encoded whenever you please. This allows you to save time and effort for replacing the "wrong" QR code.
Easy Tracking
No marketing efforts are worth it if you don't gather valuable data to act upon. QR codes are easily traceable which means you can learn all about the QR code life cycle. You can check when, where and how many people scanned the QR code.
You can even trace how people scanned your QR code podcast, be it a QR scanner app, or a camera. Moreover, QR codes allow you to track how users engage with the content QR codes lead them to.
Isn't it a valuable asset to your podcast marketing strategy?
QR codes give you valuable insights into your target audience and allow you to optimize for future campaigns.
Error Correction
Last, but not least – QR codes have a high error correction level. So, you don't have to worry if the print media you use to promote a podcast was damaged or distorted. QR codes will still be read by the QR scanner.
These benefits of podcast marketing should have convinced you to give it a chance. So, the next step would be implementing it in your strategy.
We'll show you how.
How to use QR codes in podcasts marketing?
The opportunities QR codes provide are virtually limitless, the same as the ways of incorporating them into your podcast marketing. Though we've started talking about it partially, here is how you can use podcast QR codes.
Printed ads
Since QR codes can be scanned on any medium, to achieve the best results you have to combine printed and online channels. Add QR codes to your printed ads: billboards, banners, posters, magazines, business cards, etc. There is no limit. It all depends on your industry and the way you present it to your target audience.
QR codes convert your offline efforts into online opportunities and make you connected with your listeners way faster. Keep that in mind.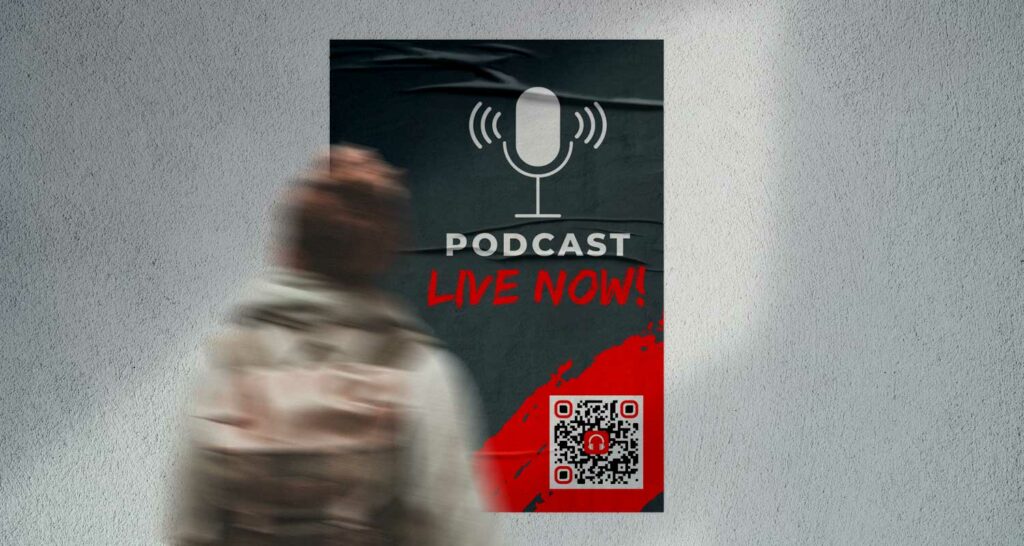 QR codes on your website or social media
If you decided to launch a podcast to increase brand awareness and provide value to your customers, the best way to reach out to them might be by placing a podcast QR code on your website or social media. There is no need to direct them to a URL where they have to search for the podcast series they are interested in. Scan-and-listen is the best way to go.
Display podcast QR codes in your store
Promoting your podcast along with your store is much easier if you connect with your audience through QR codes. Besides, not all of your customers know about your website or social media, let alone your podcast.
Display QR codes on your store or print them on your store labels or shopping bags. You will be surprised how far that can lead you and how many people you can reach. QR codes work in unexpected ways, especially when it comes to QR codes and fashion brands.
Podcast QR codes best practices
Once you've made up your mind to use them in your marketing strategy, you have to use the best practices to get the maximum coverage for your podcast.
Actionable CTA
CTA stands for "call-to-action" and represents an encouragement or invitation for people to act. To make the most of the QR code you implement you have to add direct and actionable CTA, like "Scan to listen to our podcast" or " Get the latest industry news in our latest podcast".
QR codes can be misleading. Be clear about where it takes and let your audience know what to expect. Only that will make them take an action.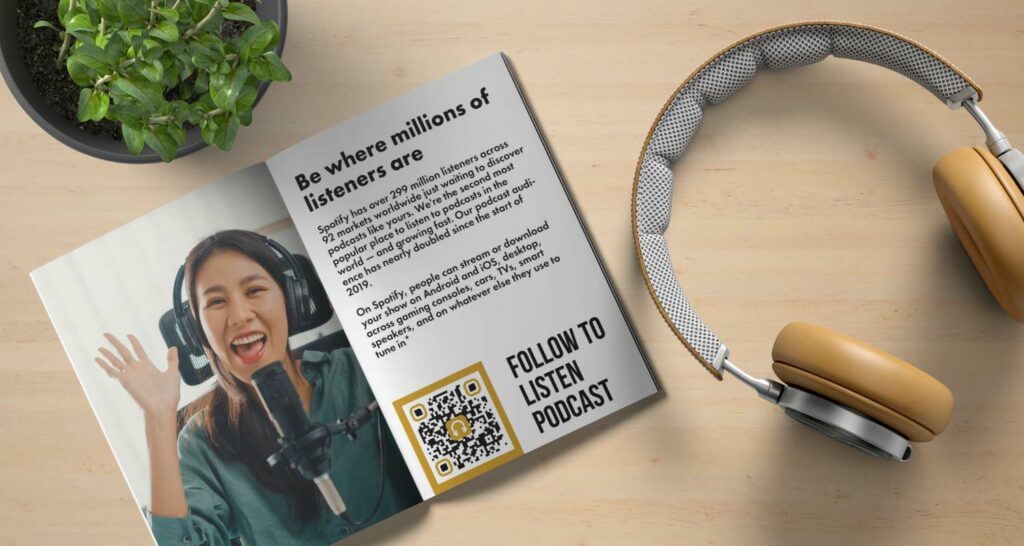 Add Design to QR codes
We've already covered this – QR codes are highly customizable. You should add a brand touch to the QR code to make your podcast recognizable. Not only will it increase awareness, but make your podcast QR code resonate with your brand.
Test QR codes
Testing QR codes with the QR code scanner, and any other tool is the very first step you should take, regardless of the industry. Though podcast QR codes are editable and you can change the information encoded in them, it is always best to do things right from the beginning then revert the changes.
Test your podcast QR codes before putting them out for your audience.
Choose Right Format
The format you save QR codes in matters, especially if you use them on print media for your podcast marketing. Very often QR codes can get pixelated when resized if you decided to make them bigger. Avoid png and jpg format and use the preferred SVG. This way you ensure podcast QR codes will pass the right message when printed on your ads materials.
Make the Most of Your Podcast Marketing with QR Codes ( Conclusion)
As you can see QR code has plenty of benefits and can boost your podcast marketing strategy. There is no faster way to connect with your end-users since all customers have to do is scan the code. Just like that, scan and listen.
Moreover, it is fast for you too. Just create a code with a QR code maker and add it to your print ads or online pages.
Using QR codes in podcast marketing is beneficial for both you and your audience. However, only by implementing the best practices will you get the result you're looking for.