With presidential elections and political campaigns, billions of dollars are being poured into advertising costs using different marketing solutions to get more votes. These campaigns consist of a lot of different tasks – collecting voter info, targeting them and understanding what it is that they want and why.
We can now see more and more elections and political campaigns make a QR Code for their marketing and advertising purposes. This helps them increase their reach and get more voters on board, especially with the younger generation.
According to a well-known digital strategist source from the Republican Committee, QR Codes can help bridge the gap between the online world and what is going on in the real world. Nowadays most people rely on their smartphones for everything and QR Codes are an excellent method to take advantage of this.
We can make QR Codes to increase branding for election candidates. They also help collect voters' data, get info on what people prefer, host fundraisers and many more. Let's look at the main presidential candidates to see how they are using QR Codes to increase their marketing and boost votes.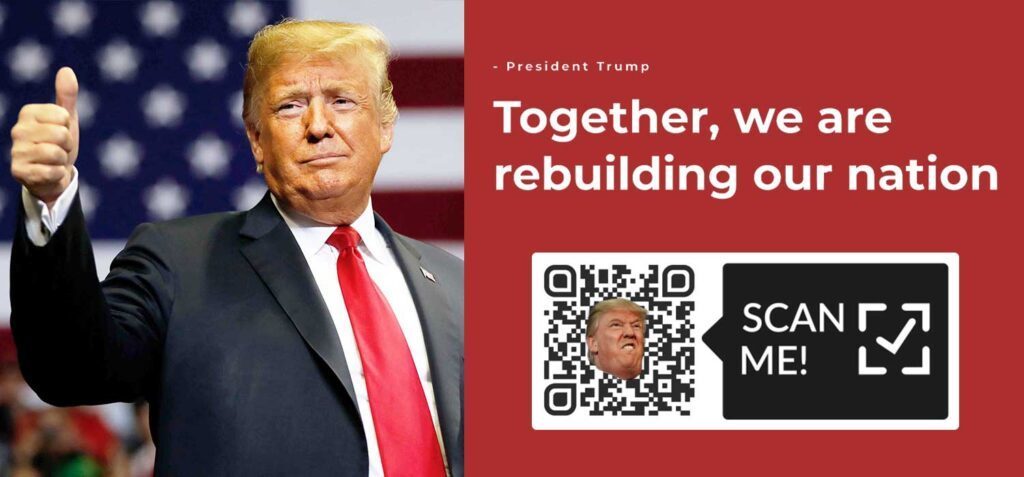 In the red corner (or is it a bit orange?) – We have Donald J. Trump, 74. He is the U.S. president, a reality TV star and real estate developer. His current slogan: "More great things now in the works!".
As you see, QR Codes can be made fun and easy to scan. The CTA (call to action) frame around the QR Code "Scan me!" prompts users to take action and scan the QR Code. Also notice the logo in the center of the QR Code, this creates a brand around the code and makes potential voters even more curious what could be behind that furious face.
PRO tip: Donald is using the best QR Code generator in the history of all the QR Code generators. It's great, believe me. The aim is to promote awarness to his great achievements, that include: building a wall near the border of Mexico, canceling climate change and international trades, withdrawing U.S. troops from other countries.
Interested? Take a look at Donald's candidate profile page here.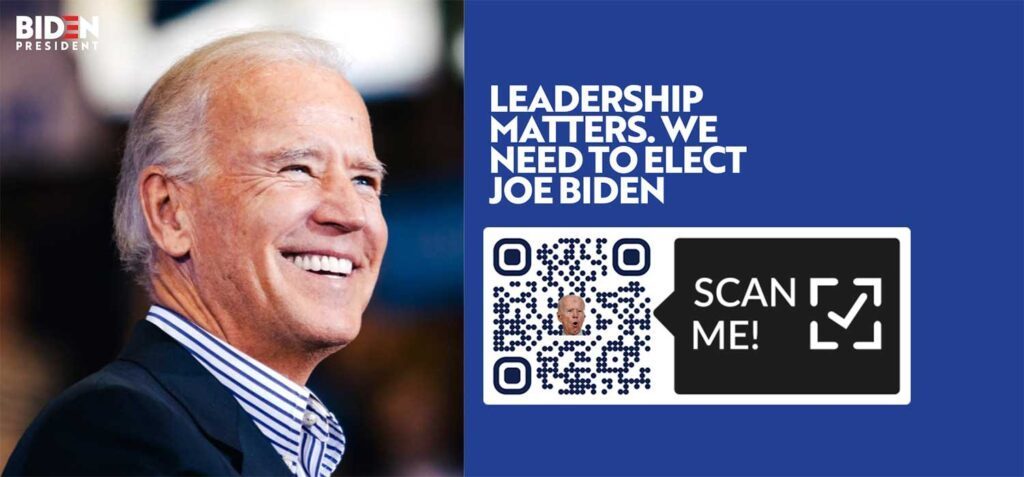 In the blue corner – We have Joseph R. Biden Jr., 77. A former vice president and a former Delaware Democrat senator. Joseph stands against Trump, so that he wouldn't get 8 years in the White House. Biden does not believe Trump is changing the nation for the better.
Biden has previously run for president twice and served as Obama's vice president for 8 years.
He is best known for his straightforward attitude and the skill to really connect with the working class.
PRO tip: Joseph is using QR Codes to promote awareness to his signature issues via a URL QR Code for links. This includes strengthening the low-income workers & restoring America's standing on the global stage.
How can QR Codes be used for politics and election campaigns?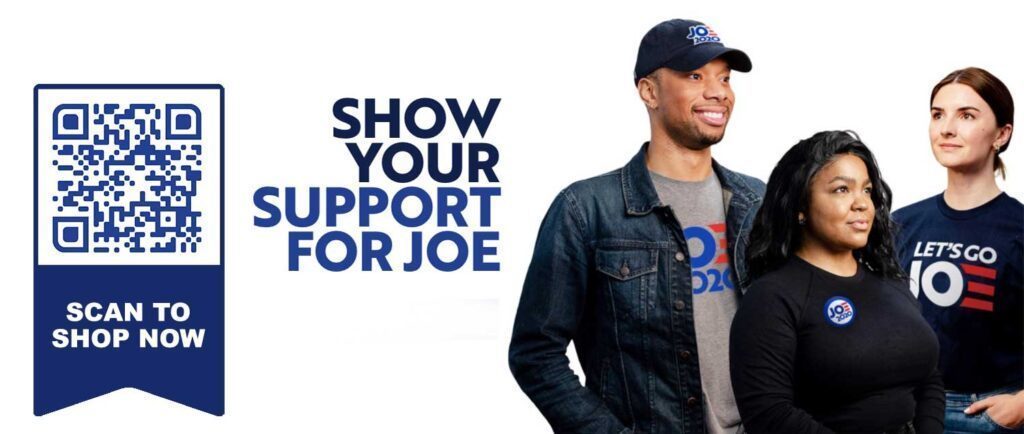 #1 E-commerce QR Codes – Sell your political merch
What's better than having an army of followers walking around in your slogans and brand logos? Joe Biden has taken this opportunity to sell political propaganda merchandise like t-shirts and hats. For one, this can be used to make money for the campaign from an e-commerce store, secondly, the brand awareness and marketing possibility here is huge.
So take a look at Joe's merch, scan the QR Code to get an idea of how you could be using QR Codes for an E-commerce store.
If you are looking for an e-commerce solution, you can check out this comprehensive review for the best e-commerce online store platforms available today.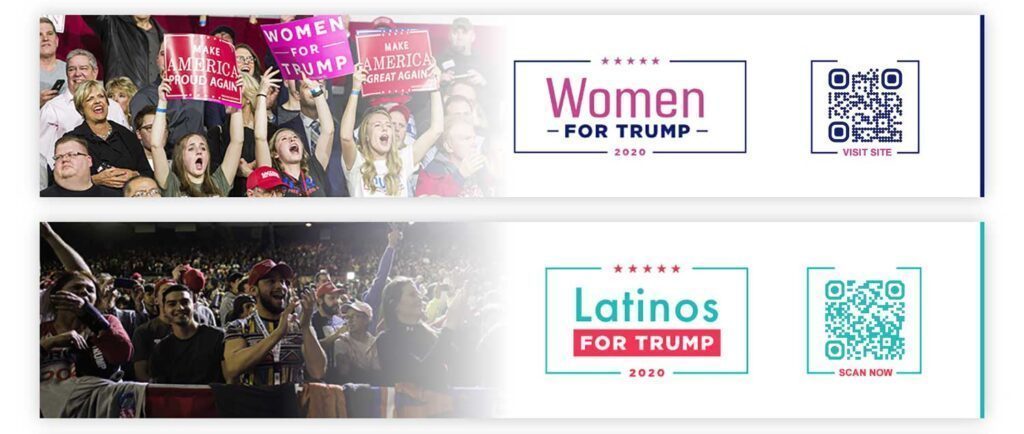 #2 URL QR Codes – Get your voters online
Trump's marketing team truly is genius. They have sub-branded into every possible niche so everyone feels at home and welcome. The main point here is that they are using QR Codes to get people from the physical world into their landing pages and websites. From there, it is possible to collect peoples e-mails, phone numbers, or just give them more info about why their political candidate is the best choice for everyone.
Check out Trump's QR Codes for links. The landing pages also have a nice design touch to them.

#3 Email QR Codes – Collect emails or send out emails
It doesn't stop at sub-branding for people. Trump's marketing team also let's you choose your favorite medium to receive their information on, whether it is social media, email or SMS alerts.
This Email QR Code let's people send you an email to a designated address with a specific content. For example, this can be used to opt people into email lists. Alternatively, you can use a normal Link QR Code to drive people to an opt-in page that can be made with SendPulse or similar service.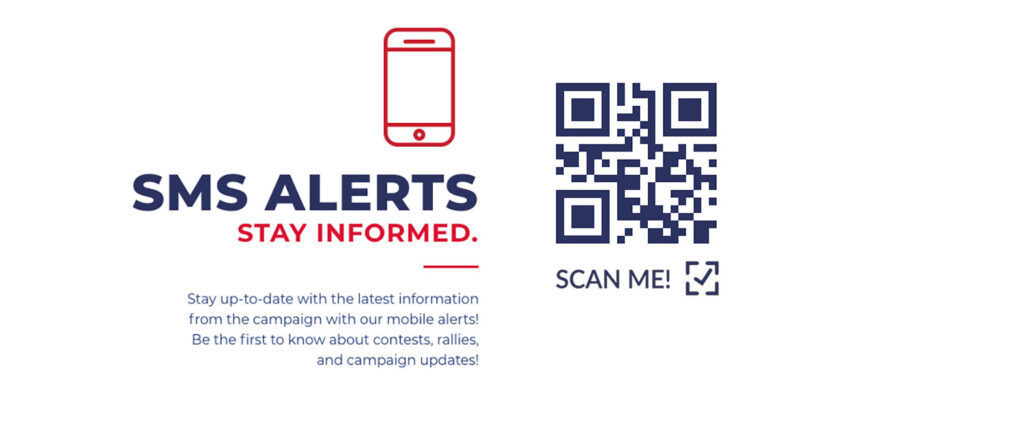 #4 SMS QR Codes – Create message based marketing
While the more youthful approach to this would be QR Codes for messenger chatbots, it really depends on your demographic. Donald Trump is using SMS alerts as a marketing tactic, you can use SMS QR Codes for messages to get people to opt in to your marketing funnels. This works similarly to e-mail marketing, people opt in and they are added to a marketing list that receives marketing content.

#5 Facebook QR Code – social media marketing
A Facebook QR Code is often chosen to target Millenials and Gen Z. They are the population that is always on the go and constantly using their smartphones at all times. QR Codes get them online.
Now, once we have their attention, social media is the best format to engage with them, as it speaks their language. that they are used to on a daily basis.
Why use QR Codes for elections and campaigns?
The one thing that is most common for all voters is that they have a smartphone at their hands, whether they are a democrat or republican. This is the main reason why political parties have started using QR Code technology to market their election campaigns and get more votes.
The QR Code scanning process is super easy, so it is a really efficient tool that turns elections more secure, fun and faster.
Pro tip: Did you know that the elderly voters are outnumbered by young voters? And there really is nothing more exciting for young voters than political campaigns that are driven by technology and new concepts. QR Codes for political elections and presidential campaigns can help secure those people as potential future voters.
The future of election campaigns is definitely online. Everyone can vote online (check out Estonia), the votes are secured by blockchain, and everything will work seamlessly to create an outstanding user experience.
Get more people voting
Reaching out to more people by using QR Code campaigns makes it a lot easier for many potential voters. The states that support online registration can easily see increased numbers in active voters.
The good news is that in some states like Colorado it is already possibly to register and vote online. This is also great for people who either have temporarily moved out of their hometown and can be an inconvenience to do it locally.
Voters are the most important part of any campaign, so it makes sense to use any methods that work best to reach that audience. QR Codes can be used in creative ways to create viral marketing campaigns. This can include QR Codes on hats, t-shirts, and many more. Even the classic QR Code business card applies here.
The QR Code takes voters to the landing page where they can be informed and cast their vote. This was already tested back in 2016, when young voters could scan QR Codes and watch videos that influenced their voting decisions.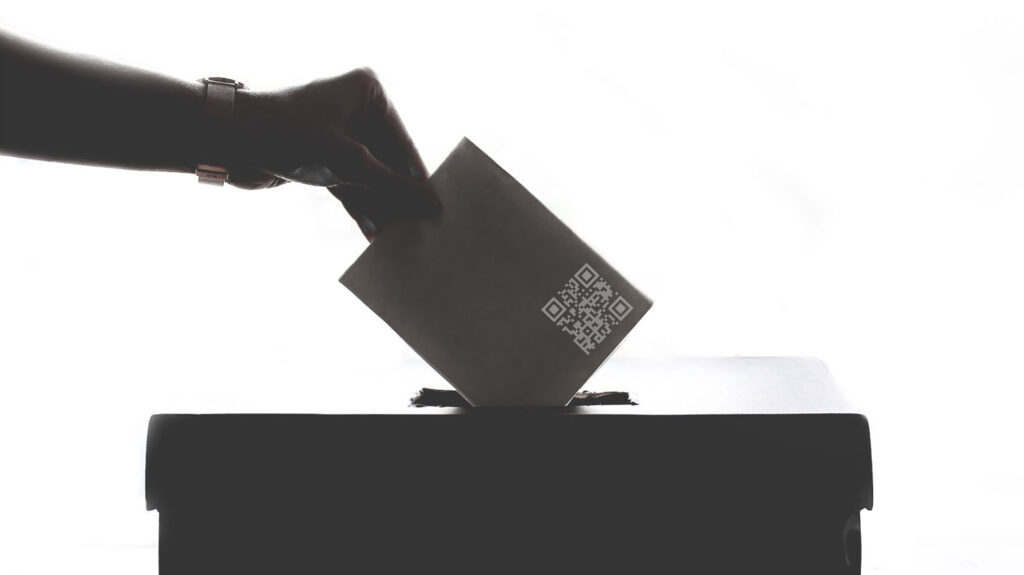 Use voter slips with QR Codes
We can see many election campaigns nowadays that are using QR Codes. This trend is definitely going to surge for the upcoming November elections. For example, Delhi is already using QR Codes on voters slips to speed up their process. Each voter can download their slip from the app.
These QR Codes allow voters to vote without any issues whatsoever, the entire process is super smooth and streamlined.
It is really tiring to organize and verify manual election campaigns. This usually creates a large overhead because of all the extra people that need to be hired. QR Codes and electronic voting help lower the costs for voting and also increase security at the same time.
Each voter gets a unique identification number which can't be faked on their voter slip. Once the QR Code is scanned at the voting station or from home, they are identified and they can start voting quickly and without any issues.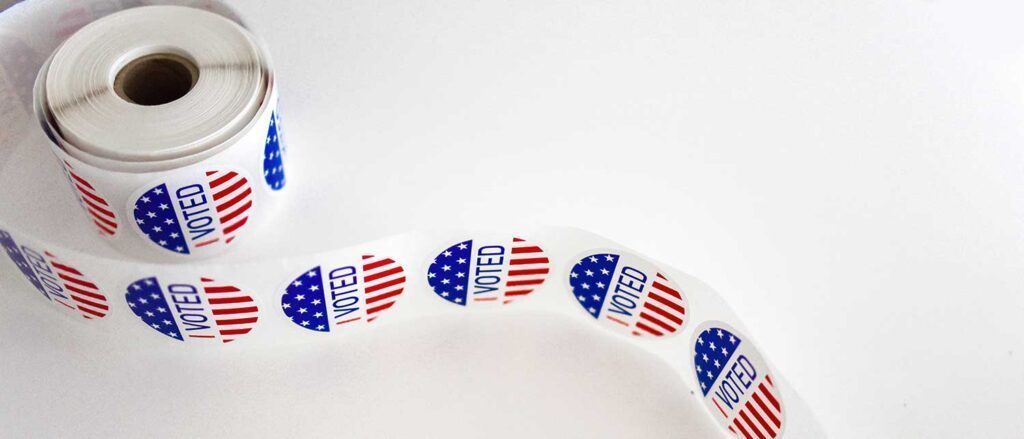 Maximize your campaign impact
Usually the initial elections can start many months or years before the actual election day. That time is used for marketing and press, so people are aware of their upcoming choices that they can vote for.
Consider using QR Codes on all kinds of print mediums and surfaces, like flyers, banners, screens, and even yard signs.
Campaigns with QR Codes are usually more easily approved by the younger generation of voters as it makes it a lot easier for them to access the relevant information. This can potentially guarantee you a higher return on your marketing budget and voting numbers.
Fundraising & Campaign Donations
QR Codes aren't only about the voting process itself. Fundraisers are also an excellent use case for using a technology like QR Codes. Usually fundraisers are done via email or similar mediums. These emails can often look spammy and suspicious. Using QR Codes out in the public would eliminate any doubt that you are actually fundraising for a legitimate cause.
Polls and surveys
Metrics are a super important issue for all political candidates, may it be presidential or not. Surveys and polls are really easy to conduct online. The main benefit over physical surveys is that people can do it anywhere, anytime. And the best option to get people to your polls and surveys is by using QR Codes. Consider placing them in places where people spend a lot of time but are bored. For example, any kind of waiting lines, bus stops and similar places instantly come to mind.
PRO tip: If you are looking for a fun and exciting way to get more surveys for your polls, then we recommend you to check out SurveySparrow. They offer a free trial and their prices are also quite reasonable.
Track your results

Using dynamic QR Codes can be an excellent method to get preliminary voting results. You can see who scanned your QR Code and from where. What's even better, by adding a Facebook Pixel, you can create a lookalike audience and target even more similar people in your target area. For all this and many more features, you can check out the best QR Code generator that lets you do it for free.
To get more info about QR Codes and how exactly you can start making them, be sure to read our in-depth ultimate guide on how to make a QR Code.
Whether you are in the political world or not, hopefully this article has helped shed some light on how QR Codes can help out with marketing, surveys, donations and many more functions. If you are not sure yet if QR Codes can help you out, we invite you to take a look at our free QR Code tools and test them out.