Rapid advancements are taking place in the medical field. There are better treatments, operations, revolutionary new technologies, etc. However, there are still some healthcare areas that need a little nudge to keep up with the fast-paced development. Here's where QR Codes help. Let's see how to implement QR Codes for hospitals and healthcare.
How to implement QR Codes for Hospitals and Healthcare?
1. Identify your patients and obtain medical history
To avoid medical errors and improper diagnosis a uniform medical data is a vital matter. It can happen that patient data is not consistent. Moreover, sometimes the information doesn't exist at all. Getting a thorough medical history of a patient quickly can be a matter of life and death. Therefore, patient identification is one of the most important parts of the healthcare system.
This is where QR Codes save lives! Make a QR Code and add the patient's medical prescriptions and health history to it. Embed a QR Code on the medical bracelet, tags, and datasheet. With just a quick scan the medical workers get instant access to all of the patient's medical history.
2. Track patient health status
Tracking health status is an especially burning topic now when COVID-19 vaccines are rolling out. QR Codes can be used as digital vaccination passports. They help medical institutions track patient's health status without any errors.
Read more on how to make a QR Code for vaccination and how China decided to use QR Codes for health tracking.
3. Make drug safety transparent with QR Codes for Hospitals and Healthcare
The healthcare system does its best to maintain authenticity. Whether it's correct administration of medications or assuring safety transparency. Nevertheless, according to the WHO, about 10% of drugs are counterfeited in middle-to-low income countries. This is where QR Codes step in and save the day.
Add a QR Code on a medical package. This makes the drug transparent by providing information about the manufacturing process, expiry date, and all contents of the drug.
Furthermore, a QR Code provides information about correct dosage, procedures, and when to give the medicine. Use a QR Code scanner and get the information you need on your phone. This way you don't have to worry about misplacing the physical drug information sheet.
4. Provide medical equipment information
The correct functioning of medical equipment is vital to providing effective healthcare. There is a wide range of medical equipment used. QR Codes can be utilized to ensure the proper functioning of them all.
Place QR Codes on medical equipment. Healthcare operators and professionals can scan QR Code and get access to:
manuals
set-up videos
relevant instructions
alerts to malfunctions
alerts to replacements
Thus, a QR Code on a piece of medical equipment saves time as there is no need to read lengthy and rather confusing manuals.
5. Track medical instruments and equipment
Traditional methods of tracking are time-consuming where a human error can slip in. Mismanagement eventually leads to increased costs and late deliveries. Use QR Codes for hospitals and healthcare. Track the equipment in real-time, alert the operators and send feedback. With this in mind, it's hassle-free while eliminating most of the human error.
6. Educate your patient about the medical procedures
Help your patients to understand the procedures, risks, benefits, and care they are given with a QR Code. Make a QR Code and add it to booklets. The patients scan the QR Code, read specific information about their illness, the treatment, and how to take care of themselves after going home.
In addition, you can also add common Q&A, a quick way to book the next appointment, and contact information. This way the patients are fully informed.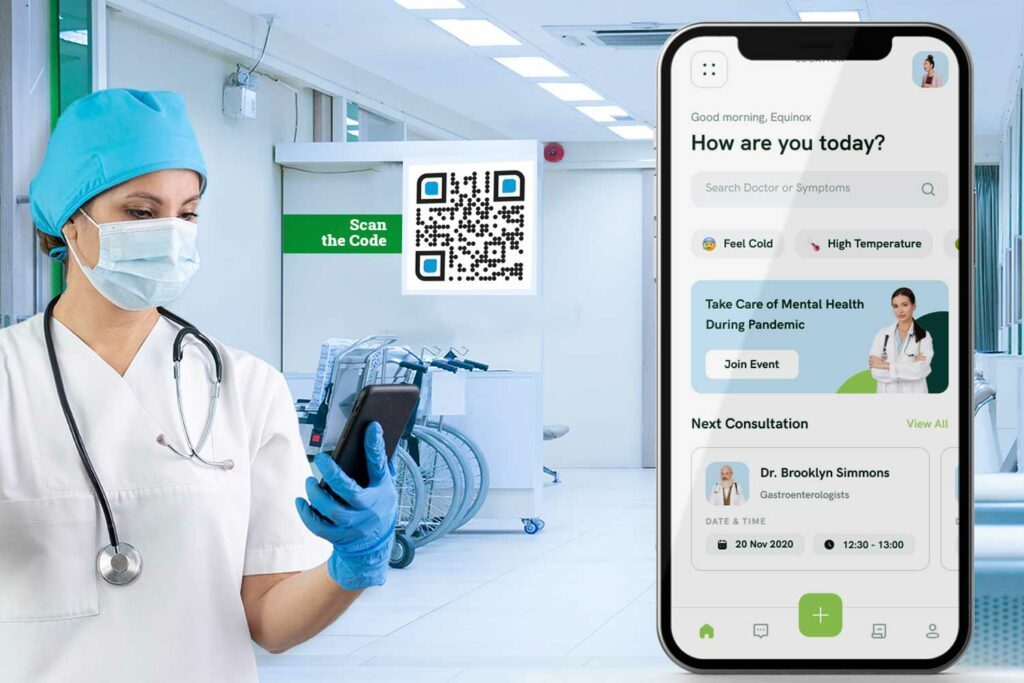 7. Build awareness of your healthcare institution
Healthcare institutions don't focus on marketing as much as private companies do. However, private hospitals, pharmaceutical companies, and clinics are inevitably businesses like any other. QR Codes are perfect to promote your clinic and build awareness.
Use a free QR Code generator and include QR Codes on:
leaflets
bills
healthcare journals
business cards
e-mails
online ads
billboards
The QR Code can direct scanners to learn more about your hospital's infrastructure. You can also introduce success stories and advanced methods you implement. Therefore, a QR Code maker is a great tool to increase profits, reputation, and patient visits.
Read more on how to make a QR Code for marketing.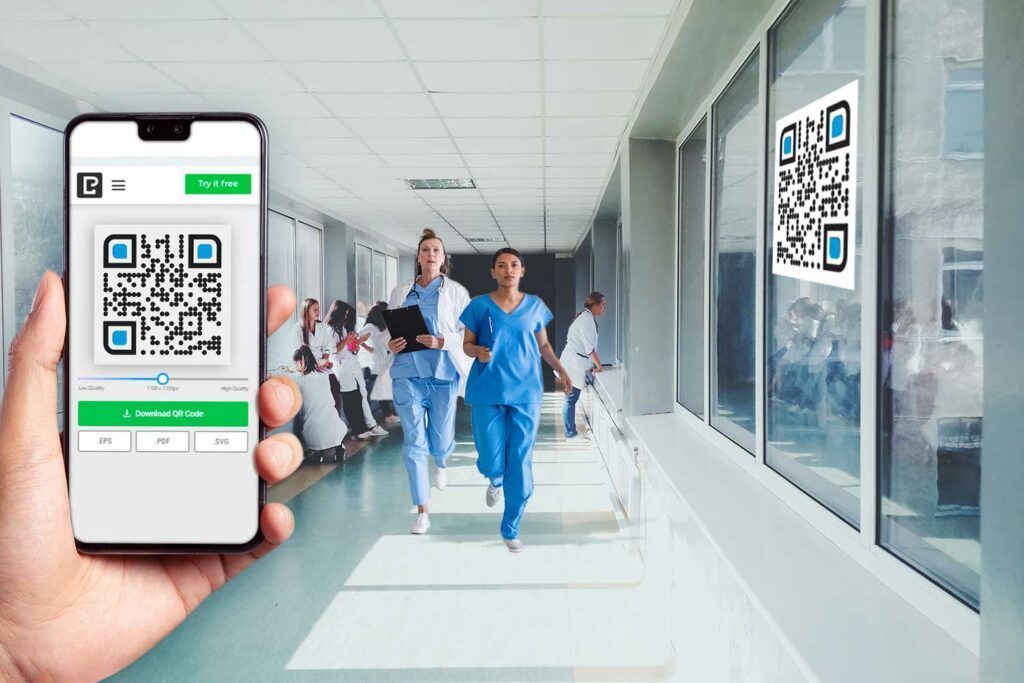 Make a difference with QR Codes for Hospitals and Healthcare
A lot of healthcare providers use an outdated system in equipment tracking, accessing patient medical history, or making drug safety transparent. Keep up with otherwise quickly developing medical technology. Eliminate human error and make a QR Code that helps you provide safer and drastically improved healthcare.